Neckholas: Fordham's Newest YouTube Star
From the moment he first discovered YouTube makeup tutorials in 2008, Nick Lawton (FCLC '16) was destined to become a beauty vlogger. But he was determined to do it on his own schedule. "It was just a matter of time, equipment and comfortability," he said, "I would only want to do it if I could make the highest quality content possible."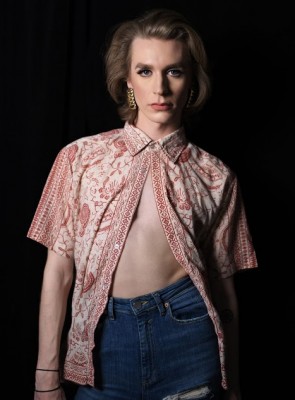 And on Jan. 5, 2016 Lawton debuted the fruits of his years of deliberation and months of pointed work: a high-quality, professionally-shot video titled "Winter Glam Makeup Tutorial" under the name Neckholas, a nickname given to him by friends for his long, supermodel-esque neck. Throughout the 15-minute video Lawton smiles and jokes to the camera while applying his makeup, well-versed in the structure of YouTube tutorials and loving every minute of it. The video was an instant success, filling the Facebook timelines and Instagram newsfeeds of family, friends and Fordham acquaintances, and even earning recognition from a very special someone.
"Gigi liked my video!" Lawton proudly exclaimed, referring to Gigi Gorgeous, a wildly popular beauty vlogger who boasts over two million subscribers and who just happens to be one of Lawton's favorite YouTubers. Lawton and Gigi share more than just passions for cameras and makeup; with matching blue eyes, blonde hair and willowy physiques the pair could be twins.
[quote_left]"All I care about is having subscribers that are excited for my videos and want to be with me on my journey."[/quote_left]
"I think my personality is also similar to hers," Lawton reflected, referencing their shared devil-may-care attitude, and dedication to living life to its most glamorous. Lawton's charisma shows in his stats; in just under two months he has earned hundreds of subscribers and thousands of views. And he has no plans of slowing down; since his first video in early January, Lawton has posted a new tutorial weekly, each earning hundreds of views. But he hasn't let his popularity overshadow his goals. "All I care about is having subscribers that are excited for my videos and want to be with me on my journey," he noted, hinting that if his viewers are on board he might consider becoming a full-time vlogger.
But who is the person behind the camera? And why makeup and beauty vlogging?
"I was born wearing a pair of false lashes and a liquid lipstick," Lawton cooed, noting that his nonbinary-femme expression is nothing new. When he was a young child, he loved to play with his mother's makeup and has used makeup artistry as a creative outlet ever since. "It was always a spiritual thing to me," he confirmed, "makeup calms me down better than anything."
Further, for Lawton, makeup has served as a means of liberation. "Makeup allows for my passionate side to really reveal itself," he stated, noting that during periods of his life when he wasn't able to wear makeup he was "stifled" and "so much less alive."
But it was through YouTube that Lawton realized that makeup didn't need to be just a hobby, it could also be a way of life. He recalled watching his first beauty tutorial (a how-to for Taylor Swift's hairstyle in "Love Story") in middle school and feeling his heart race from self-recognition. "It legitimately changed the entire trajectory of my life," he continued, "because it introduced me to this whole other world that was so beautiful and extremely important to aid in my self-discovery." That evening, he created a bedtime ritual that he still follows to this day: watch the latest beauty tutorials from his favorite YouTubers to keep abreast of new techniques, products, and trends.
[quote_right]"I was born wearing a pair of false lashes and liquid lipstick."[/quote_right]
Now all grown up, Lawton is ready to show off everything he has learned and take the beauty world by storm. In his childhood bedroom in Boston, he has set up a designated filming area, complete with microphones, cameras and soft box lights where the magic happens. But he doesn't do it alone. "Most of my promo photos are taken by my mom," he laughed, illustrating scenarios when he poses and art directs his mother to best display his signature megawatt highlighter. The photos for "Winter Glam," however, were taken by fellow Ram Spencer Kenealey, FCLC '16. The process of producing content is long and arduous, Lawton noted that he usually spends two to two-and-a-half hours on filming alone, but it is a labor of love. Anything to display his fierce, bubbly, authentic self to the world.
As for the long-term, Lawton is determined to continue building his brand as a YouTuber and model while building brands in the beauty industry; currently an intern at KORRES skincare, Lawton plans to pursue marketing and PR after earning his BA in Communications this May. For now it's only a matter of time before he follows in the footsteps of YouTube giants like Michelle Phan, Jaclyn Hill and Zoe Sugg and releases his own line of cosmetics.