Outreach in the Heart of New York: Thoughts from GO! NYC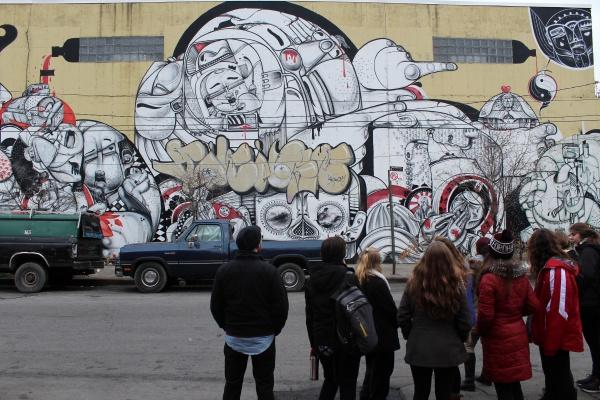 By CONNOR MANNION
News Co-Editor/Asst. Literary Editor
I've never called myself a New Yorker. I've lived here for the past three years, I've eaten at countless restaurants and visited neighborhoods. I've seen everywhere from Alphabet City to the Ukrainian Village. And I still think of myself as a tourist on an extended vacation. I never took the time to invest my energy in the place I called my home for the past three years. This is part of the reason I went on GO! NYC, the most local of all the projects offered by Global Outreach. I spent 10 days traveling around New York, mainly The Bronx, with 10 Rose Hill students and a recent graduate to try and invest in the New York that I never tried to know.
I'm still not sure I can call myself a New Yorker, but I feel like I'm home again.
In many ways, GO! NYC is the most flexible of all the projects. As my project leader Colette Berg, Fordham College at Rose Hill (FCRH) '16, said "the project is really what we make of it." We tried to make as much of it as we could, beginning headlong with a Midnight Run around the heart of Midtown Manhattan.
The purpose of a Midnight Run is to provide food, clothing and toiletries to the homeless of New York, and it is done through driving around to various designated drop off points. For this purpose, a team of volunteers would need a dedicated driver of a university vehicle. The driver being myself and the vehicle being a Ram Van, which could double for a military grade tank in another life. So, careening this behemoth around Times Square tourists was my introduction to the project.
But this was not to speak of the main routine we settled into, which involved a much quieter setting: elementary school. I'm kidding about the quietness, but it was very jarring to go from driving around Manhattan to reading with third graders and helping them with their vocabulary. But it's a nice routine to settle into, and I miss it a lot now that I am back at school. I don't believe I will be able to go back to St. Ann's Church to visit the kids I worked with, but it changed me.
Another thing to note here, especially if someone reading this is considering a GO! project is not to think of this as helping others. It is more of an opportunity to educate yourself. In fact, a reading that all project teams are asked to read enforces this even before the project.
Ideal, because I did not know much about The Bronx and its recent and ongoing struggle with the monster of gentrification. Mainly, this is most apparent from our visit to the neighborhood of Port Morris, where a high rise developer is attempting to rebrand it as "The Piano District," because he's building on top of an old piano factory. Also ignoring that the name of Port Morris is tied into the history of the United States, as the neighborhood is actually named for the author of the preamble of the Constitution, Gouverneur Morris, who lived in this area before the city became the city we know.
I didn't know that before the project, and I imagine if there was any respect paid to history by the forces of gentrification, there wouldn't be a push to rebrand.
But that is why I did this project, to try and teach myself to have respect for New York and to not feel like a tourist anymore in my own city. I educated myself. I took pictures of lifelong Bronx residents demanding rights in their community in the face of impending re-zoning of their neighborhood. I saw poets who sang about their love for the Boogie-Down-Bronx next to obscure modern art. Most of my subway commutes gave me a beautiful view of the sky. I sat and read next to my team, cooked with them, laughed with them, and recognized with our inherent privileges as students on this project in Manhattan. We learned to fall in love with New York all over again and want to fight for justice in the place our team calls home.
One of the last days on the project, we visited the Catholic Worker in Lower Manhattan. There was a poster with a quote from Cornel West on the wall: "Never forget that justice is what love looks like in public." I don't know how long I will be in New York since this is my final semester at Fordham, but I do want justice for it.
Maybe, just maybe, I'll call myself a New Yorker in the upcoming weeks.