Memorial To Robert Moses Re-Erected, Despite Campus Discomfort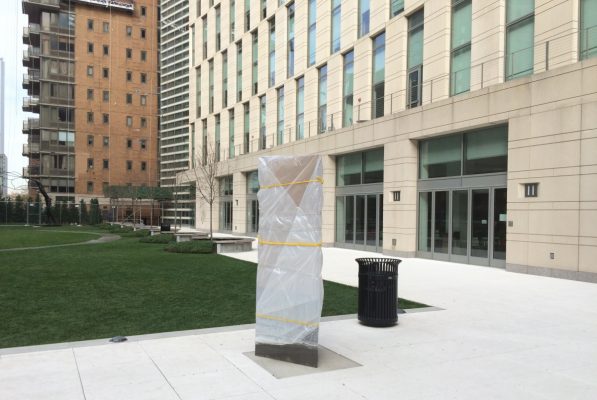 By CONNOR MANNION
News Co-Editor/Asst. Literary Editor
On Wednesday, Nov. 18, a memorial to Robert Moses, the architect of the neighboring Lincoln Center complex, was placed on the Outdoor Plaza, which is called Robert Moses Plaza in official university documentation. 
The placement of the monument disrupted a vigil for the victims of global terror attacks on Friday, Nov. 13, with loud construction noise. According to Georgina Owolabi, Fordham College at Lincoln Center (FCLC) '16, "it was the worst possible time. There were moments of silence and you would hear the drilling."
According to students like Karine Khoder, (FCLC) '18, it is a sign of "disrespect."
"I feel disrespected when I walk around campus and I see it, and also if you think of all the minorities on campus," Khoder said. 
It also serves a practical issue to some students, like Steven Povlitz, (FCLC) '19. "It's really obnoxious.  It's like right in the middle of the walkway," he said.
The monuments reconstruction on the plaza follows a series of events that have meditated on social justice at Fordham, including the Blackout where speakers asked the university to acknowledge the multifaceted story of Robert Moses' influence on designing New York City and to re-name the plaza itself.
Moses built many public works projects like parks, roads and artistic campuses like Lincoln Center, but this also displaced many  low-income communities throughout New York City. "The fact that we have a statue of him is disrespectful to the fact that we live in NYC," Khoder said. 
Last Friday, the six students that addressed the Faculty Senate regarding the issue of institutionalized racism on campus, mentioned the dedication of the plaza to Moses as part of Fordham's "dark history". Eric Taylor, (FCLC) '18, said "This campus sits on the corpse of a community of color."
Robert Moses established the Lincoln Center campus in part through the Lincoln Center Renewal Project, which also removed the predominately African American neighborhood of San Juan Hill, which the New York City Housing Authority classified as "the worst slum in the City of New York." The neighborhood is now known as Lincoln Square, and it includes both the Fordham Lincoln Center campus and Lincoln Center itself.
Lecturer of Political Science and International Studies Christopher Toulouse, who teaches New York City Politics, said,  "For better or worse, the statue is part of Fordham's history, and students should know who he was because Robert Moses' impact on New York City is so prodigious and so profound. He is the most important American people know least about."
"[Moses] believed passionately in the automobile. For his generation, it meant the freedom of the open road," he continued. "For this generation is has turned into being stuck in traffic, puffing emissions, and contributing to global warming," Toulouse said.
"I have a feeling Moses would look down his nose at the presence of so many non-white faces on campus, and all these people of foreign religions," Toulouse said.
He finished by stating,  "But if you really want to make him scowl, flash your Metrocard at the statue. Nevermind the mixing of people from all over the world, they're all riding public transportation!"
Additional reporting by Ana Fota,  Adriana Gallina and Sophie Kozub