Panel Held to Discuss Economic Security for Women of Color
On Wednesday, Oct. 7, the Fordham Law School hosted a panel presented by the Women's City Club of New York (WCC),  along with the Safety Net Project of the Urban Justice Center. Entitled "This Bridge Called My Back: Women of Color and the Fight for Economic Security,"  the panel focused on issues of economic and social injustices plaguing women of color. Among the panelists were Luna Ranjit,  co-founder and executive director of Adhikaar, a non-profit organization centered around social justice for Nepali communities, as well as Margarita Rosa, the executive director of the National Center for Law and Economic Justice, Linda Sarsour, executive director of the Arab American Association of New York and Joanne N. Smith, the founder of Girls for Gender Equity (GGE). The discussion was moderated by Christina Greer, Ph.D., assistant professor of political science and author of "Black Ethnics: Race, Immigration, and the Pursuit of the American Dream."
The discussion focused on the difficulties that women in general and women of color, in particular, are faced with in achieving economic security. The women on the panel discussed their roles as leaders in their communities and organizations in combating issues of racism, sexism and social and economic inequalities. Sarsour pointed to societal oppression – the "idea that women are not allowed to be too powerful, we're not allowed to have too much access, our voices aren't allowed to be too loud or too proud," an obstacle, she argued, that men do not have to face. "The strategy is really being role models," she later stated. In relation to the idea of being a role model for young girls in different communities, Greer commented on the descriptive and substantive leadership that the women on the panel provide in their communities – that is, their race, ethnicity, gender or background is reflective of who they represent, and the work that they do is reflective of the needs of who they represent.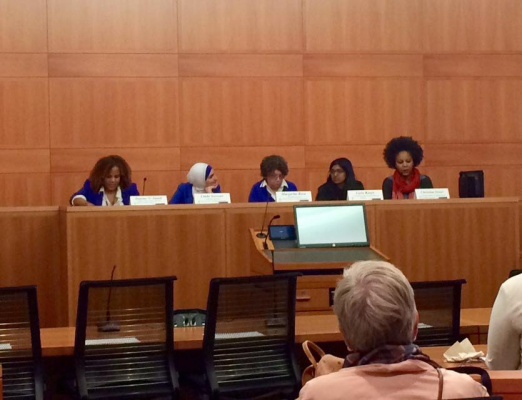 As the panel concluded, Rosa posed a challenge to the audience: "I've had the opportunity to discuss this subject now for about 30 years, maybe longer, and so my challenge to all of us is: let's come up with a solution where you are not having this conversation about this same subject 30 years from now." She notes the forces that have diluted the previous advances made to combat the challenges facing women by forces that "have been persistent and consistent and well-funded and focused on undermining those advances," and that we must also be persistent and determined to reverse those forces and the many challenges that women face.
Jacqueline Ebanks, one of the organizers of the panel and the executive director of WCC, said that she wanted a "multi-generational and cross-cultural group of women to really engage in self exploration but also to think how to move a collective agenda." She said, "The fact is that economic security is an issue that is relevant to all but some are significantly more disadvantaged than others and I think as a society we won't be strong unless all people are strong," and that this is not achieved in isolation, but collectively. "So, this we hope is a start of a dialogue, start of a conversation and also the continuation," Ebanks said.
To further this conversation Ebanks said, "I would challenge us to recognize that we're going to have discussions like this. When we become complacent it erodes and then we're back to where we were 30 years ago. When we engage in social change and in advocacy one very key step, which I think we've fallen asleep on, is maintaining the gains, and there is work in maintaining the gains. It's real simple, you have to be vigilant and you have to be constant at it."
CORRECTION: An earlier version of this article spelled Linda Sarsour's name as "Sasour," which is incorrect.