Solidarity March Staged at Rose Hill Homecoming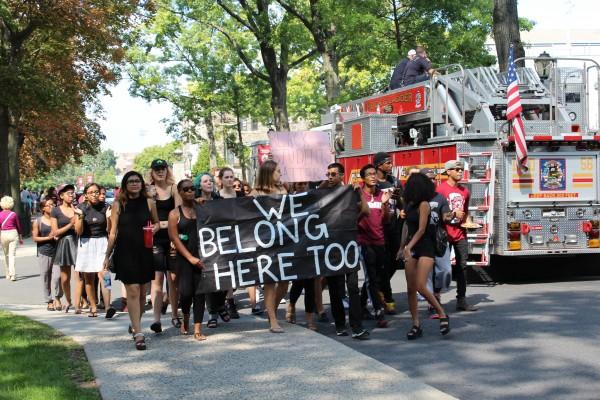 By CONNOR MANNION
News Co-Editor & Asst. Literary Co-Editor
On Saturday, Sept. 19, the same day and time as Fordham's football team took the field against Columbia for the annual Liberty Cup homecoming game, a group of Rose Hill (RH) and Lincoln Center (LC) students marched in solidarity with the student who had a racial slur carved into his dorm door over the weekend. The march began in front of the fountain by Hughes Hall, and ended on the street between Keating Hall and Jack Coffey Field, right before the start of the game.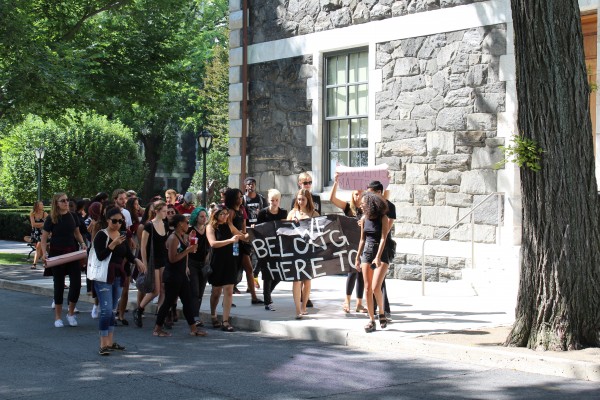 Hans Lueders, Fordham College at Rose Hill (FCRH) '16 and president of ASILI, the Black Student Alliance at Rose Hill, said, "I'm pleased that students took it upon themselves and themselves alone to plan and stage this march." The primary reason for the march of solidarity was to raise awareness of the crime that was made public on Sunday, Sept. 13. "Many alumni didn't receive the email that we received, and many parents were also unaware of the incident," Lueders continued.
Monica Cruz, FCRH '16 and a participant in the march said, "A bunch of students organized very quickly so the entire Fordham community could know more about this crime." She also said that "even though a lot of students of color feel unsafe in this climate right now, we want them to know that we stand in solidarity with them."
After the march concluded, members of the group, including Lueders, began distributing flyers that both contained information about the the racial bias crime and the previous bias crimes that had taken place four years ago at both Rose Hill and Lincoln Center. The flyer also contained a list of "Ways to Be Accountable and Active" on the reverse side.
It also gave the contact information of "Fordham Students United" (FSU) an "intersectional coalition of student leaders, activists and faculty … united to bring social justice on campus," according to the flyer.