Heart-Jolting Jingles to Blast Those Quads
Brent's Ballads to Bulk Up to While Movin' to the Groovin' at Your Local Gym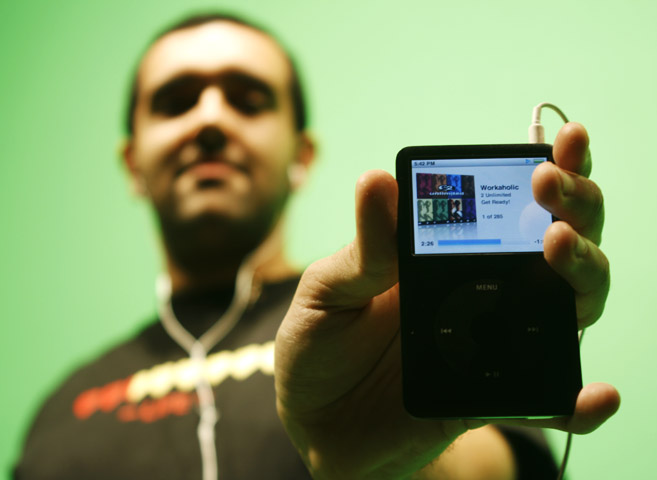 Published: February 26, 2009
Going to the gym every other day, a person tends to hear the groans and shouts from the muscle-bound weight lifters to the huffs and puffs of the treadmill runners. However, at Fordham College at Lincoln Center's (FCLC) gym, the sounds of the sweating masses are usually the only audible distraction offered. Mustering up the focus and motivation to push through those last few reps can be difficult without the right soundtrack.
However, in my journey to lose 15 pounds by graduation, I have discovered a couple of songs that keep me focused. These songs blast through my iPod speakers and add a burst of energy no Red Bull or Full Throttle could provide. Despite how ridiculous or obscure my picks may be, these songs will give you just that extra push to finish your work-outs more efficiently.
1. Let's Get This Party Started:
Artist: 2 Unlimited
Song: "Workaholic"
Beats Per Minute (BPM): 128
For a first song to open any workout, the song must get you into the mood to move. This 1992 club staple can get you to run faster, much like it did to bring tipsy club-goers to the dance floor in the early 1990s.  Aside from a heart-pumping beat of 128 beats per minute, the song's lyrics allude to the lives of most FCLC students. As lead singer Ray Slijingaard raps, "The workaholic, he works every day, 24 hours, no time to play. He won't quit. He's addicted to work. I think he's going out like a jerk." These lyrics hit home to most FCLC students, especially at their ridiculously busy work and school schedules.
For New York Yankees fans like me, the opening chimes of "Workaholic" are played after the Yankees score a run. However, the chimes quickly move into a synthesized beat, typical of most '90s dance hits.  If you enjoy club music, '90s nostalgia or lyrics that connect you to the FCLC community at large, "Workaholic" is the best starter song for you. I just hope your workout starts out more successfully than the Yankees have the last few seasons.
2. For The Long Ride There:
Artist: Girl Talk
Song: Anything from any Girl Talk album, especially Feed the Animals
BPM: Varies depending on the song
With most workouts, there comes a time where the workout may start to lull. During the middle of most workouts, I found that the music needs to be consistent in order to deliver a constant amount of energy and effort. Girl Talk is consistent at being completely unpredictable. Despite listening to his latest album Feed the Animals at almost every workout, some of his mash-ups take me by surprise. The best part about any Girl Talk album is how much fun it is to listen to. As far as I know, there is no critically acclaimed album out there that successfully blends Paula Cole, Lil' Jon, Blackstreet, Cassidy and Busta Rhymes on the same song ("Still Here"). For a musical experience that never gets old, turn on Girl Talk, and set it on repeat.
3. Hitting The Home Stretch:
Artist: Dragonforce
Song: "Through the Fire and Flames"
Beats Per Minute (BPM): 200
For "Guitar Hero" aficionados, this song may have brought about desires to smash your plastic guitar controller into your television. Listening to what has been declared the hardest song on "Guitar Hero" can kick your ass more than playing the song on expert could ever do for you. Blasting at over 200 beats per minute, "Through the Fire and Flames" can provide the extra kick your body needs to get over those last five biceps reps. Wrap your ears and mind around the guitar riffs, the drums and the lyrics, and you will feel your body start to try and keep up with the hyper beats of the song.
The 7-plus minute song refuses to quit from its opening notes to the last 30 seconds, making this song a steady staple for any high-powered workout. Just be careful not to overexert yourself as the song can push you to limits your body may not be able to handle. Unfortunately, I learned this the hard way and was wiped out halfway through a bike ride.
4. End With A Laugh:
Artist: Miley Cyrus
Song: "See You Again"
Beats Per Minute (BPM): 138
The best thing about having an iPod: no one is able to hear what you may be listening to. I would never recommend blaring Miley Cyrus in a packed gym. However, after a successful workout, it is healthier to indulge yourself with a guilty pleasure that will not add extra calories to your body. My guilty pleasure comes from a singer who has had more public scandals about how she dresses than Alex Rodriguez has had about steroids.
"See You Again" comes in at 138 beats per minutes, which is a good BPM to wrap up a strong workout. Also, I believe having a smile and enjoying yourself at the end of your workout is important and will help you go back to the gym and keep up with the routine. Just one piece of advice: resist the urge to start dancing and singing to the song, or risk embarrassment and ridicule from the others in the gym.
Weight Loss/Exercising Update:
My original weight was 228.5 lbs, which was measured on Jan. 21. After almost three weeks of working out and eating more healthy, my weight stands at 226 as of Feb. 23, two and a half pounds under my original weight.
This past two weeks were difficult, to say the least. With a couple of nights out mixed with craziness throughout the week, I have gained a pound and a half. These next two weeks will be boot camp, as I have three weeks to prepare for spring break in Miami, Fla. When it comes to motivation, Juliet Ben-Ami, FCLC '11, told me once, "Chalk it up to a bad week and keep going!"