Cupcake Wars Hits New York City
Have you ever gone on a Netflix binge? Come on, fess up, we all have. Netflix recently added a Cupcake Wars Collection and as a food reality TV junkie, I was ecstatic. Sure enough, within the first fifteen minutes of the first episode, I was craving cupcakes. Three episodes in, I was starting to get hunger pains; by five episodes, I was famished. Thank goodness for Google because within minutes I had the answer to my craving. Only five minutes away from Fordham is a new artisanal and organic cupcake bakery, which, get this: IS OWNED BY A WINNER OF CUPCAKE WARS. You can guess that after finding H Bake Shop, I slid on my shoes and ran to 57th street and 11th Ave. for some of the best cupcakes I have ever had.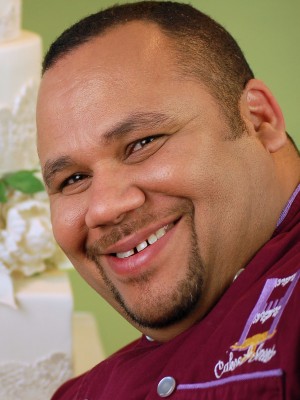 For those who are not familiar with Cupcake Wars, all you need to know is that it is a Food Network reality show where four bakers compete in three intense rounds of competition for the prize of $10,000 and the opportunity to have their cupcakes featured at an exclusive event. Each week, there is a different theme, which dictates the flavors and inspirations the bakers must draw on. For example, the last episode I watched was Teenage Mutant Ninja Turtle themed. The bakers had to create pizza flavored cupcakes in the first round and the exclusive party portion of the prize was to have their cupcakes featured at the Nickelodeon launch party for the season premiere of Teenage Mutant Ninja Turtles. I know, sounds kind of lame, but trust me, it is addicting. The owner of H Bake Shop, Huascar Aquino, won over guest judge Jessica Alba and featured his all-organic cupcakes at her launch party for the "Honest Company." 
Walking into H Bake Shop can be overwhelming. There are so many different cupcake flavors to choose from! I asked the staff which cupcake they would recommend trying first and was encouraged to try the PB & J, an all-time customer favorite. The decadent cupcake featured homemade peanut butter, homemade concord grape marmalade, peanut butter frosting, chocolate fudge and was garnished with salted peanuts. The cake was light and airy while still having a slight dense texture that kept the cake hearty. The homemade concord grape marmalade that was stuffed in the center of the nutty cake added the perfect sweet-sour flavor note that complemented the rich, yet perfectly portioned chocolate fudge that topped the cake. The peanut butter frosting was not overly sweet and had a smooth, creamy texture. Normally, peanut butter frosting can be thick or grainy, but this frosting was almost like a mousse in texture and was surprisingly light for something so rich. The cupcake is rich and decadent, yet every component has a lightness to it that makes the end result pure peanut butter and jelly bliss.
The second cupcake I tried turned out to be not a cupcake at all. The seasonal gluten free cupcake turned out to be a sweet potato and maple syrup cheesecake with a gingersnap crust and a fresh whipped cream topping. The cheesecake was light and airy and tasted exactly like sweet potato casserole except it had a nice tang from the cream cheese. The gingersnap crust complemented the acidity in the cream cheese and added a cinnamon dimension to the cake. The whipped cream frosting was the perfect topping because I added a light note to the otherwise perfectly dense and creamy cheesecake. 
Curious about the genius baker behind these amazing cupcakes, I interviewed baker and owner of H Bake shop Huascar Aquino. This baking superstar has appeared on Food Network Baking Competitions like Cupcakes Wars and Sweet Genius, where he has put his baking skills and creativity to the test. When asked about his experience competing on these shows, Huascar told me it is much harder than it looks. "The taping of the actual show is much more intense than what you see on TV and entailed a tremendous amount of preparation, even before we left New York. When we got to California, it was non-stop work from sunrise to late at night. The day of the actual competition, we got to the studio around 4 a.m. and left the next day at 2 a.m. When it was all over, my entire body ached! Even walking down a flight of stairs was painful." 
Following the show, Huascar had more hard work ahead of him because he put his prize money to good use and opened his bakery. When asked about his bestselling flavor, Huascar told me it was the Scarlet Velvet, which he described as "my take on red velvet. It is a naturally red cocoa cake filled with chocolate fudge and iced with a Mascarpone cream cheese frosting." However, his bakery favorite extends beyond menu mainstays as he told me his personal favorite is almost always the "Cupcake of the Month," which he says "allows me to try out different seasonal ingredients and interesting flavor combinations." For example, during the holiday season, H Bakeshop has a Candy Apple cupcake. Huascar described it as "an apple cider and caramelized Gala apple cake made with molasses and a special combination of spices. I frost it with caramel buttercream, drizzled with caramel sauce and topped with a crunchy cinnamon apple chip. My partner, Carlos, describes it as 'Christmas in your mouth.'"
So I know, some of you are thinking that cupcakes are a dying fad, victim to the current French macaron and cronut craze, but in the words of Huascar "Cupcakes remain a popular bakery item in New York City. They are easy to make and fun to decorate and eat. They make a terrific alternative to the traditional birthday and wedding cakes (which I also make). The trick is to offer gorgeous cupcakes that are flavor-focused without being cloying. I think I strike the right balance at H Bake Shop." And I completely agree. If you are looking for cupcakes done right or a delicious treat to get you through finals week (Huascar also bakes delicious homemade cookies and donuts!), I highly recommend stopping by H Bake Shop.