Creative Writing Students Face Off in Golden Gloves Literary Competition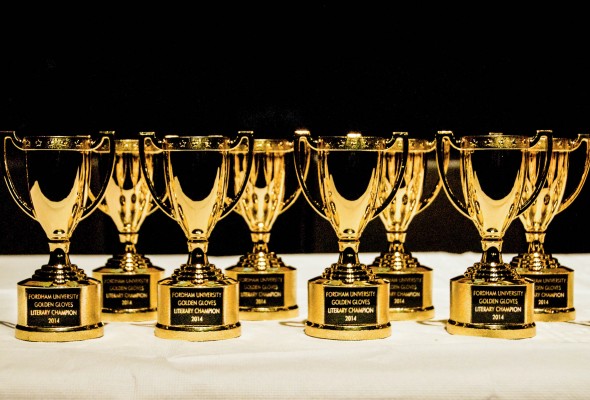 On Wednesday Dec. 3, the creative writing departments of both Fordham College at Lincoln Center (FCLC) and Fordham College at Rose Hill (FCRH) hosted the first annual Golden Gloves Literary Competition. Students from both colleges represented their classes by ascending the podium and reading aloud their pieces of literature.
First to take the podium up was the Storytelling Across Media class, whose piece used an interactive slideshow; the audience told the reader what word she should click to continue the story. Contrasting from the first class, students from the Fiction Boot Camp and Stuff of Fiction classes presented more traditional prose.
Next, the Creative Nonfiction Workshop team presented a video, which featured the class talking about the creative writing process and what their motivations were for writing. The fifth class to take the podium was the Family Matters: Memoir group, which had two of their members present very personal and tragic stories about their grandparents. Sixth in the line-up came Prose Poetry/Flash Fiction; the presenter read an experimental piece written by the entire class.
The seventh group, First Flint, showcased a live performance of a meta-screenplay about writing a screenplay. The eighth group on the podium, Experimental Writing for Non-Experimental Writers, was inspired by "Bluets" by Maggie Nelson; the class collectively created a piece they called "Sad Clown Symphony," which was then read aloud to the audience by the class. Each student starting with a different color relating to whatever subject matter they individually chose to address. The ninth class on the podium, Digital Workshop & Tools for Creative Writers, had one student compile famous American speeches that begin with the word "we," and had another combine the lyrics to two songs to make a new piece. Lastly, the Writing for the Big Screen group collectively produced a noir screenplay called "The Black Lizard."
After the presentation was finished, the judges, Associate Professor of English Frank Boyle and Associate Professor of English James Y. Kim, deliberated and declared the Fiction Bootcamp of Rose Hill as the victors of this literary competition.
Sarah Gambito, assistant professor of English, director of creative writing and head of the event, was excited that the competition came to fruition. "What we wanted to do was to honor excellence in creative writing, and at the same time galvanize our creative writing communities across both campuses," she said.
Since last year, the basic idea for the event has been in people's minds. "With the number of students that were involved in literary publications, we were thinking about an event that could get the Fordham student population really excited about peer creative writing," Gambito said.
After the competition, a student from the Experimental Writing for Non-Experimental Writers, Catherine Heely, FCLC '15, said,"I thought [the work] was amazing! I didn't know what to expect. I've been to so many readings where its like one person reads something, then the next, it often gets a little boring. We thought we'd mix it up. This whole thing was just such a nice variety of not only writing, but the formats that were given and the performances, the screenplays, and movies and stuff like that."