Faith on Tap: Church Has Made Leaps, But Needs To Keep Jumping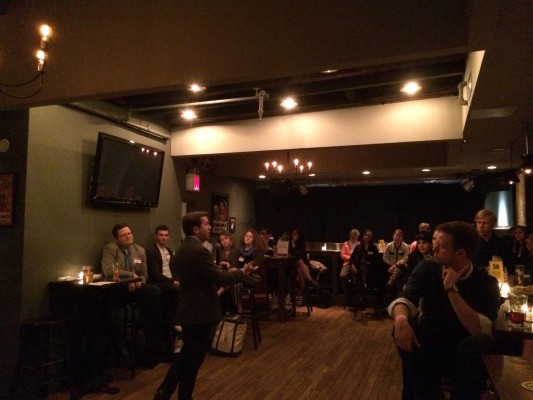 On Monday, Nov. 10th, Fordham University's Office of Alumni Services presented their third installment of the "Faith on Tap" series, focused on sexuality and Lesbian, Gay, Bisexual, Transgender, Queer (LGBTQ) issues, like the prohibition of gay marriage. The keynote speaker and moderator was J. Patrick Hornbeck II, Ph.D., chair of Fordham's theology department.
Hornbeck's stance was clear: the Roman Catholic Church has a lot of progress to make towards being more inviting toward the LGBTQ community. Most the attendees gathered in 3 Monkeys Bar in Midtown seemed to agree with him.
Some alumni, like  Jeffrey Cipriano, Fordham College at Lincoln Center (FCLC) '14, were impressed with the event. Cipriano said,"I enjoyed the conversational tone and intellectual stimulation provided by Dr. Hornbeck." He continued, "I hope to see more events like this in the future in order to discuss other diverse topics in faith."
At one point, Hornbeck made large jumps across the bar floor to demonstrate the five points of view towards those that identify as LGBTQ. He said "the current Catholic viewpoint sees homosexuality … as a tendency toward sin, but has begun leaning into a viewpoint that it is more of a 'disability', like blindness." He also explained that the Church has moved to this point, and could move further along his "jump-line" of viewpoints, though "it would take a long time."
Hornbeck introduced the conversation by explaining some of the recent events at the Catholic Synod, a collection of bishops that meet to discuss issues pertinent to the Church. The bishops have met specifically "three weeks ago to discuss LGBTQ issues, cohabitation, abortion and contraception," he said.
The discussion then became a conversation led by Hornbeck with the Fordham alumni community. He noted almost immediately that there was a "sentiment of negativity in the way that we [the group at 'Faith on Tap'] think about sex in perspective of the Church."
The audience asked Hornbeck about several topics like the possibility of female priests, intersexual persons in relation to marriage defined by Catholic teachings and gender identity as defined by the Church. Hornbeck helped define the talk about gender identity and intersexuality as a "much more fluid conversation, but necessary to have … given the implications for society … that gender is a socially constructed and defined subject, and since there is no Catholic teaching on gender identity … the Church has chosen to remain silent on this issue for now," he said.
On the possibility of married clergymen, he said; "The issue of [the ban on] clerical marriage in the Catholic Church … is a matter of what we might call administrative efficiency … it's a matter of Church discipline and not doctrine, which means that it can be changed." He was less optimistic about the possibility of female priests, given that "the teaching against women priests  is in Catholicism a theological teaching…based on the reading that Jesus only chose men, therefore only men can be priests…again for there to be a change, that whole theological construct about Jesus only choosing men … would have to be changed," he said.
Timothy Dinneen, Fordham College at Rose Hill (FCRH) '08 assistant director of Alumni Relations for Young Alumni and Student Engagement explained the event as "a twist on 'Theology on Tap' … which is a Diocesan, parochial event … however, this event is meant to have more of a conversational and engaged tone to it." He explained the series of "Faith on Tap" talks as a project of the Office of Alumni Relations as a way to keep recent graduates active in the Fordham community in "a practice of lifetime learning" Dinneen said.  "'Faith on Tap' is a way to continue these somewhat difficult conversations that [Fordham] is known for."
Dr. Hornbeck echoed these sentiments, beginning the conversation by emphasizing the presence of "having a conversation, not a lecture in describing [sexuality and God]."
Hornbeck related the event to current students at Fordham University as "[Fordham] constantly challenges us to go farther … I hope that undergraduates find this university to be a 'safe-space' where they are welcome to have [conversations] like this, and if they don't they can reach out to faculty and administration to create that space," he said.
Sinead Devlin, FCLC '11, was also pleased and excited about the event. She said, "I was interested to hear about the question of sexuality in [relation to] the Church, given that Fordham is pretty progressive in my opinion."