FCLC Student Nikolas Oktaba Awarded Beinecke Scholarship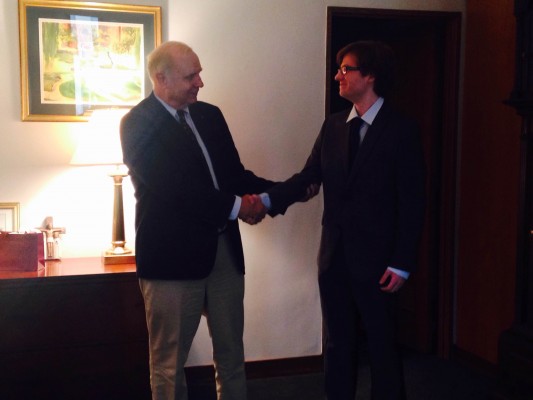 On Friday, Oct. 24th, Nikolas Oktaba, Fordham College at Lincoln Center (FCLC) '15, was presented the  prestigious Beinecke Scholarship through the Beinecke Foundation. Dr. Parkinson, head of the foundation, met with Oktaba and Rev. Robert R. Grimes, S.J., dean of FCLC, to award the $34,000 scholarship to the senior.
The Beinecke Scholarship originated in 1971 for the purpose of encouraging a graduate education for students of "exceptional promise." Since its start, the foundation has awarded over 500 college juniors financial aid to over 100 different institutions.
As Oktaba applies to graduate schools, he aims to focus on the classics and comparative literature. He has a specific interest in gender and sexuality studies as they apply to the classics.
Dr. Parkinson added that being head of the foundation, "gives [him] a chance to go out and meet wonderful and talented people, like Oktaba."
He stated this scholarship is unique because, "[it is] always awarded in addition to whatever you get from the institution." Oktaba will receive $4,000 during his senior in undergraduate college and will get an additional $30,000 from the Beinecke Scholarship throughout his studies in graduate school.
Oktaba said, "[I am] immensely thankful to the Beinecke family."
Parkinson described the foundation as having "wonderful people to work for, very much New Yorkers!"
The scholarship has no restrictions on which graduate school can be chosen and can be used in correlation with other awards from the selected institution, as long as the student majors in the arts, humanities, or social science.