Fordham Students Continue to Smoke Despite Knowledge of Health Risks
Other New Yorkers Smoke Less; Research Indicates This is a Result of Stricter Laws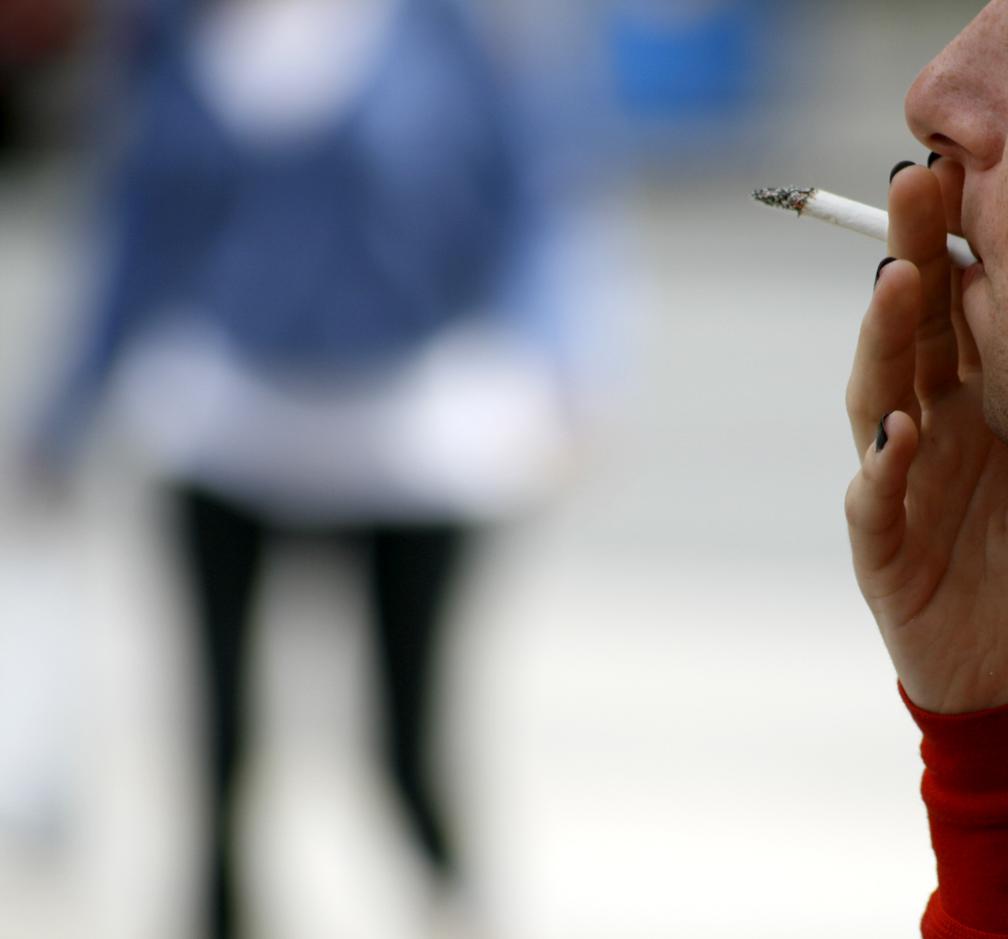 By Anndrew Vacca
Staff Writer
Published: October 16, 2008
"Smoking adds to the social ambiance of college. It's an excuse to run into people and strike up a conversation," said Catherine Alvino, a sophomore at Fordham College at Lincoln Center (FCLC). According to the 2007 CORE survey, Alvino is among the nearly 30 percent of FCLC undergraduates that continue to smoke, despite the health risks.  The CORE survey is a questionnaire on drug and alcohol use administered every two years by universities across the country. The CORE figure stands in contrast to statistics released last year that point to the effectiveness of stricter smoking laws in New York City.
A 2007 report by the Centers for Disease Control (CDC) stated that New York City has "set an example" for reducing smoking. The report states that numerous measures, including a city-wide ban on smoking in public venues, higher taxes (the average price for a pack of cigarettes in New York City is now about nine dollars) and school-based educational programs have resulted in 240,000 fewer smokers in the city since 2005.
A 2007 CBS news article citing the statistics pointed out that New York City's biggest drop in smoking came in its 18-24 year old demographic. Between 2002 and 2006, smoking among young adults dropped 35 percent.
In contrast, a report released in September by the American Cancer Society, "Big Tobacco on Campus: Ending the Addiction," found that nearly one in five college students continues to smoke despite knowledge of health risks. The report also found that tobacco companies spent nearly one million dollars a day in 2005 on advertising on college campuses, hoping to entice new smokers as well as to retain old ones. Official Fordham policy, as stated in the Fordham University Student Handbook, prohibits the advertisement of tobacco products in university publications.
According to the CORE survey, tobacco use by Fordham students has remained steady since 2005.
The survey posed a number of questions regarding tobacco use.  When asked if they have ever used tobacco in the past, 52.5 percent of Fordham students answered yes, compared to the 52.4 percent in 2005. 30.1 percent of Fordham undergraduates answered that they had used tobacco in the past 30 days, compared to the slightly higher 34.1 percent in 2005. And of students that used tobacco three or more times in the last week, 14.1 percent of Fordham students answered yes, compared to the 20 percent in 2005. Overall tobacco use, despite the small drop in regular use, remained about the same.
According to Joan Roberts, the chair of the natural science department at FCLC and a chemist, both stress and depression are main catalysts for tobacco use. "Most [people] start smoking to relieve stress and depression and to help focus their brain," Roberts said. "Nicotine sits in the brain's natural memory receptor."
Roberts pointed to a genetic predisposition for smoking. "There is a strong genetic tendency to become addicted to smoking if you have certain genes. If your parents were heavy smokers you are more likely to become addicted to smoking," she said. Roberts also cited a recent scientific discovery that pinpointed a gene specific to tobacco addiction.
According to an MSNBC report in April, the "smoking gene" not only "makes you more likely to be dependent on smoking and less likely to quit smoking," but also, when inherited by both parents, "[gives a smoker] an 80 percent greater chance of [developing] lung cancer than a smoker without the variants."
Roberts highlighted some of the dangers  that college students  face when they begin smoking. "The sooner [in life] you begin any addictive drug, including smoking, the more likely you are to become addicted to that drug," Roberts said. "The brain is still developing in adolescence and is not completed [developing] until 25 years old."
Ray Walsh, FCLC '12, points to stress as his main drive to smoke. "In college, there aren't enough hours in the day. Cigarettes help you to focus and give you energy," he said.
"Honestly, smoking gives me an excuse to reflect… [I smoke] in order to relax for a few moments and collect my thoughts," Alvino said.
Chris Farhood, a licensed clincial social worker in private practice who deals with college students and dependencies, stated that the "sheer addiction" is what keeps college students smoking. "It still has a lot to do with looking cool. Kids walk around New York City and see people smoking and think it's the cool thing to do," Farhood said. "Then they get addicted."
"Most people think it will never happen to them, but they do get addicted," Farhood said. "Prices can continue to rise and negative publicity can continue to spread, but people will find a way to keep smoking once they are addicted."
"In the city, a pack of cigarettes is almost double what I used to spend," said Walsh. "It definitely limits the amount I smoke…but doesn't eliminate smoking altogether."
Despite the increase in smoking restrictions in New York City, Fordham currently has no plans to go completely smoke-free.
Keith Eldredge, dean of students at FCLC, emphasized the importance of educating students about tobacco use, as well as the "delicate balance" between students' health and students' rights.
"[FCLC's] health center encourages all smokers that they encounter to consider quitting." Eldredge said.  "Fordham also takes part in the National Stop Smoking Day every November," he said.
"There is a challenge to keep a balance between maintaining a healthy environment, as well as one that respects students' rights." Eldredge said. "These are individuals making legal choices [to smoke]. Of course we follow all laws and regulations put in place by the city of New York. McMahon Hall became smoke free in 2005; Lowenstein became smoke free even earlier. But there are no discussions to prohibit smoking on the entire campus."
According to the American NonSmokers Rights Foundation, there are currently only 60 universities in the country that have banned smoking campus-wide.
"If we noticed a national trend of universities banning smoking, we would of course ask for student input before making a decision,"
Eldredge said.