Social Media Helps to Promote Clubs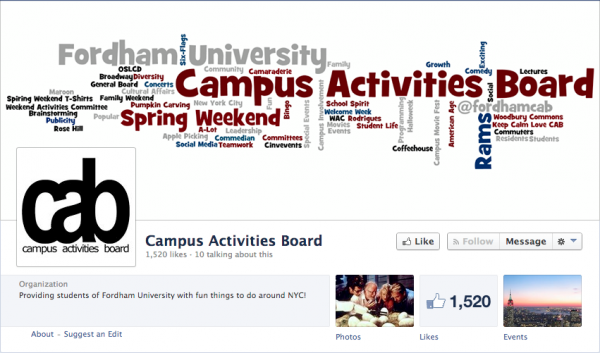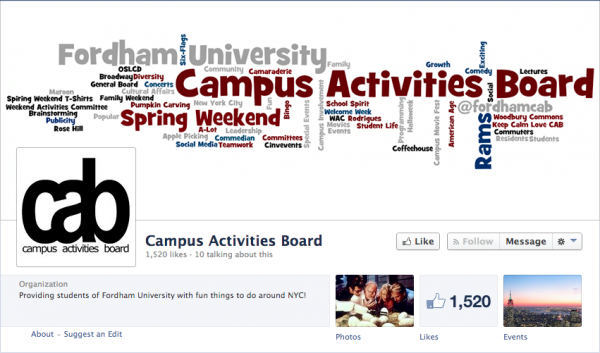 By GUNAR OLSEN
STAFF WRITER
Published: April 2, 2014
Over the past few years, student clubs at Fordham College at Lincoln Center (FCLC) have been using social media outlets like Facebook to promote their meetings and events. As a result, club leaders have found it easier to engage with members of the community.
Brian Cipollina, FCLC '14, president of Campus Activities Board (CAB), said of CAB's Facebook page, "I take so much pride in it. I like to try to be quirky on there and put good pictures."
Cipollina has noticed that posting pictures to Facebook helps to create interest among students. "Anytime we can get pictures of students, that usually gets the most interaction and reaction. If we're tabling the plaza for selling tickets, and we take pictures of students buying tickets, and people see their friends in the photos, they'll often comment or like it," he said.
Not only does Facebook help members get involved, but it also helps club leaders interact with each other. "We don't ever have a meeting where club presidents get together at this school, so there's no real conversation about what other clubs are doing. Facebook is really the only way of knowing," Cipollina said.
At a student leadership conference during the summer, Cipollina learned that in certain cases, it is more effective to maintain only one social media outlet. "One of the key points from the social media conversation was not to have so many if you can't control them all. It's better to have one main one than to have everything," he said.
Louise Lingat, FCLC '14, president of United Student Government (USG), stressed the importance of social media for people who do not take classes at Lincoln Center. "FB is a good venue not just for Fordham LC students but also to reach out to reach out to Rose Hill students to get them aware of what's going on at LC," she said.
"A lot of our likes on FB are from alumni who have served on USG and want to remain updated as to what is happening on USG, which is good for us because having alumni relations is always a positive thing," Lingat said.
Andrew Abbensett, FCLC '16, a nominee for two Undergraduate Appreciation Awards in Most Spirited Clubber and Most Active Clubber, agrees: "Facebook is the most seminal way of communicating information to others."
As a member of both In Strength I Stand (ISIS) and Rainbow Alliance, Abbensett praises the openness that Facebook offers: "[ISIS and Rainbow] are much older than our college careers, so you have alumni who are on the Rainbow page and the ISIS page. You realize that information that's being communicated is coming from so many different angles." On those Facebook pages, members post articles and continue the discussion that they have in meetings.
Social media has helped Abbensett earn the Most Active Clubber nomination. "A lot of ISIS's events on Facebook really caught my eye, so that's why I decided to go to some of the events this year," he said. "You see pictures of what students are doing through Facebook, and that helped me join choir."
Sandra Lin, FCLC '15, president of the Asian Pacific American Coalition (APAC), said she uses APAC's Facebook page to inspire excitement about events and promote Asian culture. "Last semester, we incorporated Asian of the Month," which, in March, featured Cristeta Comerford, the first woman and first person of Asian descent to be the White House Executive Chef.
"That's gotten a lot of attention. We get a lot of likes from that," Sandra said.