Career Services To Host Arts, Media & Service Career Fair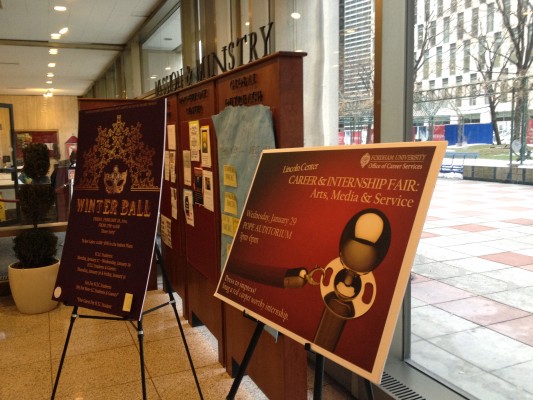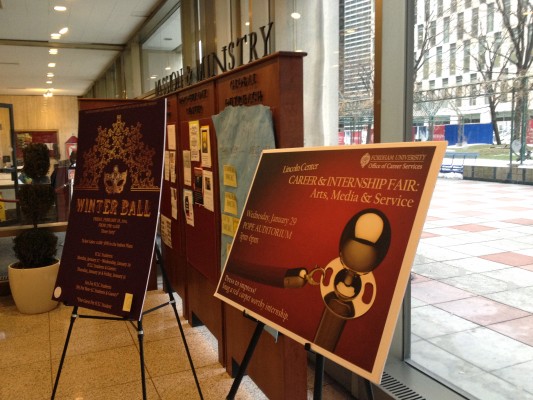 Fordham's Career Services will hold its annual career fair on Wednesday, Jan. 29 from 3 p.m. to 6 p.m. in the Pope Auditorium. The event is open to all undergraduates, students in the Graduate School of Arts and Sciences and students in the Graduate School of Education.
At the event, students can meet employers and ask them about their organizations. Companies in the fields of arts, media and service will attend. ABC, CBS, Sterling Publishing, Jazz at Lincoln Center and Armani Exchange are among the 37 employers scheduled for the career fair.
The companies at the event recruit for specific positions. Abigail Ferreira, a career counselor in Career Services, said, "Although you won't actually get an internship or job offer there, it will definitely lead to an interview. A lot of our students that came last year got their internships from the career fair and made connections that led to their interviews."
After the career fair, Ferreira recommends that students follow up with each employer they meet. "For every employer you talk to directly, get their business card, and then the next day, shoot them an email saying, 'It was great to meet you.' Mention a blurb from your discussion so they know who you were," Ferreira said.
Ferreira suggests that students dress professionally and bring 10 to 20 copies of their résumé. "Before the event, I would highly recommend making an appointment with a counselor [in Career Services] and coming to the career preparation events to get your résumé prepared," she said.
Last year was the first career fair held at the Lincoln Center campus. "It was very, very successful. We had 600 students and a really nice mix of employers," she said.
Ferreira thinks this year's mix of employers is even better. "We've really tried to get employers that the students want to match their majors here, to match their needs. We want to target it so Career Services serves the whole range of students," she said.
"Even if you're not actively looking for an internship or a job this year, I think it's a really good idea to come and see what's out there. It's very valuable for freshmen and sophomores who aren't sure what kind of experiences they want to come and see what employers are offering. It's good to come and browse," Ferreira said.