William Shakespeare, New York's Most Popular Playwright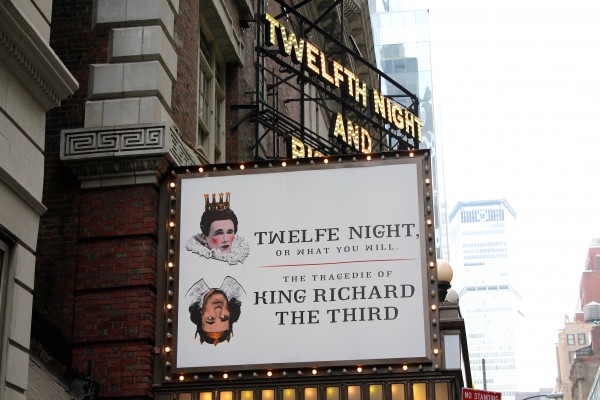 Nearly 400 years after his death, William Shakespeare is still taking over the New York City theater scene. Big name celebrities like Orlando Bloom, Mark Rylance and Ethan Hawke are just three of the more than 60 actors performing Shakespearean plays eight times a week—and that's just on Broadway.
In addition to the Broadway productions of  "Romeo and Juliet," "Macbeth," "Richard III" and "Twelfth Night," there are also high-profile productions of "Romeo and Juliet" and "A Midsummer Night's Dream" off-Broadway. According to the Broadway League, the theatrical trade association, this is the first time since 1987 that there have been four plays by Shakespeare presented simultaneously on Broadway. For many theatergoers, this seems like the resurgence of Shakespeare.
"It feels different this year than in other years," Adjunct Professor of Theatre at Fordham College at Lincoln Center (FCLC) Stephen Sosnowski said. The professor is also director of account services at SpotCo, an advertising agency that handles the Broadway productions of "Richard III" and "Twelfth Night," which are running in repertory at the Belasco Theatre. The productions are performed in the same space by the same actors on a rotating basis.
"There are always small companies throughout New York City performing Shakespeare, but to have two major productions of 'Romeo and Juliet' in town, both with stars is very rare," Sosnowksi said. "To have two Shakespeare plays in rep playing on Broadway sharing the same stage is even more rare. That's never really happened on Broadway before."
Michael Kimmel, adjunct professor of theatre, agrees that Shakespeare seems to be more prolific this season; he acknowledges that that may be just a result of how much press these productions have received. "What we're seeing this year—maybe even in the last couple of years—has been high-profile Shakespeare projects sort of back-to-back, and I think that's why it feels like there's more. There's a lot more in the forefront of the press," Kimmel said. "Any time that you have [celebrities] all attached to projects, it's automatically going to generate more press."
Having big-name celebrities in these shows also helps them get exposure through outlets that do not often cover theater, as demonstrated by Bloom's appearance on "The Colbert Report" in October to promote "Romeo and Juliet" on Broadway. Since many of Bloom's fans have gone to see him in the show, the production has attracted an audience beyond the typical Shakespearean theatergoers. After the first performance of Bloom's "Romeo and Juliet," the crowd waiting for autographs filled the sidewalk around the theater and then filled the street, garnering press attention.
Different interpretations of the pieces—such as both current New York productions of "Romeo and Juliet," which have been modernized—also help audiences connect to the plays in a less traditional manner. "With these new interpretations, we're seeing [the plays] in a new light," Kimmel said. "It's bringing [them] hopefully to a new generation or to people who haven't experienced [them] before."
At the same time, "Twelfth Night" and "Richard III" are done in the Elizabethan style that they would have been presented in when they were first performed in Shakespeare's time. While not reinterpretation, these plays are still generating attention for the production, introducing theatergoers to a style of performance with which they are generally unfamiliar.
Though Shakespeare's works have been performed for hundreds of years and will be performed in the future, there seems to be no specific reason as to why he is suddenly the playwright of the season, though it helps that his intellectual property rights have expired. "The nice thing about producing Shakespeare is that there are no underlying rights. [The plays] are public domain," Sosnowski said.
"For those of us who work in theater, to be able to work on Shakespeare is the ultimate goal," Kimmel said. "They hold up to so many different interpretations and I think you'll want to have your chance at interpreting that material."
Heather Dubrow, Shakespearean scholar and FCLC professor of English, believes that seeing productions of Shakespeare's plays are "a pleasure as well as a need. These plays lend themselves to so many different interpretations that seeing how the same play that you know and love is done by a different director can be exciting."
"It's wonderful because any time there's such a wide variety of people tackling Shakespeare, it's exciting," Kimmel said. "I like knowing that both modern and traditional productions exist. I am definitely going to go see 'Twelfth Night' and I will probably be enraptured. But I also want to see someone take a play that's hundreds of years old and well-known and be given the chance to mess with it a little."
This season, theatergoers certainly have plenty of opportunities to do so.