Savannah Sturgeon: A Growing Fish in a Big Pond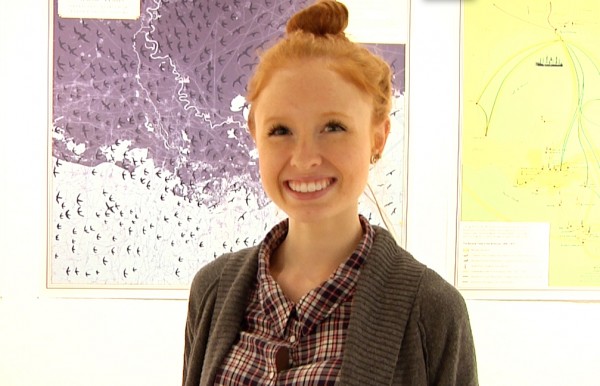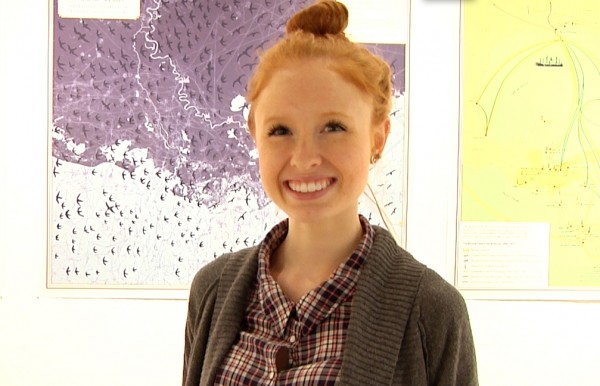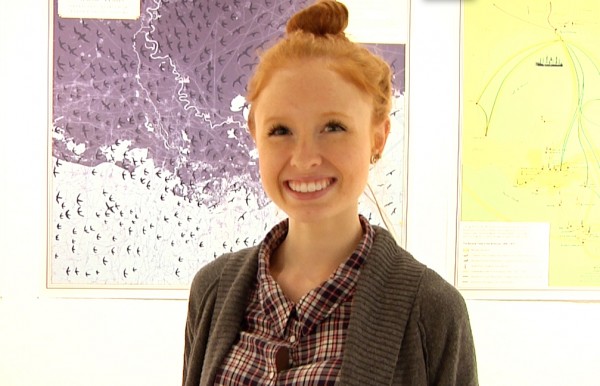 By ANDREW MILNE
Arts & Culture Co-Editor
Published: November 13, 2013
Not many college students get the chance to perform at Webster Hall.
Originally from Tennessee, Sturgeon's Southern upbringing comes out in her gift for storytelling. She recounts how a fifth-grade play originally inspired her interest in music."I was in 'The Secret Garden.' I had gotten the prestigious role of the bush, and the boy who was going to play Colin got sick, so I was asked to replace him," she said.  "I thought I was going to be playing a bush in the garden, and I ended up having one of the lead roles, which has a really big solo. The only reason I got the role is because I was the only one pale enough to play the sick boy, I swear," she said jokingly, her copper hair and porcelain skin common fodder for her humor. Sturgeon ended up nailing the solo. Once offstage, an older boy picked her up and told her he'd "never heard someone sing like that so young!"
"At that moment I was like 'maybe I can do this.' It was then that I considered music as something to pursue,"  Sturgeon said.
Sturgeon describes her musical tastes as a hodgepodge, but "give me some Ray Charles and Sam Cook, and we'll call it a day." In fact, if she were to play one song to a sold-out crowd at Madison Square Garden, she'd play "Georgia on My Mind" by Ray Charles. "It was the first really, truly jazzy song that I learned on the piano. I love that song," Sturgeon said. She also cited Elton John, Billy Joel, Sarah Vaughan, Bob Seager, Led Zepplen, The Rolling Stones and ZZ Ward as musical inspirations.
Since her first visit to New York City around the age of 13, Sturgeon knew she was a city girl, so it's no surprise she moved here after high school. "I like being in an environment where people are better than you at basically everything and so it pushes you and always makes you ask yourself 'Can I do this better?'" she said. "you're a really tiny fish in an ocean and it's a great way to kind of keep yourself in check." Sturgeon chose Fordham for its combination of music classes and community service ties, since she is double majoring in music and social work. "Fordham is really big with the Dorothy Day Center and all of the community service, which is a big part of my life" Sturgeon said, explaining that she volunteers every summer in Estonia and Mexico. Fordham seemed to her like "a great way to kind of blend [music and community service] together."
Fordham proved to be musically in sync with Sturgeon, as she was a founding member of a nearly all-Fordham band, Cableknit, along with Allegra Lombardi FCLC '16, Aki Kawasaki, FCLC '16, Benjamin Carbone, FCLC '16, Alex Keyes, FCLC '16, Nathan Mirand, FCLC '16, and Peter Gambino (not a Fordham student). "Freshman year, I showed up to the wrong music class on accident," she said, explaining the origin story of the group. "But that's where I met a lot of the band mates. We were all leaving class together and we were all talking about our musical talents and what we were into and I jokingly said 'We should start a band!' And then we did."
The members have since gone their separate ways and dissolved Cableknit, but it was a great way to gain experience as a musician, Sturgeon said.
Her main musical focus now is the non-Fordham band she sings with, Black Market Merchants, which she joined as a singer seven months ago. Their sound is an eclectic mix of all of the members' musical tastes: "It's a little bit of alternative, rock and blues which I love, because I'm a blues-jazz singer," Sturgeon said. The group played Webster Hall on Nov. 3, their biggest venue to date. Sturgeon claimed it was a great experience, especially given the "nervous situation and bigger crowd"
As for what's next for Sturgeon, over the next few years, she'd "definitely love to get signed to a music label; it's every singer and musicians dream" she said. She also mentioned her ambition to work with children in a service capacity.
"[If I] had a career that was just music, it would feel so incomplete to me. Definitely being in the lives of kids is the other half of the spectrum I have to fulfill," Stugeon said.
In the nearer future, Black Market Merchants is hoping to go on tour either during winter or spring break, with an upcoming show at Webster Hall on Nov. 27. Sturgeon also hopes to go to Estonia or Hawaii this summer to work with kids, suggesting that going to Hawaii would require a plethora of sunblock, adding "I get sunburn from the moon."
For more information on the band, visit their Facebook page https://www.facebook.com/BlackMarketMerchants.