2012: A Good Year for Swimmer Brienne Ryan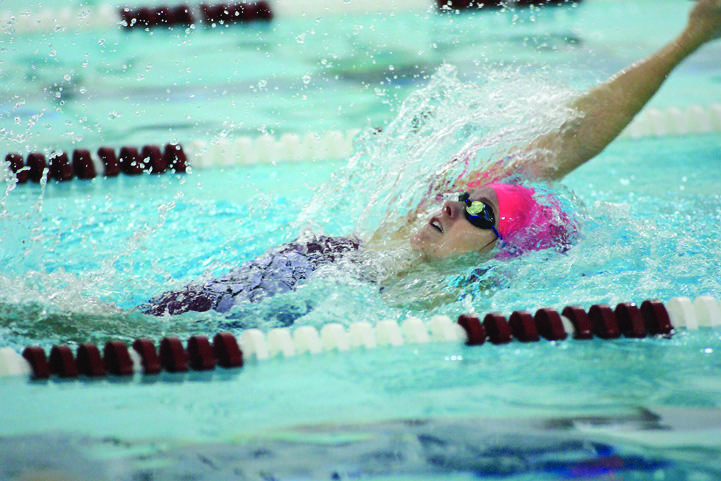 Brienne Ryan, Fordham College at Rose Hill (FCRH) '13, has had an amazing 2012. The senior competed in both the NCAA tournament and the Olympic trials, and was selected as the Women's Performer of the Week for four straight weeks.
The Atlantic 10 (A10) Conference gave Ryan the honor for the fourth time after her performance at Princeton during the 2012 Big Al Open on Nov. 10. Ryan swam in four races at the Princeton Invitational. She came in first place in the 100-yard backstroke race with a time of 55.79 seconds and second place in the 200-yard backstroke race in 2:01.02. She had season bests in the 50-yard freestyle and 100-yard butterfly races. There she clocked in 23.86 and 57.90 respectively to place third in the 50 -yard free and sixth in the 100-yard    butterfly.
Talking about the honor, Ryan was pleased, but noted that a lot of her close competition didn't compete that week. "It's kind of cool. But at the same time, I know that other teams, like the top teams in the conference, like Richmond and UMass didn't have meets that week. I know that they have amazing swimmers too. But it's pretty cool though."
Ryan's success continued at the Bucknell Invitational in Lewisburg, Pa. During the span of three days, she did well in both relay and individual races. On Nov. 16, Ryan, along with her teammates Chandler Lulley, FCRH '16, Alana Biagioli, FCRH '13, and Shannon Lulley, FCRH '16, placed third in the 200-yard freestyle relay with a time of 1:36.48. She then swam an individual race, the 200-yard backstroke, and won first place. On Nov. 17, Ryan won the 100-yard backstroke with a time of 55.13 and placed fourth with a season best of 56.41 in the 100-yard butterfly. In the 200-yard backstroke, she won again with a season best of 2:00.84, sweeping the backstroke races at the Bucknell Invitational.
Swimming has been something Ryan has always wanted to do after feeling some sibling rivalry at a young age. "I was about five years old and I happened to watch my sister's swim practice, I had to go with my mom to watch it. And I was like, she's getting all the attention, I was like any other jealous little kid. And I said, 'I think I can do that,' so that's how I got into it actually." Ryan is the only one out of her four siblings who still swims today.
With years of swimming under her belt, and all the success that she's faced, it's easy to see that she doesn't get fazed by competing in a race. In fact, Ryan is completely calm moments before a race begins. "Right before a race…you know it's going to be over in however long the race is, and whatever you've done, you've prepared enough as you could've done, so you just have to trust in that and all the work you've done."
Swimming for Fordham has been mutually beneficial for both the team and Ryan. "It's been awesome to represent Fordham. They've helped me to go to so many big meets. I went to the Olympic trials this summer; I went to the NCAA for the first time last season. So it's great to represent Fordham and they help me get to wherever I need to go."
Competing in the NCAA championship, Ryan was 17th of 49 in the 200-yard backstroke race and 20th out of 60 in the 100-yard backstroke race. It was the first time a female Fordham swimmer was invited to the NCAA championship. An even bigger deal was swimming at the trials for the Olympics this past June.
Ryan said that just being at the Olympic trials was an amazing experience. "I was in the same pools as all the Olympians this summer. I was right with them. I was sitting right behind Natalie Coughlin in the ready room, stuff like that. It was awesome. It's cool to watch them, while they are warming up, and see they are going through similar things. Just to see how amazing they are, but to still see them not on TV but behind the scenes kind of stuff."
In terms of her own future, Ryan is not sure whether she will compete or not at the Olympics. "I have no idea. I get that question a lot, people asking if I'm going to compete after college and stuff like that. I really don't know yet."
For Ryan though, one thing is for sure: "The goal for this season is to make NCAA. So, I'm really looking forward to trying to get a spot in NCAA this year."