Thailand Is Closer Than You Think at Noodies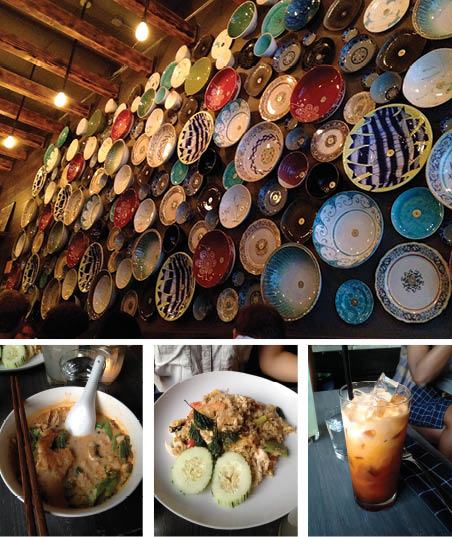 After watching Anthony Bourdain travel through Thailand on "No Reservations," my mouth was watering and I needed some Thai food, too. So I whipped out my iPhone and did a quick search on Yelp, which suggested Noodies. Noodies is Located on 9th Avenue between 55th and 54th streets. When I arrived, I realized that I must have passed by the restaurant several times before, but had never noticed it since it is quite literally a hole in the wall. Only one person at a time can fit between the bar and the row of tables. Since it was only five o' clock there were not too many people there, so my friend and I were seated immediately.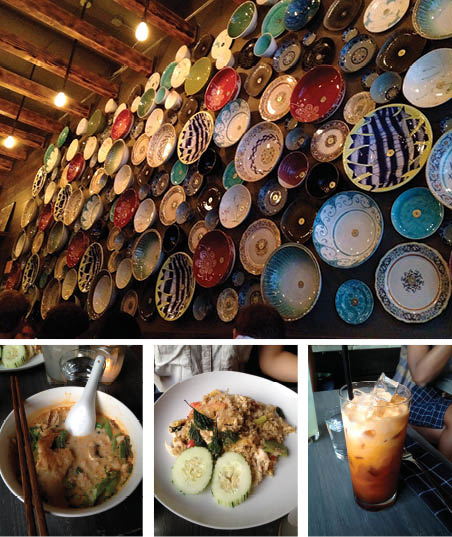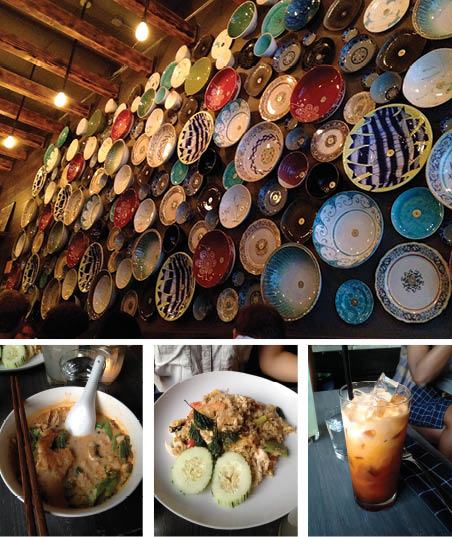 After perusing the menu both of us could not decide between the tom ka soup or the basil chicken fried rice. In the end we resolved to share both of the dishes and ordered a yuzu lemonade and a Thai iced tea as well. While we waited for our food to come my friend and I were able to admire the striking wall decoration above the bar. The wall was covered in a colorful array of ceramic bowls. We took a few pictures of the restaurant and then our drinks arrived.
The drinks were pretty good. The Yuzu Lemonade was refreshing and a little tarter that regular lemonade and the Thai iced tea was creamy and sweet like it should be. I appreciated that both had a clean and fresh taste.
The tom ka soup was served first. As I dipped my spoon into the broth I was glad to see that it was thick with vegetables and chicken. The soup was tangy from the lemongrass and creamy from the coconut: perfection. Originally my friend and I had been gabbing about how excited we were for the food to come, but then we fell silent and the only sound between us was the slurping of the delicious soup. My only complaint about the soup is that on the bottom there was a large clump of wide cut rice noodles that needed to be broken apart with chopsticks. Even after breaking them apart, some of them still stuck together making it difficult to eat. Still, this was the best tom ka soup that I have ever tried.
When the basil chicken fried rice arrived, it overwhelmed the senses. The dish had strong traces of garlic, cilantro, onion and basil, which melded together creating a heavenly aroma. This dish was also great because it was generous with the filling and the chicken was not dry. So many restaurants serve dry, leathery chicken pieces in their fried rice. Noodies' were succulent and moist.
The service at this restaurant is great as well. My water glass was never empty. But the thing that impressed me the most was the staff's willingness to accommodate our needs. My friend's cell phone had ran out of battery and she and I were going to go out after eating. Our host was very gracious and offered to charge her phone while we ate.
This restaurant has definitely won my heart and I look forward to returning here. The restaurant prides itself on using only fresh ingredients, which definitely shined through in all of the dishes. At an average of only $10 a dish, this place is a steal.