A Tale of Two Cities: One Freshman's International Journey to Fordham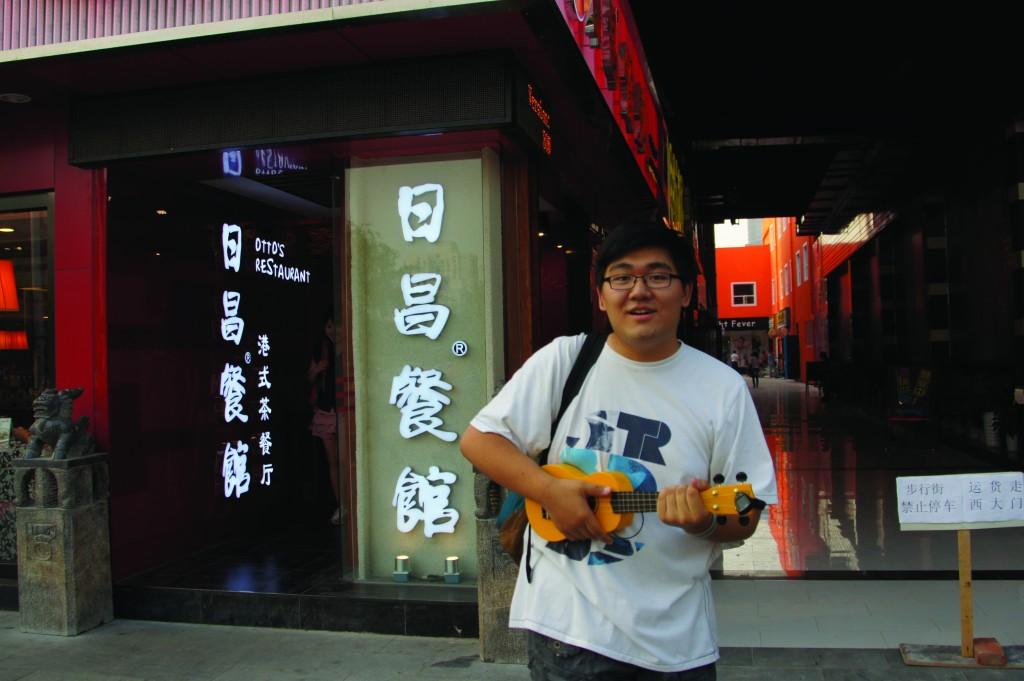 By MEG O'HARA
Contributing Writer
Published: September 19, 2012
Most people can only imagine what life is like on the other side of the globe, but Tavy Wu, Fordham College at Lincoln Center (FCLC) '16, has lived it.  "When I was a kid, the general idea was that pretty much everything American was seen as better; America was like a dreamland.  Now, America is my reality," Wu said.
Wu has lived in the United States for five years now.  After leaving his native China for Los Angeles five years ago, he has since relocated to New York City, which he says is the "greatest city in the world," to begin his freshman year and study pre-law at Fordham.
"My father got a job at University of California at Irvine, so we left Beijing right before I started high school.  The biggest difference I found right away was the freedom," Wu said.  He experienced this freedom primarily in home life— though stereotypes, Wu said, would assume otherwise.
"My father is a member of the Communist Party, so there are a lot of ideas about that in America.  But it is just a piece of paper: he is very liberal, more than a lot of Americans I know who are his age, and he gave me a lot of independence," Wu said.  Wu's father attended university in Germany and taught his son German at a young age— English is Wu's third language—and since it was just the two of them in Los Angeles, Wu had the freedom to forge his own path in America.
The first time he saw New York, he knew his path would lead him here.
"I came here junior year of high school to play music and I just fell in love with the city," he said.  "Plus Lincoln Center is just the best location I can think of in the city… no, in the world."
Wu arrived a week before school began to participate in Fordham Lincoln Center's International Student Orientation, which, he said, "if you attend, you'll know pretty much all of the international kids."  As he said this, he waved hello to a girl passing by on the plaza: "That's my friend from Japan!  I met her at the orientation," he explained.  And at a campus where one in four students is international— in a city where over half of the residents are foreign-born— Wu feels more at home here than he would in China.
He went back to Beijing to intern at Ernst & Young this summer and said that he could hardly recognize the city.
"In China, they want to be always progressing.  Always moving forward," he said.  "Things change very quickly because they tear down old buildings to put up new ones; they don't realize that they tore down special or historic places until it is too late.  They even rename the streets— everything just has to be new all of the time.  Beijing looks like a Star Wars city; something from the future."
Wu prefers the juxtaposition of the old and the new that he can find in New York.  He finds the two cities to be similar in the sense that there are tall buildings and that "people mostly stay indoors," but Beijing has nothing like the Empire State Building or the Chrysler Building, which are some of his favorites.  The ease of access he has to Broadway shows, city museums and neighborhoods like SoHo is a huge benefit, he says, to living at Lincoln Center.
But even with the time he has spent in the United States and his love for New York, Wu doesn't see himself becoming an American citizen anytime soon.
"It just doesn't make sense to me; I mean, I wasn't born here," he said.  "I am a Chinese citizen and I'm proud of that."  Also on his mind is the fact that China is quickly growing into a world superpower.
And Wu is not alone in his thinking.
"This summer in China I made a documentary called "Volare" about Americans who live and play music in Beijing," he said.  He was interested in the people who travelled the opposite way around the world as he, as well as the stereotypes this phenomenon has helped to break.  "There are a lot of stereotypes of China in the U.S., but now they [the subjects of "Volare"] actually live there and see it," he said.  "They see that China is even more postmodern than the U.S. and they want to stay there."
But he said there is one way that China is largely lacking progress: the Internet.  Though social media has helped to connect young people in China to the rest of the world, there is still a discrepancy between the information that he and his Chinese friends have access to.  This summer, Wu was forced to use China's censored Internet if he wanted to go online at all.
"There is a wall up online because of the government," he said.  "You know the wall is there, so you feel uncomfortable.  It's like Big Brother, always watching.  I mean the truth is that everyone knows what's outside the wall, but still the government tries to block out the world."
But the promise of a growing economy may, for Wu, be enough to send him back to China sometime after college.  His family is mostly in the United States: his twin sister goes to New York University, his girlfriend attends school around the corner from Lincoln Center and his father now lives in Michigan (he visited once in January and responds "No! Definitely not Michigan!" when asked if he'd ever live there— too cold, he said).  But as a pre-law student, he is keeping an open mind about where he'll be able to find a job in the future.
"China is definitely on the rise – it's doing much better than when I lived there as a kid— but I'm definitely not leaving New York anytime soon.  This is my favorite place in the world," he said.  "The food on campus might not be the best, but my roommates and I cook a lot… And it might get cold in the winters – but to live in this city, with all of the great things here, I can definitely accept that."