Economics Major Trades in Numbers for Notes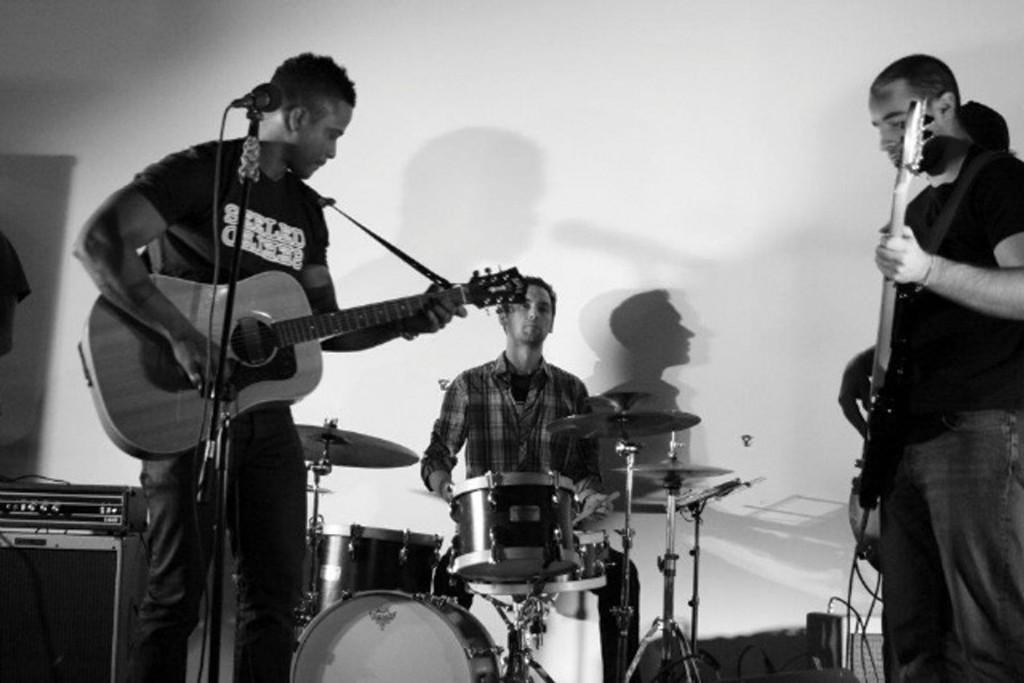 "The only thing is that it was very, very dark so I pretty much couldn't see anything…but I didn't mind," John Venditti, Fordham College at Lincoln Center (FCLC) '13, laughed as he recalled his first time playing bass at his favorite place to perform—West Village concert venue, Sullivan Hall. "Roomy stage, good equipment and great sound—it was just fun to play there."  Venditti may be an economics major at FCLC, but his dreams (and resume) include just as many beats and bass lines as they do stocks and statistics. He is currently the bass player for New York-based "rock infused with soul" band, The D-Rich Project, and is also a music minor at Fordham.  I sat down with Venditti to talk about the band and his aspiration of a career in the music business.
Observer: When did you start playing music?
John Venditti: I started playing bass in 2006 after listening to the Red Hot Chili Peppers album, "Stadium Arcadium." When I first got into music I wanted to learn guitar, but when I really started listening closely I realized that what makes a song really exciting to me is the bass. There's so much you could do with a bass that I didn't know you could do until I started playing. I took lessons at the local music school near my house in the Bronx. A year into playing bass, I picked up the guitar. All my guitar playing has been self-taught.
Observer: How did you get involved in The D-Rich Project?
J.V.: About two years ago, I put myself on this website called BandMix.com, which connects local musicians, just for fun. I wasn't entirely serious but I got a couple of messages asking if I was interested in joining bands, and one of them was from Damien Richards [front-man of The D-Rich Project]. I learned two songs that he had on his website and we met up for an audition. I became the bassist. He already had a guitarist. The drummer came later.
Observer: What kind of songs do you guys play?
J.V.: We actually play a lot of covers. My favorite song we cover is Jimi Hendrix's "Hey Joe." We do some Bob Marley stuff, some Marvin Gaye, but we always put our own flavor into it. As far as originals go, we've written two songs from scratch together in rehearsals. But for a majority of the songs, Damien writes the lyrics and chords, I write the bass part, the guitarist writes the lead guitar part and the drummer plays a beat. Then we adjust accordingly until we hear what works.
Observer: Is this the first band you've been in?
J.V.: This is my first "official" band.  I played with some guys at Fordham freshman year and we performed at "Fordham's Got Talent." I played in high school as well but nothing was ever really official until I got involved in The D-Rich Project.
Observer: What's it like being a music minor at Fordham?
J.V.: It's a far more classical style of learning than what I'm used to. But I love classical music also and now that I'm studying it, I understand the complexity of it a lot more.
Observer: Is music something you want to pursue in the future?
J.V.:Hopefully. I want to be a music producer. There are so many things that you can do as a music producer; there really isn't any set job description. That's what I really want to do. And of course, I would love to always continue playing.
Observer: Any advice for other musicians?
J.V.: I think it's important to play with other people.  It's hard to play alone and I think that if you want to bring more color to what you're playing you need to play with other people. Find people at Fordham that play. Even if you play the flute and someone plays the guitar; they might seem like completely different instruments but play together anyway.  At some point, it's going to sound good. And even if it doesn't, you'll still experience something different with your music by listening to someone else play.
Observer: How can we listen to your music?
J.V.: We don't have a full record out yet; that's what we're working on right now. You can hear some of our songs on DamienRichards.com, as well as his Facebook, Myspace, SoundCloud—pretty much every music website that unsigned artists use to get their music out there.