The Meatball Shop Offers Patrons a Variety of Flavors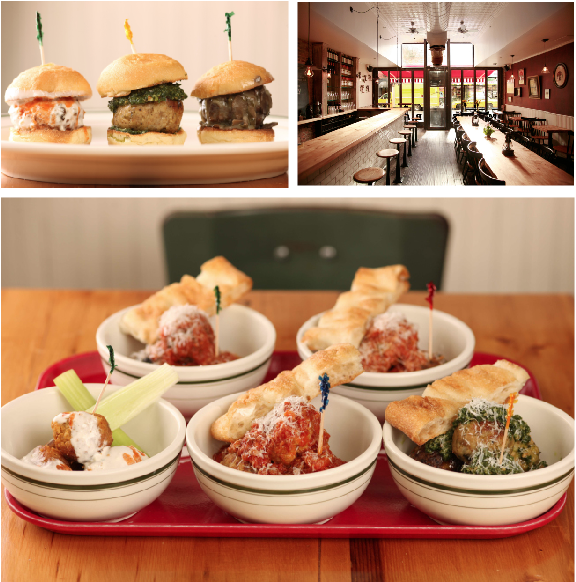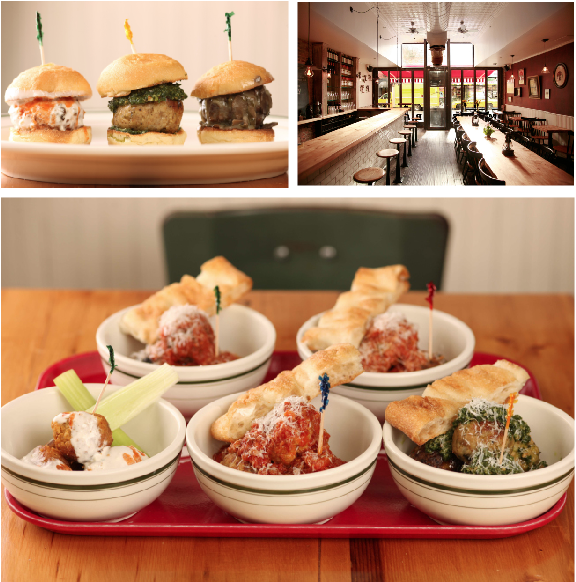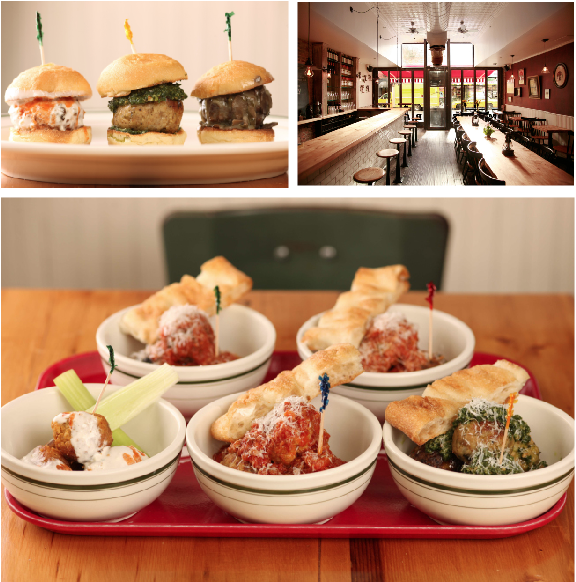 It's pretty obvious that people are more comfortable when they have control in their lives. Whether it is control over our destinies or our televisions, people are generally happier when they know what to expect. The same could be said about food. People normally like having a choice in how their meal is prepared, especially when they are eating outside. There are a couple of places in New York City that offer the unique service of crafting your own personal meal; one of them is The Meatball Shop.
Located in middle of the swanky, hip Lower East Side, the original (there are two more Meatball Shops in the West Village and in Brooklyn) Meatball Shop doesn't look like much at first glance. Set up below a characteristic New York City brownstone, a thick black curtain at its entrance separates its patrons from the outside world. Despite its uncanny exterior, the Meatball Shop is often populated with lively chatter and laughter. A short 25 minute subway trip from the Fordham College at Lincoln Center (FCLC) campus, Meatball Shop allows FCLC students to experience a cool NYC restaurant.  A word of caution: This place doesn't take reservations and can get very crowded at times. Make sure to bring a small group of friends or try to avoid peak hours.
As well as being a swanky restaurant, The Meatball Shop also takes customers on a unique food journey by allowing them to customize their very own delicious meatball meal. Looking to break out of the mold of boring regular restaurants, The Meatball Shop hopes to introduce an entirely distinctive experience for any newcomer.  They like to get people involved and interacting with their food orders. When presented with a fully customizable menu filled with all sorts of sauces, breads and types of meatballs, you can become your own meatball chef in this little restaurant. Going through the numerous combinations of meats, sauces and sides, you can always expect a new result when looking for that ultimate meatball dish.
While at The Meatball Shop, I decided to try their "naked balls" (four meatballs served with your choice of sauce and a piece of focaccia bread) and their heroes (a forno baguette with three meatballs, sauce, cheese and a side salad).  There were many types of meatballs to choose from, ranging from the classic beef to the spicy pork. On top of that, there was a whole bundle of sauces I could choose from, such as spicy meat sauce or mushroom gravy. In the end I ordered the classic beef meatball with spicy meat sauce and mozzarella.
The meatballs were a delightful appetizer. The classic beef mixed with the spicy meat sauce was a perfect combination.  The beef retained the rich flavor of an original meatball and the spicy sauce added an extra zest to the dish. They were freshly handmade and enjoyable. Unfortunately, the hero I ordered was not as good as the "naked balls."
My hero consisted of a mixture of spicy pork meatballs on white bread, accompanied with their "special" sauce of the day (which was simply cheddar cheese) and provolone cheese. It looked very appetizing but it didn't live up to my expectations. Classic tomato or pesto sauce would have definitely been a better choice for my spicy pork meatballs. Along with the hero, I also got a large side salad of arugula which added a healthy balance to my meal.
The food portions at The Meatball Shop were very impressive and a great deal. For under $20, I got four meatballs and a filling hero sandwich. Lively, sophisticated and filled with people from all walks of life, The Meatball Shop is absolutely a place you should visit if you're ever on the Lower East Side. When offered hundreds of meatball combinations, you can craft your own culinary journey at The Meatball Shop.
IF YOU GO
The Meatball Shop
Rating: 4/5
$ out of $$$$$
Where: 84 Stanton St., New York, N.Y. 10002
Darryl's Recommendation: Classic Beef Meatballs with Spicy Meat Sauce

View 84 Stanton St in a larger map