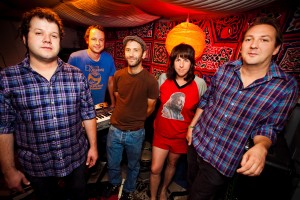 On Monday, Oct. 11, Elf Power, the long-standing indie rock band from Athens, Georgia, will perform at Terminal 5 just blocks from Fordham College at Lincoln Center. The band's new self-titled album came out on Sep. 14 and is their tenth in a career that spans almost two decades. The Observer recently spoke with lead singer and songwriter Andrew Rieger about their current tour, their inspiration for the album and the future of the band.
Observer: How is the tour going so far?
Andrew Rieger: It's been great. The shows have been amazing.
Observer: You're playing at Terminal 5 in New York as the opening act for Broken Bells. How did you hook up with the guys in Broken Bells, James Mercer and Danger Mouse, for the upcoming show?
AR: Danger Mouse still lives in Athens and we've known him forever. He worked in a record store there. And we've been friends with the Shins for a while because they were just fans of Elf Power. They curated one of those All Tomorrow's Parties Festivals in England a couple years ago and they invited us to play it. And we just played a couple other shows with the Shins over the years.
Observer: The new album is dedicated to Vic Chesnutt, the Athens singer-songwriter, who also worked with Danger Mouse on last year's "Dark Night of the Soul" compilation. Like a lot of music fans, I was upset to hear about Vic's passing last Christmas. Could you speak about Vic and how his memory affected this release?
AR: I was a huge fan of Vic for many years before we ever got to work together. He was a fan of ours as well so when he performed on a music show that used to air on the TBS network, he asked us to be his backing band. He really liked the arrangements that we came up with for some of his new songs so we decided to do an album together.
Over the course of a year, we'd go to his home studio and record whenever we had time. He would teach us a song, we'd run through it a couple times, then we'd record it and move on. It was a really fun, different way to make a record because we usually listen to [songs] excessively and come up with new parts every time. It was great to put that out and tour all over the world with him for a year and a half, so I just feel really lucky that we got to do that.
The songs for this record were already written when he died. We started recording a week after he died; we already had the time in the studio booked. So although the songs weren't written about Vic, we were definitely thinking about him a lot during the course of recording. I still think about him everyday. I miss him a lot.
Observer: Why did you pick "Stranger In the Window" as the lead single for the new record?
AR: I just really liked that song. It has a certain quality to it that I felt we hadn't done before and I thought it had a nice melody. It's not a particularly catchy single that you would try to promote and get played on the radio [laughs] but I didn't feel like we ever try to go that route anyway. It's just one of our favorite songs, we hoped people would like it, and they've responded to it really well.
Observer: After nine other albums, why did you decide to make the new record self-titled?
AR: Strangely enough, the main reason for that was for the album cover artwork. I guess in this day and age a lot of people don't even consider album cover artwork because a lot of them just buy music digitally. But when we were coming up with the artwork, we had several titles in mind. When we put the titles in the artwork though, they seemed to take up too much space. There was something about having the band name and the image that was really simple looking and fit well with the music.
Observer: The cover art for the new album is simple yet pretty bizarre. Can you tell me who the artist is and if there is any particular significance of the depicted creature growing from the woman's face?
AR: Well, her name is Eleanor Davis and she's actually a pretty well known comic book artist who lives in Athens. When we were working on the music, I saw some her artwork and thought it fit the feeling of the music. That image in particular was kind of bizarre but beautiful, simple and primitive in a way that I thought suited the album. That was all there was to it.
Observer: Your albums have always had an eclectic mix of sounds, instruments and styles, but somehow this new one feels new and unique. It's also pretty mellow. Do you go into the studio aiming for a specific mood or sound, or do you just write songs and let them unfold naturally?
AR: We just write songs and let them unfold naturally for the most part. For this album we spent eight or nine months just rehearsing, writing and getting together. Sometimes I would come in with a fully formed song or one of the other band members would come in with music and I would write lyrics and vocal melodies to it. Other times somebody would come in with a fragment and we'd develop it into an entire song. I think, more than ever, this was a pretty diverse and collaborative way of writing, whereas sometimes in the past I've written all the songs on acoustic guitar, come up with demos, played them for the band and then everybody comes up with arrangements. But this time, we didn't really have a timetable; we just got together a lot, played, and eventually there was an album full of songs.
Observer: Why did you decide to record the songs in two separate places, producer Andy LeMaster's pro studio and band member Derek Almstead's home studio?
AR: We had a pretty good amount of money to record this album so we decided to spend some of it recording at Andy's studio. But we still wanted to keep some of the home recording vibe that we've always gone for with time to experiment. So we did the basic tracking with Andy and then we took it back to the home studio and did the vocals and overdubs for a while, trying different things. And then once we were done with all of the recordings, we went back to Andy's studio to mix and master it. So it's a nice mix of professional and home recording.
Observer: As usual, you're putting this record out on your own label, Orange Twin Records, that you run with fellow band member Laura Carter. Do you find it easier to put out records when you're in charge of their distribution? What are the advantages and disadvantages of this arrangement?
AR: It's a lot more work but I like it because you don't have anybody to blame but yourself if things don't go the way that you want. We have a good distribution set-up with America and Europe so it just seems silly not to use our own label. We've been doing the label for over ten years now and I think we know what we're doing. It seems like the obvious way to work these days.
Observer: Orange Twin is also dedicated to nature preservation and the creation of a sustainable village in Athens. It's odd to see a record label care about causes outside of music and money. Do the sales of your record go directly to this conservation effort?
AR: Yeah. The record label is actually located on the grounds of the conservation community, 150 acres about five miles outside of Athens. There's a big group house out there that folks live in and that houses the label. It's an old girl scout camp and it's a really beautiful piece of land. There's a garden, chickens, a bee hive that makes honey, a vineyard for wine, and there's a natural amphitheater where we put on concerts every once in a while. We've had Bonnie Prince Billie, Olivia Tremor Control, Elf Power and Vic Chesnutt play there. The label is intertwined with the land to bring awareness to the cause. That's one of the reasons we hold the concerts. We like to have people from the community come out and see what we have going on.
Observer: When you started out as a band in the '90s, you went against prevailing musical trends, with strange, conceptual lyrics and your own evolving sound created by a rotating cast of players. Do you think that you fit into today's music scene or do you still feel like an outsider?
AR: It's not something that we consider. We just do what we do. I try to keep up with what's new in music. I think there's a lot of really bad indie music that's popular these days [laughs] but there's a lot of good stuff as well. I don't feel like we're a part of any particular movement outside of our friends in Athens who we've collaborated with for a long time.
Observer: What music are you currently enjoying and what did you listen to while making the new record?
AR: I really like this guy named Tonetta who's a 60-year-old man living in Toronto and has been home recording since the '80s but has just released his first album. That's a really weird album that I like a lot. I like Joanna Newsom's new album, which is pretty cool. I like Deerhunter from Atlanta and I like that Panda Bear album, "Person Pitch," that came out a couple years ago.
Observer: A lot of bands, Apples in Stereo, Neutral Milk Hotel and others from the Elephant 6 collective that includes Elf Power, seem to have retained a loyal fan base and gained younger fans as the influence of their past albums has grown. How do you feel about Elf Power's legacy after 16 years as a band?
AR: Well, new kids are coming to the shows that have never seen us before because they were too young. It seems like people still like our music, the new stuff as well as the old, so I'm thankful that people still care. It's nice to be able to travel all over the world and play for them. It's a fun way to live. This fall, we're doing seven weeks in America and three or four weeks in Europe, and then in the spring, I think we're going to do another Elephant Six surprise tour like we did a couple years ago. Things are going good these days and we're all busy so it's been fun.
Observer: Do you feel like you've accomplished everything you set out to do as a band or is there still a sense of urgency to release new records?
AR: Well, we never really had any goals to begin with. It started out as a recording project just for me to come up with songs. After the first album was released and people responded positively to it, we formed a live band to play the songs. Writing, recording and touring are such a natural part of my life now. There may come a day when I get sick of touring and don't want to do it anymore but, as far as playing, writing music, and recording, I think as long as I'm still alive, Elf Power will exist in some form.