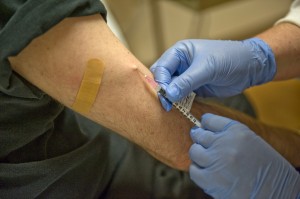 For some Fordham students, putting off required immunizations can potentially result in a state-imposed ban from class attendance. According to Student Health Services (SHS), New York State Law 2165 mandates that students born on or after January 1, 1957 must submit documentation of vaccinations for measles, mumps and rubella (MMR) from their physicians or former school health officials.
Currently, there are 72 students who are not yet vaccinated against MMR. Kathleen Malara, director of Health Services, said that if a student does not comply with necessary vaccinations, severe consequences may take place. "If a student does not comply, a hold is placed on their account and they cannot register for classes," Malara said.
"A letter is sent from enrollment services notifying the student of this deficiency."
In addition to academic holds, failure to comply with New York immunization laws are now resulting in state-imposed fines. SHS explains that fines of $2,000 may be imposed on the University, which could possibly be assessed to the individual student. "We hope no fine is levied and at this time, [and] we have not decided who will incur the
fee. However it is the student's responsibility to send in the necessary information required by law," Malara said.
According to Malara, this law has been in effect for years because of previous outbreaks of MMR and meningitis. Although this law has been in effect for a long time, the University has never been fined. Malara said that the "only change is that universities must report their compliance 2 months earlier."
The deadline for turning in immunization forms was September 24.
Students who have not submitted their forms are urged to do so as soon as possible to avoid an academic hold being placed on their registration for the spring.
"The vaccines are available [through] SHS. MMR vaccinations are $65 and meningitis vaccinations are $95. Students who cannot afford the immunizations can contact the NYC Department of Health for sites and information," Malara said.