Art Show or Chandelier? Maurizio Cattelan's Last Exhibition Hangs From the Ceiling
When walking into the lobby of the Guggenheim this winter, you might think you've wandered into the wrong museum.  The walls and floor are bare, but look up and you'll see a gigantic conglomeration of taxidermy horses, dogs, pigeons, lifelike wax-figures of children hanging by their necks and a massive dinosaur skeleton—all dangling from the ceiling.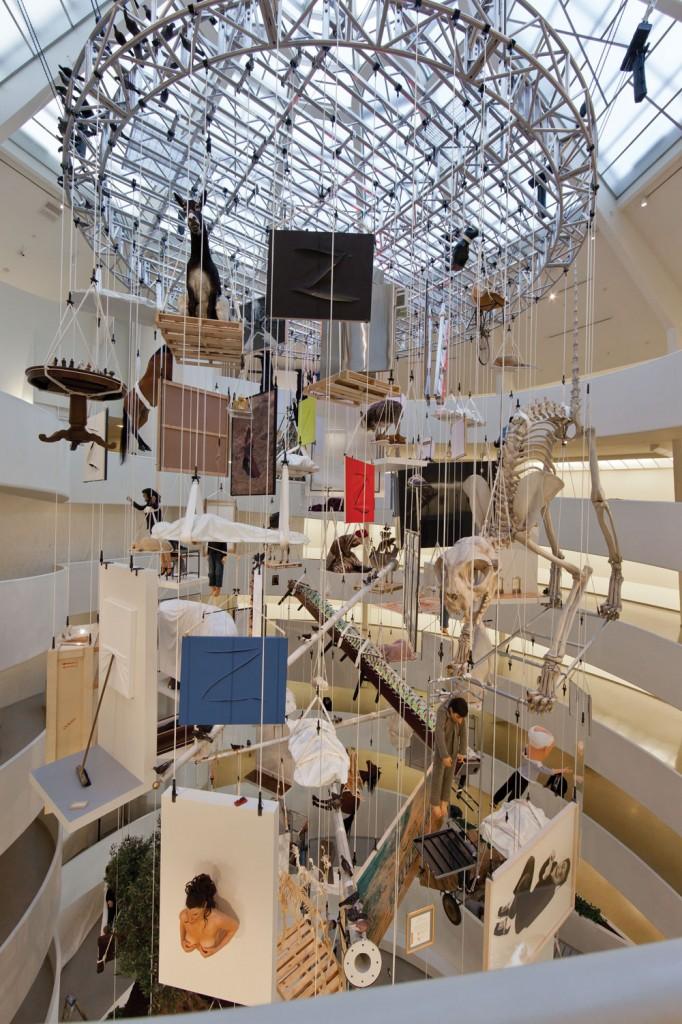 At first glance, the exhibition, "Maurizio Cattelan: All," appears overwhelming, mesmerizing and even a bit dangerous, while its overall theme seems literally and figuratively, up in the air.
"All" is exactly what it sounds like—a display of all of Maurizio Cattelan's sculptures, paintings and photographs created since the now 51-year-old Italian artist started showing his art in the late 1980s.
The show exhibits his most controversial and talked about pieces including "L.O.V.E" (2010), a marble monument of a middle finger pointing upwards, originally displayed in front of the Milan Stock Exchange building and "La Nona Ora" (1999), a life-sized wax sculpture of Pope John Paul II getting struck by a meteorite.
For "All," his final show (he announced his plan to retire from the art world upon its completion), Cattelan couldn't help but continue on with his tradition of being untraditional and asked the Guggenheim if he could hang his art from the ceiling. Each one of his 128 pieces is dangled from a rope and attached to a large circular structure suspended from the ceiling of the museum's rotunda.
As evident from the pieces hanging in "All," Cattelan clearly is not, and never was, a conventional artist.  During his very first solo exhibition in 1989, he closed the gallery and hung an engraved sign on the door that said "Torno subito," or "Be right back" (the sign is included in "All"), simply because he couldn't decide what to show.  His piece, "Working is a Bad Job" (1993), is a result of another of Cattelan's antics—when asked to contribute a work to the Venice Biennale, he accepted and then leased his spot to an advertising agency. The agency set up a large perfume billboard in the space, which Cattelan now considers one of his artworks.
Cattelan is known as what the curators of "All," Nancy Spector and Katherine Brinson, like to call a "provocateur" and a "prankster." It is obvious why, once you examine the hint of humor and wit found in many of his works.  "Frankie and Jamie" (2002), for example, features wax sculptures of two New York City police officers, turned upside down, hanging from their feet.  "Don't Forget To Call Your Mother" (2000) is a photograph of a neon sign in the interior of a bar that reads the same line serving as a reminder to kids that while they are out drinking, their mothers are probably at home waiting and worrying—and they should probably call them.
Despite the humorous anecdotes behind many of the pieces, spectators of "All" can't help but ignore the fact that all of the artworks, notably the lifelike human and animal replicas, are hung from a rope, bearing resemblance to the gallows.  This, as well as the taxidermy, the animal skeletons and the glum faces of the wax humans, adds an element of unease and the implication of death.
The site-specific show seems to have found its perfect home—museum visitors are meant to walk around the circular center of the museum, on ramps that reach the very top of the building, allowing the exhibition to be seen from almost every angle.  Each time you circle the exhibit you discover a piece you hadn't noticed before, making it well worth the seemingly costly ticket price.
"Maurizio Cattelan: All" runs until Jan. 22.
IF YOU GO:
"Maurizio Cattelan: All"
When: Sun.–Wed. 10 a.m. to 5:45 p.m., Fri. 10 a.m. to 5:45 p.m., Sat. 10 a. m. to 7:45 p.m., Closed Thurs.
Where: Solomon R. Guggenheim Museum, 1071 Fifth Ave. (at 89 St.)
Price: $15 with a student ID, "Pay What You Wish" on Saturdays from 5:45 p.m. to 7:45 p.m.
For more information, visit the Guggenheim website here.