Lecture Connects Catholicism, Judaism and Islam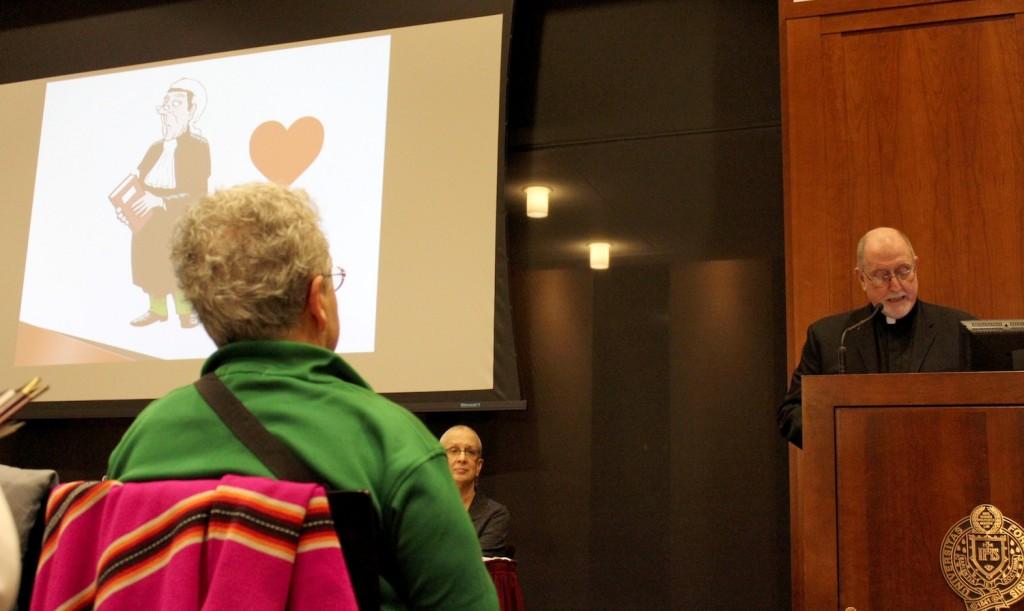 On Nov. 9, Fordham welcomed people to join its Fall alumni event titled the "Fall McGinley Lecture of Law and Love: Jewish, Christian and Muslim Attitudes."
According to Matthew Windels, Fordham College at Rose Hill (FCRH) '13, the purpose of the lecture was to relate religious laws between Catholicism, Judaism and Islam and allow people to develop an appreciation for all faiths.
Sister Anne-Marie Kirmse, research associate for the Laurence J. McGinley Chair in Religion and Society, said, "I want people to understand the similarities and differences of the religions and expand their acceptance."
The lecture began with Patrick J. Ryan, the Laurence J. McGinley  Professor of Religion and Society at Fordham, who gave a history of how the laws of fasting developed and expanded amongst the different religions.
Ryan said, "Laws regarding what we eat and what we don't eat unite us as communities of faith, but also divide us from other communities of faith." He said that it simultaneously promotes love within our community and discourages "love with other communities, especially love expressed in table fellowship."
In response, Claudia Setzer, professor of religious studies at Manhattan College, discussed how women contributed to the religious laws of food in Judaism. Setzer questioned the significance of food in religion and provided her own answers. She explained that food has a purpose beyond itself and that beliefs of food in Judaism are based on the notion that you are what you eat. Setzer also commented on the role women play in Judaism.
She said, "I think it's a great time to be a women in religion. In Judaism, all women are responding to feminism and it is a way for women to be productive in society."
The next respondent was Dr. Amir Hussein, professor of theological studies at Loyola Marymount University, who spoke about the beliefs of Islam and how it connected to both Judaism and Christianity. Hussein began his speech with a reference to the Bible and ended it with a song titled "The Face of Love."
Fordham students like John Kiani, FCHR '13, embraced the lecture and said, "Prior to being here, I thought it was going to be just another religious panel. I thought it was interesting that three different religions could come together and have middle ground about the same thing."