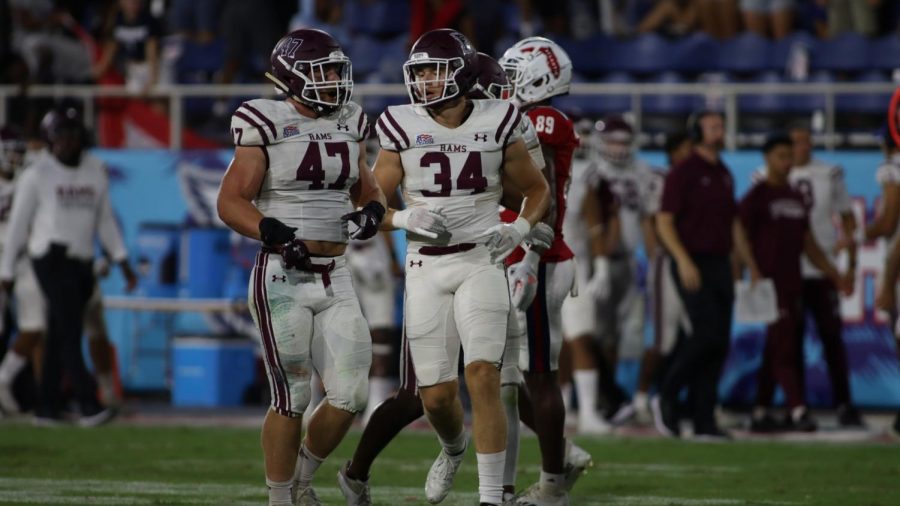 COURTESY OF FORDHAM ATHLETICS
Fordham Football Handled by Florida Atlantic in a 45-14 Rout
Exceptional defensive play and Owls' miscues are not enough as Rams fall quietly in their third loss
The Fordham football team suffered a deflating 45-14 defeat against the Florida Atlantic University (FAU) Owls on Saturday, Sept. 18. In their second game of the season against a Football Bowl Series (FBS) opponent, the Rams again proved hapless in the late stages against superior competition, falling 0-3 to begin the season.
Though Fordham remains winless in 2021 after three weeks, it is generally accepted that the team has only entered one game with a chance thus far, and it wasn't this one. While the team's 26-23 loss last week to Monmouth University was competitive and avoidable, games against Nebraska University and Florida Atlantic were never supposed to be close.
The advantages that FBS teams hold over Football Championship Series (FCS) teams are numerous and well-documented, to such an extent that programs like Fordham receive a substantial monetary bonus to participate in such lopsided games. In these specific cases, Nebraska and Florida Atlantic are paying Fordham $500,000 and $350,000, respectively, according to the Omaha World-Herald and the South Florida Sun Sentinel. 
The Rams were never expected to win at this level, and while an 0-3 record is still the poorest start possible, final scores are not yet useful for evaluating the team's potential. Florida Atlantic's 31-point victory makes as much sense as Nebraska's win by 45, and much like the Huskers, the Owls could have made it much worse.
Though Fordham was consistently overmatched for most of the game, the team also had its fair share of opportunities, particularly in the first half. In the Owls' first two drives of the game, their offense only progressed seven yards and could not gain a first down. The Rams failed to capitalize on both occasions and responded with two quick turnovers on downs in turn. Florida Atlantic was not to be denied on its third possession and drove for 71 yards on 10 plays, culminating in a two-yard rushing touchdown by quarterback N'Kosi Perry, FAU '23, to give the Owls a 7-0 lead.
Though they were behind, the Rams didn't immediately lose control of the game following the first score. Florida Atlantic's offense stagnated again as the first quarter came to a close, and with possession early in the second quarter, Fordham put together a drive of its own.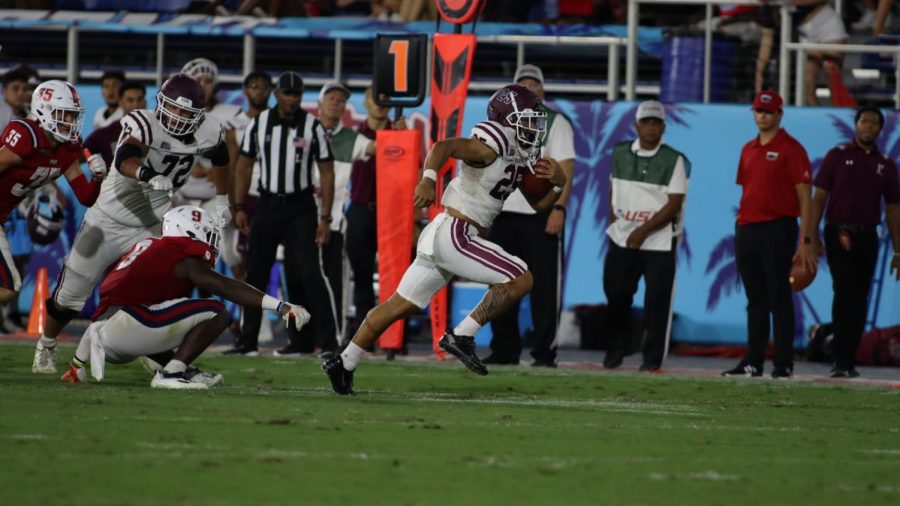 At the Owl's 14-yard line, quarterback Tim DeMorat, Fordham College at Rose Hill (FCRH) '22, found Fotis Kokosioulis, FCRH '22, in the end zone to even the score at seven after the extra point. As the Rams gathered themselves and applied pressure to their heavily favored opponents, the Owls continued to make costly mistakes. 
Toward the end of the first quarter, punt returner LaJohntay Wester, FAU '25, muffed the ball to give Fordham another possession deep in Florida Atlantic's territory. When the Owls managed to get on offense, they struggled to take advantage of defensive mismatches, as multiple receivers dropped passes that seemed like surefire touchdowns. Following Fordham's game-tying score, Florida Atlantic worked its way into field goal range but kicker Aaron Shahriari, FAU '23, missed the 33-yard attempt.
Fordham was being thrust into an upset, but the team could do little in response to its opponent's miscues. The Rams didn't score again in the half, and with 3:36 remaining in the second quarter, the Owls took advantage of a measly 26-yard punt by John O'Friel, FCRH '23, and scored another touchdown in just one minute and eight seconds of game time.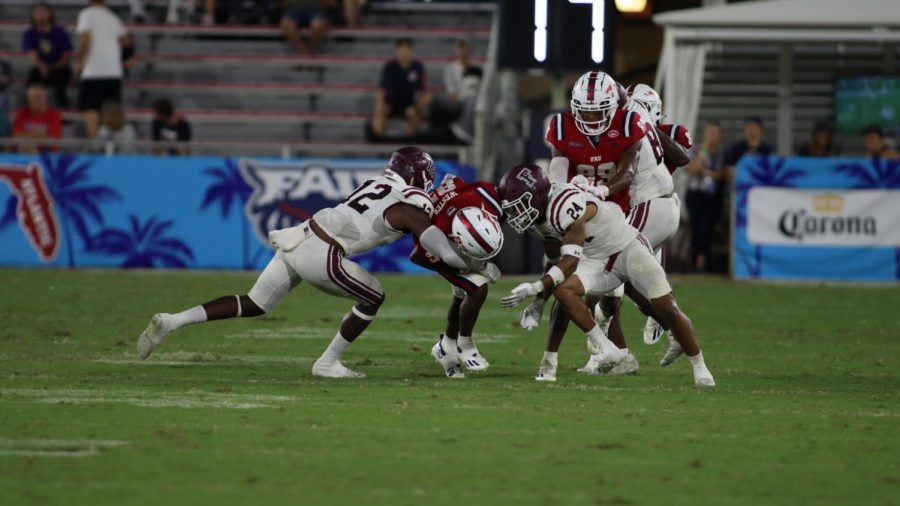 The rest of the game is of little note, as Florida Atlantic made the necessary adjustments at halftime and Fordham tired badly in the late stages. Early in the third quarter, star linebacker Ryan Greenhagen, Gabelli School of Business at Rose Hill (GSBRH) '22, exited with an injury that clearly weakened the defense. He returned before the quarter ended, but Florida Atlantic scored two unanswered touchdowns in the meantime and took a 28-7 lead.
With 9:55 remaining in the fourth, Fordham demonstrated its stubbornness on a 48-yard touchdown from DeMorat to Dequece Carter, GSBRH '23, to make the score 28-14. But the spark of offensive production only seemed to evoke an avalanche from the Owls, who scored two touchdowns — one of them defensive following an interception by DeMorat — and a field goal to put the game away. What could have been a fairly close game will now be seen by all as an unambiguous 45-14 blowout.
Despite another resounding defeat, the game was not without its highlights for the Rams. On just three receptions, Carter managed to compile 111 receiving yards and a touchdown, his best performance of the season. Meanwhile, fellow receiver Kokosioulis has now scored a touchdown in three straight games, an impressive feat considering Fordham's stiff competition.
In fact, based on the success of individual players in the first three weeks of winless play, one might even say that Fordham's season starts now.
In what is quickly becoming a regular section of Fordham game recaps, Greenhagen again proved to be an overwhelming powerhouse on Fordham's defense. Without playing most of the third quarter, the linebacker still recorded 17 tackles, the most of any player on either team, to bring his season total to 76 through three games. He wasn't alone, though, as linebacker James Conway, FCRH '25, and defensive back Jesse Bramble, FCRH '22, earned 15 and 13 total tackles, respectively.
After two thrashings at the hands of FBS schools and a tough loss to Monmouth to begin the 2021 season, the Fordham football team is 0-3 and $850,000 richer. There are few certainties in any sport, especially college football, but Fordham fans can be sure of one thing going forward: The schedule will only get easier. In fact, based on the success of individual players in the first three weeks of winless play, one might even say that Fordham's season starts now.
On Sept. 25, the Rams will travel to Stony Brook University for a more reasonable FCS matchup with the 1-2 Seawolves, who are coming off a similar 48-7 defeat against the University of Oregon. Both teams are in desperate need of softer competition and will find it in one another next Saturday.