YouTube's Greatest Hits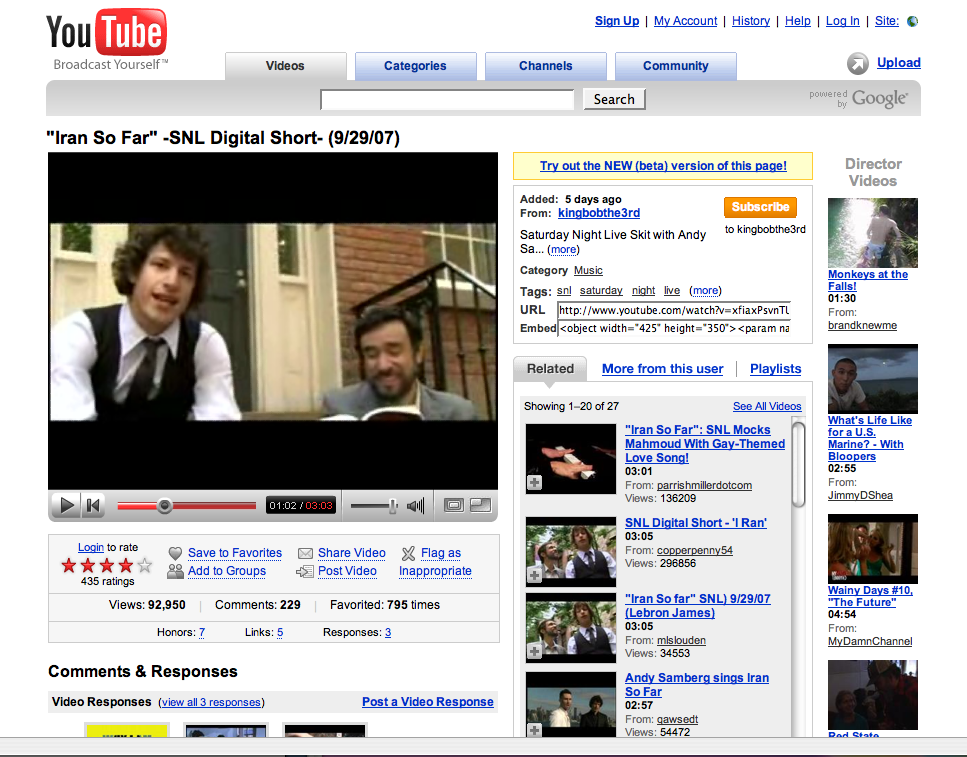 Published: October 11, 2007
"Iran So Far"
The latest Andy Samberg SNL Digital Short showcases him alongside of Fred Armisen who stands in, uncannily, for Iranian President Mahmoud Ahmadinejad.  The spoof is prompted by Ahmadinejad's comment during his recent talk at Columbia University that, "In Iran, we don't have homosexuals, like in your country," as reported by CNN.
The song features Samberg declaring his love for Iran's leader. "I know you said there's no gays in Iran, but you're in New York now, baby," he sings as the camera sweeps around him in the classic SNL Digital Short music video fashion. Maroon 5 frontman Adam Levine sings the refrain and a cameo appearance by Jake Gyllenhaal appears at the end prompted by the earlier line, "You belong with me / like a very hairy Jake Gyllenhaal and me."
At the end of the day, after the song and dance concludes, "Iran" is no "Dick in a Box," but it's worth watching just the same.
"Snorlax Owns"
Two boys recording video of themselves watching a clip of the Pokémon movie seems like an utterly unremarkable event.  However, throw in the thickest Long Island accents you've ever heard and the realization that these boys are well past puberty and at least five years older than the acceptable age of a Pokémon viewing audience, and you've got yourself one remarkable minute and 49 seconds of YouTube viewing pleasure.  Watch as these two argue over the superiority of Snorlax above all other Pokémons and you will not be disappointed. Why? Because, "Snorlax effin' owns you."
"Reverse Graffiti: Ossario: Alexandre Orion"
Brazilian photographer and graffiti artist Alexandre Orion makes a foray into the Max Feffer tunnel in Sao Paolo, using his art to send the message that pollution is deadly.  Armed with only a clean rag and a gas mask for his own protection, he enters the tunnel and clears away layers of dust and grime to create his artwork.  He draws skulls, one after another, in the dust caused by the fumes of years of car exhaust, sending the message that pollution kills.
The video shows police arriving in the tunnel, but according to Orion's statement of the event on his Web site, they could not prevent him from drawing on the tunnel because he was merely cleaning the walls with a rag—and that's not illegal.  The only way the authorities could prevent him from producing more of his artwork was to clean the entire tunnel themselves.  And that's exactly what happened.  Fire trucks arrive and wash away the dust, changing the dark gray walls back to their original yellow color, all the while erasing Orion's artwork in the process.  Though his artwork was not left in the tunnel for all who passed through to see, his message was effectively conveyed to the higher authorities.  This video is proof that art really can motivate change in the world.
You can see more of Orion's work and read his artistic statements at his Web site,  www.ossario.net.