OkCupid: Why Online Dating Doesn't Have to Be a Stigma
We Use the Internet for Everything Else, So Why Not for Finding Love?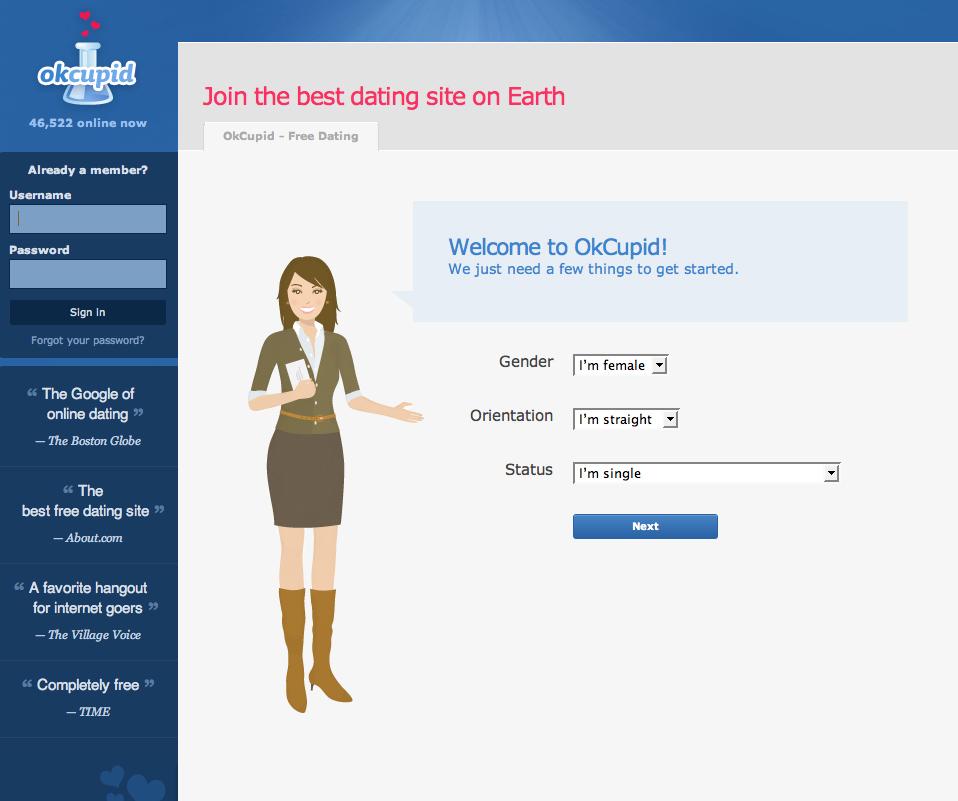 Published: May 5, 2011
One time when I returned home from Fordham, my mother's middle-aged friend inquired after my single status. "No boys at college?" she asked. I awkwardly giggled, "No." I gave her an exaggerated explanation, "It's because everyone is gay." Unbeknownst to this family friend, my graduating class at Fordham College at Lincoln Center does have a heterosexual male population. However, it's acutely smaller than what I anticipated.
When I first arrived in the city as a suburban misfit, I fantasized about meeting a compatible special someone. And yet in a city of eight million people, I still managed to confine myself to McMahon Hall. There my teen dreams of college romance were dashed by the reality of how disproportionate the ratio of males to females was amongst my peers. I became a sexually frustrated negative Nancy. Yes, Fordham was my school, but unfortunately the dating scene was just not cutting it for me. Luckily, however, I had New York as my campus.
And when I left my mother's curious friend with my confirmed single status, I returned to my room and logged into my OkCupid.com account. An online dating service, the site has over 50,000 users, and it is here that I tapped into New York City's cyber pool of single youth. OkCupid became my viable way of romantically networking beyond the classrooms of Lowenstein.
This dating site is not only free but it is also oriented around single men and women under the age of 30, consequently making it very 21st century but still very stigmatized. Even if divorcée fathers are encouraged to find a new girlfriend online, "internet dating" is still kind of a taboo. According to many, falling in love is supposed to be serendipitous. I once felt this way too, since I grew up wanting to be Jasmine as she fled from the castle only to accidentally meet Aladdin and his anthropomorphic monkey as they were stealing bread.
On OkCupid, I answered questions not in person, but with the click of my mouse. I did not sit next to the guy I flirted with; instead, I cyber chatted him under an anonymous username. But what made me comfortable with OkCupid was my age-old intimacy with the Internet.
I am the same girl who flirted with anonymous others on AIM chat rooms in middle school. I crush on Tumblr personalities in college. I am on Facebook so often that stalking is in my second nature. I was also not surprised when I beheld how many other members of my tech-savvy generation were exploring dating on the Internet as well. For me, OkCupid.com hosted a whole new ball game full of Millennial players that not only social networked, but also romantically networked online.
OkCupid.com has a standing amongst urban youth and I thrived on having a plethora of choices regarding romance. As an account holder I familiarized myself with compatible others through emoticon-filled messages, flattering pictures and awkwardly intimate self-summaries.
My close friends who knew about my account on OkCupid were understandably concerned for my safety. But that's what populated cafés and tasers are for. Yes, I encountered "creepers." Yes, some of my dates lied about their height. Yes, some OkCupid profiles can be deceiving.
However, I ended up going on dates with several decent guys. They were all in limbo between college and graduate school. They graciously paid for my drinks and had stimulating political conversations with me. I actively used my OkCupid account for several months until I ultimately met someone that left a powerful impression on me.
The last time my boyfriend and I were asked how we met, I playfully passed on the responsibility of answering the question to him. "We met online—on OkCupid," he explained. His friend, who asked the question, turned to me and said, "Don't worry, I have an account, too."
When I started telling people where I met my current boyfriend, I found out that a notable amount of my acquaintances and even Fordham peers had experimented with OkCupid. I want to be truthful about my experience because the reason I created an OkCupid account was in order to be honest with myself.
I knew that I wanted to date and I also knew that the type of guy I wanted was not going to be found on 155 W. 60th Street. Yes, I was first introduced to my boyfriend on a dating site called OkCupid.com. And the first thing I associate him with is not a first sight but a first "Hey :)."
In the end, though, when I find myself actually sitting next to a guy that I love, how I met him simply does not matter that much anymore.