The Interactive TV Revolution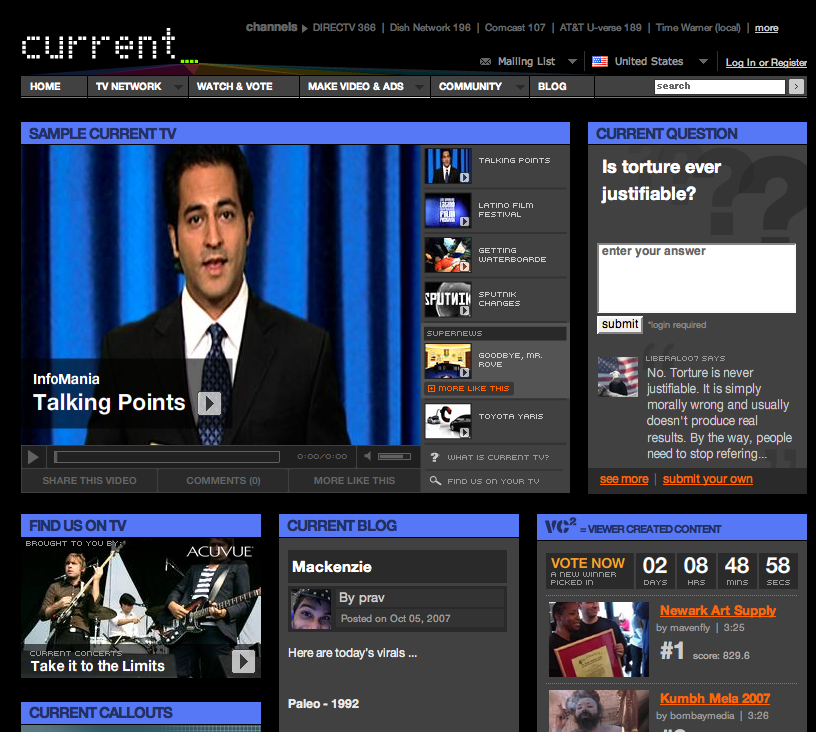 Published: October 11, 2007
On Sept. 16, former Vice President Al Gore and Joel Hyatt accepted the Emmy Award for Creative Achievement In Interactive Television for their network Current TV. This was the first time that the award was given out during the primetime ceremony. This is a progressive step that shows old-school mainstream media acknowledging those attempting to integrate the internet with television. Considering that Current TV is not alone in this experiment, this award may motivate others to try this technique as well.
Current TV officially launched two years ago on Aug. 1, 2005. Gore, who is now the chairman of the company, and Hyatt, who is the CEO, started the independent media company with the intention of sharing the television platform with the young adult audience, as Hyatt explained in their Emmy acceptance speech.
The channel is comprised of only short non-fiction videos called Pods—videos created by the permanent staff, as well as homemade videos that are submitted by viewers. The Pod can be anything that is entertaining or informative or it can be a Current Journalism Pod with news reporting. There's also room to create promos for the network and ads for the channel's sponsors.
To actually get on the channel, the creator of a Pod first has to upload the video onto Current TV's Web site (www.current.tv), and if it follows the site's guidelines and adheres to the time limits, it is posted on the site. Then it is either chosen to be put on the air by the network's producers, or it is voted on by the Current TV community. The voting is a two-choice option of clicking either, "Yes, greenlight it for TV," or "No, not ready for TV." The creator is awarded a payment if their Pod, promo or ad gets put on the air.
This use of viewer content reminds communication and media studies professor Amy Aronson of the time from colonial America to the early 20th century, when publications relied on submissions from the public. "I think mainstream media have little choice but to come to terms with user-generated content.  I don't think it's a flash in the pan.  It is a cultural phenomenon that has arrived.  But it will certainly evolve, and that will depend, I think, on the industry's strategic attitude and how user-producers respond to it,"  Aronson stated.
"I'm not too impressed by this new kind of television watching," Jen Castillo, FCLC '08, said.  "While it's nice that viewers get a say in what is broadcasted, because we are essentially the audience, I do think that this form can compromise the integrity and validity of television. Like YouTube and other similar online viewer content-generated sites, a great deal of information that the public views can be false or misinterpreted."
News organizations, Aronson believes, could use the new perspectives, and user-generated content might bring a boost to Americans' declining confidence with the news media. Plus, she adds, the low cost of using this kind of content, instead of having to create their own segments from scratch, could make this trend prevalent.
Other television news channels have already taken on this interactive formula. The network that has developed a project most similar to Current TV's is MSNBC's FirstPerson program. FirstPerson asks for a variety of submissions that could be aired online, on NBC News or MSNBC-TV, and there is a community set up so people and editors can vote for their favorites.
ABC News created the newsmagazine program "i-CAUGHT" that aired this past summer. CNN built a platform for user-generated content called I-Report. They encourage the audience to share their stories and thoughts on various topics, including the analysis of political debates that could be shown during CNN's post-debate coverage. Fox News also incorporates viewer submissions in their on-air programs, such as "Fox News Live," through their uReport/uAsk section on their Web site. They use it especially for breaking news footage from their viewers who are close to the scene, and sometimes they speak with the viewer who shot the footage on the air.
Sara Hottman, FCLC '09, is wary of television news using viewer content. "I think it's prudent for mainstream TV news to keep user content off the air, aside from contests or submitted clips that coincide with stories. Television news is already lacking content-wise, so incorporating impertinent user videos would serve only to degrade content further, leaving it more open to biased slants and factual errors," Hottman said.
However, Aronson made a point that even though there is a risk that this user-generated/unprofessional content could hurt television news' reputation, "unprofessional" doesn't have to mean "sub-standard, inaccurate, poorly done. It could just mean 'not produced by a professional in the business.' And that doesn't mean that it can't be good."