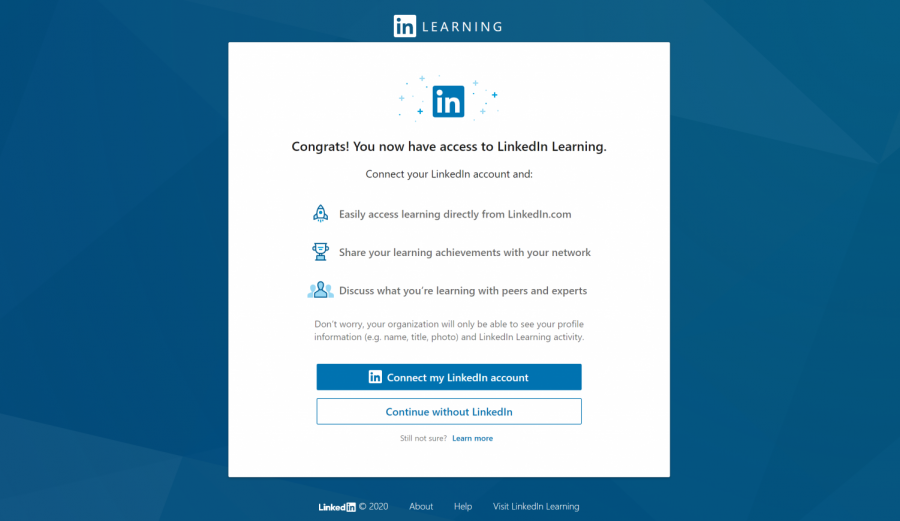 VIA LINKEDIN LEARNING
Through its new partnership with LinkedIn Learning, Fordham students are able to take courses and develop professional skills on their own time. From building a personal brand to learning how to network with professionals in one's field, there are many skills that colleges don't teach students; this partnership aims to fill in those gaps.
Using the Fordham-specific link, members within the Fordham community are able to access a variety of courses for free. 
Courses are taught by experts in their fields. Topics range from prioritizing mental health in the workplace to training in JavaScript. 
As a chemistry major, I've been using LinkedIn Learning to learn programming tools that I may not learn in my classroom. Ora Kalaj, FCRH '23
A study conducted by LinkedIn analysts found that students who take part in LinkedIn Learning are 11% more likely to be employed after college than those who don't use it.
"As a chemistry major, I've been using LinkedIn Learning to learn programming tools that I may not learn in my classroom," Ora Kalaj, Fordham College at Rose Hill (FCRH) '23, said. She anticipates the help that these tools will serve her for future opportunities in her field.
Science, technology, engineering and mathematics (STEM) majors have a variety of programs on LinkedIn Learning to choose from to support their college education at Fordham. The programs offered are not only skill-specific, but also provide tips for career building.
Women account for 36.1% of STEM majors receiving bachelor degrees in the U.S., yet they make up only 28.5% of the STEM workforce. LinkedIn Learning offers courses catered to women in STEM-related fields. There are lectures assisting women in STEM with tips for dealing with adversity and highlighting successful women in STEM to encourage women to pursue their desired fields.
Fordham aimed to implement employee implicit bias training, and these LinkedIn Learning resources are aiding their work.
The courses are also helpful for faculty and staff members of the Fordham community. Derek Tice-Brown, an assistant professor at Fordham's Graduate School of Social Service, said he uses LinkedIn Learning to assist his research and lectures.
"It has been really helpful in obtaining perspectives by watching videos from experts such as Stanford's Dereca Blackmon," Tice-Brown said. 
Blackmon works as an assistant vice provost and executive director of the Diversity and First Generation office at Stanford University. She has several courses on LinkedIn Learning educating heads of departments and leaders on how to create an inclusive environment. 
The programs on LinkedIn Learning from Blackmon, as well as other experts, offer resources for students and faculty to educate themselves about engaging in allyship and anti-racism meaningfully, if they choose to seek these courses out.
In response to demands from the Black Student Alliance at Rose Hill, ASILI, this past summer, Fordham made a statement of commitment to combating anti-Blackness on campus. As a part of that commitment, Fordham aimed to implement employee implicit bias training, and these LinkedIn Learning resources are aiding their work. 
Fordham community members do not need to have a previous LinkedIn account to access the Fordham LinkedIn Learning, although students can connect their personal LinkedIn profiles to the Fordham account if they wish.
Once students or community members leave the university, they are no longer eligible for a free LinkedIn learning experience. However, if one wishes to, they can purchase a LinkedIn Learning account for a $29.99 per month subscription fee.
By partnering with LinkedIn Learning, Fordham joins 58% of the top QS rated universities in the world which use LinkedIn Learning to increase student success. 
#mc_embed_signup{background:#fff; clear:left; font:14px Helvetica,Arial,sans-serif; width:100%;} /* Add your own Mailchimp form style overrides in your site stylesheet or in this style block. We recommend moving this block and the preceding CSS link to the HEAD of your HTML file. */
Stay up-to-date with The Observer's weekly newsletter: