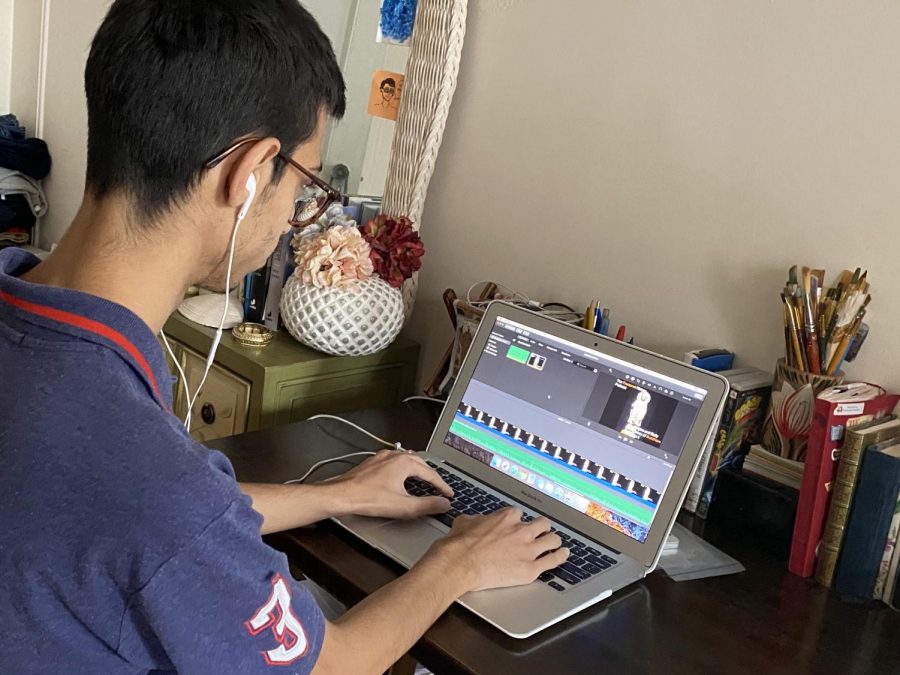 COURTESY OF AAMER TAHSEEN
You've just hopped on the D train and sat down for a long ride. You press play on your phone, settling in for a dynamic conversation with Sofia and Alexandra on "Call Her Daddy," or maybe an hour-long true crime broadcast on "Crime Junkie." Podcasts like these are popular among commuters on their way to work and class. As you let the podcast pass the time, you dream up all the different ways you can chime in, and you think, "Hey, I can do that too." 
The new Fordham Podcasting Club allows students to turn these sparks of ideas into something real by producing their own shows. 
The Fordham Podcasting Club was created as a collaborative effort between President Aamer Tahseen, Vice President Margaret Franzreb, Secretary Jaaee Nadkarni and Treasurer Nick Smusz, all Fordham College at Lincoln Center (FCLC) '22.
Tahseen had been interested in podcasting since high school. He realized he had a knack for spearheading discussion after conducting a long interview as an intern at WKCR 89.9, Columbia University's radio station.
With the idea for the Podcasting Club in mind, he approached the rest of the future E-Board, and together they decided to form the club.
According to Tahseen, the E-Board felt that podcasting was an effective, unique way to share their ideas with the Fordham community. They felt that the podcast format fit their needs better than a radio station, like Wavelengths at Lincoln Center — or a written publication, of which the university already has many.
I love that I can attain the gratification of finishing a project every time a new episode is finished, but I have the option to continue adding to the podcast as a whole. Julia Newcorn, FCLC '22
Tahseen explained that many club members, including himself, are drawn to podcasting "because it is the best medium to get your ideas out in today's fast-paced world." He articulated that podcasting is cost-effective, conducive to any schedule, modern and versatile to the listener; the audience can listen anytime, anywhere. 
Member Julia Newcorn, FCLC '22, who worked on her own podcast prior to joining the club, likes to podcast because she learns something new every time she creates an episode and enjoys the fulfilling process that podcasting has to offer. 
"I love that I can attain the gratification of finishing a project every time a new episode is finished, but I have the option to continue adding to the podcast as a whole," Newcorn said. "Each episode shapes the show a little bit more, so it feels like a continual (and often collaborative) art project."
The club's YouTube channel, "Podcast Society of Fordham LC," is where all the podcasts will be posted. The actual recordings are done outside of meeting times so that the showrunners can create on their own time using the recording software apps provided by the club. If there is more than one host, they typically record through Zoom and Google Hangouts. Upon a full return to campus, the club hopes to establish its own studio space for members to use. 
About a month ago, the first podcast, "The Fractured History Podcast," was published. It was a collaborative effort between Tahseen and club member Ting Hin Li, FCLC '22, in which the pair exhibited their knowledge of historical topics not typically covered in mainstream education and media.
Tahseen expressed his and Li's love of history and explained that "'The Fractured History Podcast' was born with the main goal to simply cover people, places, historical concepts and events from a different perspective, and to bring to light some very obscure topics."
Tahseen and Li's latest project was a two-part series on the history of Buddhism in which they explored the origins of the religion and the controversy surrounding it. They aimed to derive a new image of Buddha that differs from the picture perpetuated by popular culture. They also have episodes on topics such as historiography and nation-states. "The Fractured History Podcast" publishes new episodes regularly.
For the long term, the Podcasting Club plans to continue expanding its network of shows, including an upcoming true crime podcast. Tahseen hopes to see more programs in development soon so that there is a wide variety of podcasts that will appeal to all interests.
The club is also working to get its shows onto streaming platforms like Spotify and Apple Podcasts. Its members' goal is to grow their audience, not only within the Fordham community but outside of it as well, establishing themselves as a fully formed media outlet. Tahseen mentioned Brigham Young University's "BYUtv," which features the popular comedy show "Studio C," as an example for the level he would like to see the club attain.
The Fordham Podcasting Club meets every Wednesday on Zoom at 2:30 p.m. ET, where club members talk about their progress and the next steps for their individual projects, as well as pitch ideas for new content. Those interested in joining the club can email the E-Board at [email protected]
#mc_embed_signup{background:#fff; clear:left; font:14px Helvetica,Arial,sans-serif; width:100%;} /* Add your own Mailchimp form style overrides in your site stylesheet or in this style block. We recommend moving this block and the preceding CSS link to the HEAD of your HTML file. */
Stay up-to-date with The Observer's weekly newsletter: