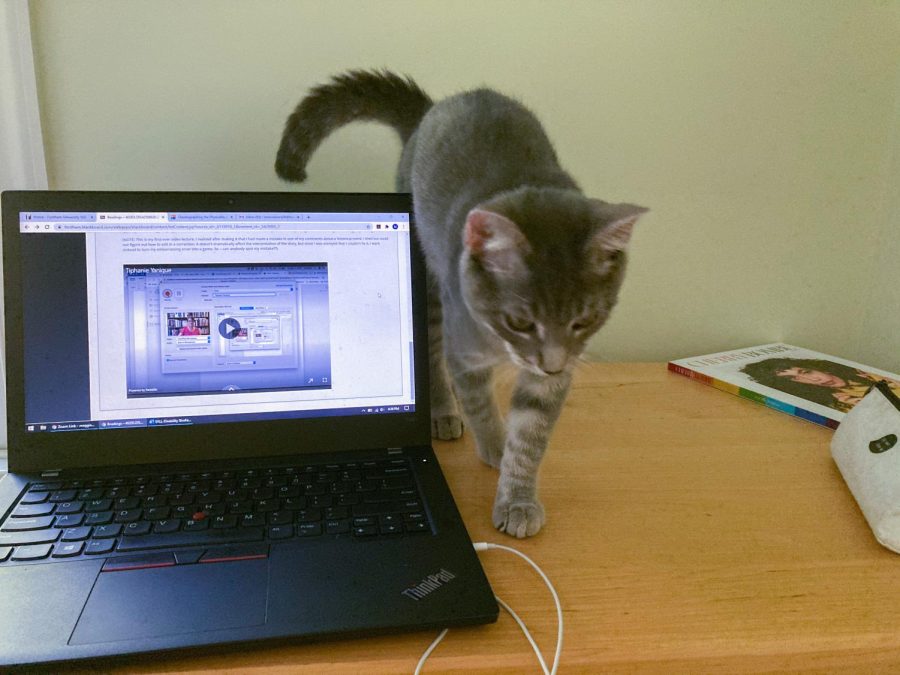 MAGGIE MCNAMARA
"These first weeks have made me feel incapable and not 'good' at school," Matthew Kozakowski, Fordham College at Lincoln Center (FCLC) '21, said.
Kozakowski chose to return to campus for the fall semester because, as someone who struggled with the transition to remote classes during the 2020 spring semester, he believed that in-person classes would be the most "healthy option" for him. 
"I'm a very academically driven person and I like being in school," he said, which is why being back in a school environment for hybrid learning was important for him.
This year, Fordham students had to decide their mode of learning for the fall semester by August 13. Students were given the choice of taking fully in-person, hybrid or fully online classes. 
Regardless of the preferred learning mode students chose, it evidently was up to the faculty to decide the format in which they would teach their classes. Because of this, several students who returned to campus for the hope of in-person classes have more online courses than they anticipated.
As a part of the hybrid learning style, classes have mixed elements of in-person and online meetings, as well as both synchronous and asynchronous materials. Two of Kozakowski's three classes are hybrid and the other fully online, which he said was what he expected. 
"It's endless. No matter how much and how well I do what is assigned, it's inconsequential because there's just another thing waiting to be done." Matthew Kozakowski FCLC '21
Since experiencing his hybrid courses, Kozakowski said he is overwhelmed by the amount of asynchronous work expected for this type of class, and he is not alone in his experience. Many students have reported that they feel teachers tend to pile on more work when there are asynchronous and online elements involved in learning.
"It's endless," he said. "No matter how much and how well I do what is assigned, it's inconsequential because there's just another thing waiting to be done." On some days, Kozakowski said he has to have friends remind him to eat and to breathe.
Sheridan Tyson, FCLC '23, found herself on campus with only online classes despite signing up for hybrid format. Tyson knew before choosing to come back to New York that her classes were already declared all online, however. She decided to come back anyway, "in order to stay close with my friends/roommates and to take advantage of opportunities in the city," Tyson said. 
The desire to further relationships with friends was not a sentiment unique to just Tyson. Michelle Yoon, FCLC '22, also wanted to come back to campus originally to develop her friendships in the city. 
Initially, she was going to come back to Fordham's Lincoln Center campus for hybrid learning, but when her classes were all declared online, she made the choice to attend classes remotely from her home in California.
"'Campus life' is both convenient and still takes time getting used to," Yoon said. "I can pack my schedule with back-to-back classes and meetings because the commute time is out of the question, but I'm also paying a lot more attention to how much I'm looking at the screen and doing activities away from my laptop."
According to Kozakowski, most professors have designed their hybrid learning courses to function with a lecture online, followed by class discussion for the scheduled in-person meeting. He wishes that the lecture could also take place in-person though. Because his professors record the lectures in lieu of a synchronous meeting, there is a liberty for the professor to lecture longer than the traditional 75 minutes of allotted class time. 
Fordham upper-level classes operate under the expectation of 150 minutes per week for formal instruction, plus an additional 3 hours of preparation work.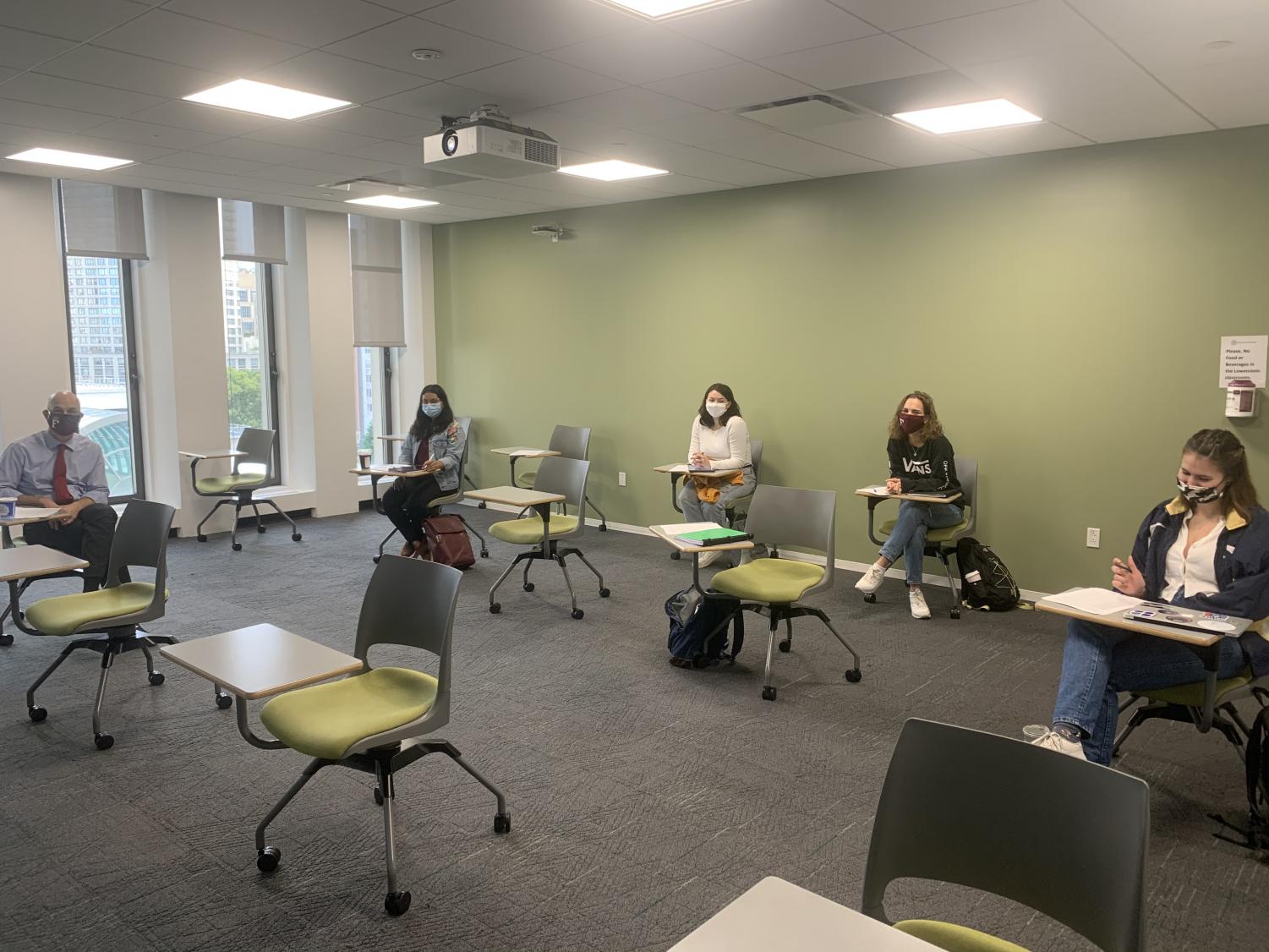 The reality, Kozakowski said, is that his classes have between 80-90 minutes of pre-recorded video lecture, followed by a 75 minute in-person discussion for each class, totalling to about 165 minutes per week. He then has to complete more additional outside work, which often takes place in front of a screen. 
"There is too much 'outside' work that has to be completed before any in person stuff," he said.
With classes conducted solely online, both Yoon and Tyson said that their professors have been trying to take advantage of the several different platforms available for conducting classes. The most common virtual meeting platform professors are using is Zoom, but professors have been also known to try out Blackboard Collaborate, Discord, Voicethread and Webex.
One issue that Tyson expressed in regard to the different platforms is that it has been confusing to figure out how to navigate each of these services. Fordham provided training to the faculty before the semester started on how to navigate these platforms. Students weren't provided with any introductions to these platforms before the school year started; however, the university posted a website with "Tips for Online Learning," which includes the number for Fordham Tech Support. 
While Yoon also noted that these many services can be difficult at times, she said she enjoys the chances to communicate with her classmates that each one allows.
"I'm more grateful for going completely virtual because I save money with the subway fares and on-campus dorming, but I also miss the experiences with being with my friends in person." Michelle Yoon FCLC '21
"One professor based the class on Discord which is exciting!" Yoon said. "I can react to my classmates' comments in the chat with emojis and it's a creative outlet to show agreement other than the Zoom featured clap and thumbs up."
Another way that Yoon has been trying to continue building her community of peers remotely is by coming to class early to chat with her classmates as they would in person. According to Yoon, some professors open the Zoom classroom links up to 30 minutes early to help students make connections.
However, remote learning still is a hindrance to her ability to participate in class as fully as she would like, she said. Accidentally speaking while on mute, having family or pets in the background, and her raised hand sometimes being overlooked were a few of the difficulties that come with virtual learning, she mentioned.
Yoon expressed that she is also struggling with the feeling of connectedness to campus and her peers. "I have mixed feelings now that class has started; I'm more grateful for going completely virtual because I save money with the subway fares and on-campus dorming, but I also miss the experiences with being with my friends in person," she said.
Playing games, cooking dinner and exploring New York City with her friends are a few of the things she listed that she misses about being on campus.
"Campus honestly feels a bit like a ghost town." Matthew Kozakowski FCLC '21
Campus life, according to Kozakowski and Tyson, who are both on campus, is very mundane compared to the usual busyness of club activities and events happening during a normal school year.
"Campus honestly feels a bit like a ghost town," Kozakowski said. He said that he passes by roughly four to seven people a day and has yet to share an elevator with anyone.
Tyson echoed these experiences and also said that in general there is "a serious lack of opportunities to make new friends." She added that she understands the reasoning for this — to prevent a mass COVID-19 outbreak on campus — however, for first-year students she sympathizes with the struggle to form crucial relationships with peers.
A few students have reported generally feeling safe on the Lincoln Center campus, which was one of the main concerns for students like Yoon who chose to remain remote. Both Tyson and Kozakowski cited seeing people on campus wearing masks at all times. Kozakowski mentioned that his biggest fear at the moment, in regard to COVID-19, is getting sent home early because of the videos he has seen of students at Rose Hill. 
On Aug. 20, a video of a large group of Rose Hill orientation leaders dancing on the steps  circulated on the Instagram account @lc_sinners. Even though the event shown in the video has since been clarified as a university-sponsored event, it has still alarmed students about the safety of the Rose Hill campus.
Despite the many different experiences students are having this fall taking classes in a multitude of formats and locations, so far students have reported the same sentiments of optimism for the school year.
Even Kozakowski said that he is "super excited for the semester." He said he hopes that going forward professors and academic deans listen to the feedback students provide about the first few weeks and amend their curricula to match the expectations students have for themselves about their learning this semester. 
He also encouraged all students to speak up to their professors if they also have felt overloaded this semester. 
"There needs to be a checks-and-balances system in place to make sure teachers aren't overstepping into their student's lives," he said. "And I think it is the school's responsibility to figure out that checks-and-balances system."