New European Flavors at Columbus Circle: AQ Kafé is a Departure from the Everyday
Published: October 7, 2010
For students tiring of deli sandwiches and dismal diner food, there may be hope for you yet. During your next lunch break, try AQ Kafé, a European café located on 58th Street near Columbus Circle.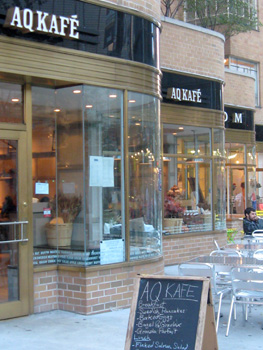 Open seven days a week from 8 a.m. to 8 p.m., AQ Kafé offers customers the chance to grab a quick cup of coffee at its take-out counter by the entrance or to enjoy a sit-down meal at one of the many small wooden tables warmed by the sunlight that peaks in through the café's large front windows.
Although the menu includes standard fare such as salads and sandwiches, AQ Kafé puts a spin on its items, many of which you can only find in a European restaurant. Beets and pickled vegetables appear in more than a few dishes, as do lingonberries, a tart berry common in Central and Eastern European cooking.
Because my friend and I were too busy commenting on these subtle variations, we took our time ordering, but our waiter didn't seem to mind. After debating between the gravlax sandwich with salmon and avocado ($11.95), and the chicken salad made with apples and fennel ($8.95), I finally ordered the grilled ham and cheese sandwich ($9.50), while my friend ordered a meatball sandwich ($9.95).
I know ham and cheese sounds rather plain, but AQ Kafé puts a twist on this classic combination. Rather than American cheese, the café uses Jarlsberg, a Norwegian cheese known for its sweet and nutty taste. An herb mustard gives the sandwich an added tanginess, which is balanced with the nuttiness of the cheese. Perhaps replacing the standard tomato, the thinly-sliced pickled cucumbers added a nice crunch and a refreshing punch of cool flavor. With two thick slices of sourdough bread, the ham and cheese sandwich's pleasing array of flavors offers a newfound appreciation for this lunchbox staple.
The meatball sandwich on the other hand, was big and hard to eat, with one meatball even sliding off the plate and onto the floor. It was funny to watch, but the sandwich was much harder to handle than it should have been. While the menu does not specify, the meatballs were Swedish and were creamier and more savory than the kind found on top of Mom's spaghetti.
The sandwich came with a side of beet apple salad, which consisted of shredded beets with a sour cream dressing. Because I found no apples in the salad, I presume an apple cider vinegar was used in the dressing, especially since the salad was also very sweet, almost like candy. The sour cream was probably meant to tame this sweetness, yet neither my friend nor I enjoyed the flavor. The potato salad ($2.95) or the mac and cheese ($3.95) may have been better side options.
Because AQ Kafé offers a plethora of unique desserts, I took a while deciding and eventually ordered the princess cake ($4.95) to go. Its center was a mix of raspberry jam and marzipan, and this fruity almond bite was complemented by a thick layer of Bavarian cream all around—I couldn't stop eating it. I want to go back and try the Budapest cake ($5.25), a hazelnut meringue, as well as the Berliner ($2.95), a German donut with Bavarian cream and jam.
AQ Kafé offers other items besides desserts on its take-out menu, such as sandwiches, salads, and side dishes. It's a 10-minute walk from the Fordham College at Lincoln Center campus, so on a crisp autumn day, take a stroll around Columbus Circle to the café for a quick order to go or a sit-down lunch with a friend.
Even if you're just looking for an alternative to your midday Starbucks fix, the café's coffee selection is plentiful, ranging from a regular coffee (small $2.25, large $2.95) to an Americano ($3.25) or a Macchiato ($2.95). So take a break from homework and treat yourself to an hour or even just five minutes at AQ Kafé, a welcome change from your everyday food routine.