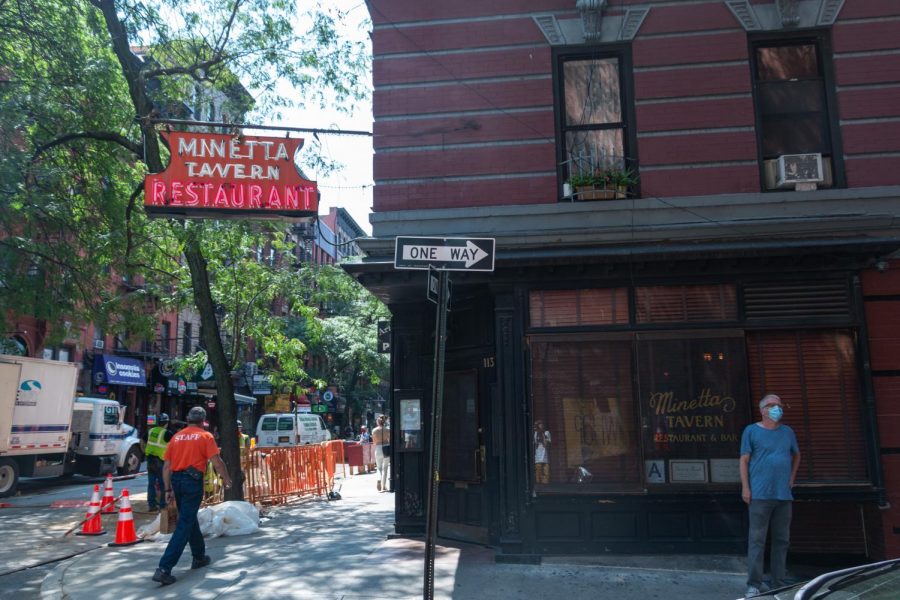 ETHAN COUGHLIN
There is arguably no dish more quintessentially American than the hamburger. And there is arguably no city that dominates the hamburger game better than New York. Just within two blocks of Lincoln Center, one could probably find a dozen different hamburgers from Mexican luncheonettes to cheap diners. Here's a list of the top five burgers you can find right here in the Borough of Manhattan.
Honorable Mentions
Various selections, Sugar Factory ($18-$21)
Let's be honest, you aren't going to the Sugar Factory for their burgers. You're going so you can post a photo on Snapchat of one of their $39 titanic-sized goblet drinks that are so utterly huge they're made for two. But it doesn't hurt that their burgers happen to be some of the best in the vicinity of the Lincoln Center campus. As you'd expect with the name, you have your pick of some fairly unorthodox styles: buns made of waffles or donuts? Absolutely. So just the fact that they aren't made of wagyu or Pat LaFrieda beef shouldn't deter you from stopping in here.
Various selections, Lucky's Famous Burgers (~$7.50-$10.50)
There's a certain style to late-night bites. It's hard to describe in writing, but everyone knows it when they see it. So consider this the "Olympic Flame Diner" of burgers for Fordham students. Open until 4:30 a.m. on Friday and Saturday nights, it's hard to not find time to go, and on 52nd Street, it's only a short walk from campus. Their menu is pretty expansive, and it can be tailored to both vegans and vegetarians, so it's perfect for any of your friends. Another reason to go: These are by far the cheapest burgers on this list. So after a night out, be sure to check this dive out.
The Top Five
The Tavern Burger, Greenwich Street Tavern ($18)
What do Will Ferrell, Charles Barkley and Andy Reid have in common? They've all been to the Greenwich Street Tavern. Play your cards right, and you, too, may encounter a celebrity at this Tribeca bar. But even if you don't, that's fine, because the burger will make up for it. Their tavern burger is made with Joe Red's Chipotle Mayo, the product of an Italian immigrant who smuggled his mouth-watering chipotle plants into the United States from his time in Mexico. 
The Classic Cheese, Cobble & Co. ($18)
Here's another one whose ambiance didn't hurt its placement on this list. When you visit Cobble & Co., you have to take advantage of all the Seaport neighborhood has to offer, including McNally Jackson Books and the South Street Seaport Museum. Their burgers are nothing short of amazing and have some of the best brioche buns I've ever had. Pair it with one of their great milkshakes, and you've got yourself a meal.
The Smith Burger, The Smith ($19)
I'm not going to definitively say that this is the best burger on the Upper West Side, but I've never had one that's better (and I've tried most). I often wonder what makes this burger so tantalizing, and I've come to the conclusion that it is the special sauce. I still don't know what's in the sauce to this day, perhaps something of a hybrid between mayonnaise and Worcestershire sauce, but it is delicious. The onions and sweet pickles add a great flare. It's a messy burger, but it's still worth it to order it medium-rare with the juices intact. 
The Cadillac, P.J. Clarke's ($20.50)
Nat King Cole dubbed it "the Cadillac of burgers" in the late 1950s, and that assessment hasn't changed a bit since then. A quintessential old-time saloon, it's difficult to find a building quite like it in the city. While there is a location across the street from Fordham, it's worth the hike to dine at their original location — the one at the corner of 3rd Avenue and East 55th Street. Their signature hamburger, still called "The Cadillac," is surprisingly simplistic: bacon, American cheese, tomato, lettuce, onion and pickles. For showing someone New York City for the first time, this would be the place to take them.
Black Label Burger, Minetta Tavern ($30-$33)
It's unfair that other burgers have to even compete with this one. Never before in human history has such a perfect blend of beef and caramelized onions been put on a sesame-seed sprinkled brioche bun. Those two ingredients, aside from the bun, are it. 
A surprisingly bare burger, you won't believe how it tastes. The beef is a blend of four different cuts: short rib, skirt, brisket and dry-aged ribeye; it sinks in your mouth like mashed potatoes and gravy. The exact proportions of the blend are still kept top-secret. The amount of care taken in preparing the hamburger is second to none. Grapeseed oil is applied to the griddle to prevent the patty from sticking, butter is drizzled on top of it as it cooks, and salt and pepper are added throughout the process. After the patty is cooked, the chef uses a metal skewer to check the internal temperature, pressing it to his lower lip. While it is left to rest in order to allow the juices to redistribute, the onions are griddled in the beef juices. 
At $31 for brunch, $30 for lunch and $33 for dinner, the Black Label Burger's eye-popping prices should not at all discourage you from buying it. Trust me, it'll be the best burger you will ever have. (I think I stopped counting how many I've had after around 10.) Any food critic or journalist who doesn't put this burger at number one on quite literally any list of the best hamburgers in the United States should be exiled to Guantanamo Bay. It's safe to say that the Black Label Burger at Minetta Tavern is not just the best in New York, but the world.
Hear Leo talk more about his picks on Retrospect.