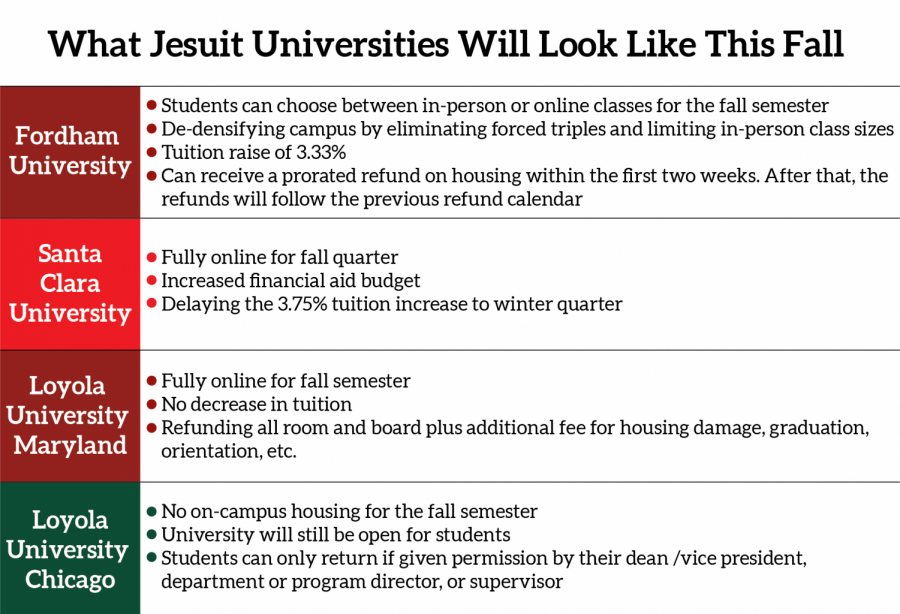 MADDIE SANDHOLM
With the beginning of the fall semester quickly approaching and coronavirus (COVID-19) cases continuing to surge, many universities are now declaring their fall semesters completely online.
New York City has an average daily increase of 308 cases, which is 3.8 per 100,000 people, according to The New York Times. Because of this, New York City entered Phase 4 of reopening, allowing New York schools to open for in-person classes in the fall. 
Fordham plans to reopen for the fall semester, allowing students to choose between in-person or online courses. Fordham will allow students to live on campus by de-densifying the campus, using VitalCheck to consistently monitor students' health and randomly testing students for COVID-19. 
Another Jesuit university, Santa Clara University, recently changed its fall plans. Santa Clara University, in California, announced on Aug. 5 that the fall quarter would be fully online. This decision came about a month after the university previously issued an email to the school community on July 15 stating that students would be welcomed back to campus. 
The change in decision came in response to the growing number of cases in California. In an announcement from the university president, Santa Clara University stated that the number of cases in California has only grown since spring and that the "fastest-growing demographic for COVID-19 infection is 18-34 year olds." 
The university explained that it has a desire to protect its campus and local communities.
Unlike in New York, the number of COVID-19 cases in California is increasing. Santa Clara County has an average daily increase of 276 cases, which is 14 per 100,000 people, according to the New York Times. 
Santa Clara has increased its financial aid budget and created a special fund to provide grants, as the pandemic has caused many students' financial situations to change. The university will also delay the 3.75% tuition increase originally planned for the fall quarter until the winter quarter. 
In comparison, Fordham plans to increase tuition by 3.33%, regardless of how students opt to take classes.
On Aug. 6, Loyola University Maryland, located in Baltimore, Maryland, announced that it will be online-only for the fall semester because of similar reasons to Santa Clara. In Loyola's announcement, the university cited a lack of available tests as well as the rising number of cases, especially among young people, as the main reasons for declaring online-only options. 
Evaluating current health conditions, and factoring for uncertainty in the months ahead, #LoyolaChicago has made the very tough decision today to suspend plans to host students in on-campus residence halls until conditions are favorable. Learn more https://t.co/osNEs9SIor pic.twitter.com/CTMJMN6fBO
— Loyola Chicago (@LoyolaChicago) August 6, 2020
Loyola University Maryland will not be decreasing tuition rates for the fall semester, but it plans to refund all room and board for students who have already paid. It will also refund the $700 "comprehensive fee," which covers things such as housing damage, orientation and graduation. The university additionally encouraged students to reach out to the office of financial aid if their financial situations have changed.
Fordham did refund room and board fees when students were told to leave campus in March. For the upcoming fall semester, Fordham students can choose to withdraw within the first two weeks and only be charged for the number of days they spent living on campus. 
After the two weeks, refunds will be given based on the normal refund schedule. In the normal refund plan, students are unable to receive any money back after six weeks on campus. The Fordham website does not state how refunds will be handled if the campus is forced to close early again. 
Loyola University Chicago, located in Illinois, also announced that there will not be on-campus housing available for the fall on Aug. 6. In a tweet from Loyola Chicago, they stated that "#LoyolaChicago has made the very tough decision today to suspend plans to host students in on-campus residence halls until conditions are favorable."
The tweet was met with criticism because the deferment deadline was on Aug. 1 and students are now unable to choose to take a gap year. 
Illinois moved into Phase 4 on June 26, which allows universities to reopen for the fall. Loyola Chicago will keep the university open but will not allow all students to return in the fall. On their website, they tell students to "not plan to return to campus or buildings until you are directed to return by your dean/vice president, department or program director, or supervisor."
Unlike Loyola Chicago, Fordham is allowing all students who would like to return to campus to do so. Fordham plans to de-densify the campus by eliminating forced triples in dorm buildings as well as cutting down the number of students physically in class. 
In the announcement, Loyola Chicago thanked students for remaining flexible as the university adapted to the changing situation. 
"We are Loyola, bound together by our Jesuit values of compassion, adaptability, excellence, imagination, and social justice. Let us continue onward, together, to follow our 150-year calling and emerge from this moment stronger, closer, and even more united as one Rambler family," the announcement ended.
"The source of our resolve in these times is staying true to our Jesuit, Catholic mission while abiding by our responsibilities inherent in living cura personalis—caring for the whole person," the announcement stated.
Fordham cited "cura personalis" as one of its main Jesuit tenets. The Fordham website explains that "we don't just tend to your educational growth; we strive to foster your moral, emotional and spiritual growth, too. It also means we take our responsibility for your well-being and safety very seriously."
Many Jesuit universities are concerned with the health of their students, and each university is approaching the pandemic differently. Fordham is providing students with more choices over their fall semester because students can decide if they want to be on campus or not. Unlike Santa Clara and Loyola University Maryland, Fordham is not postponing the rise in tuition or refunding any extra fees. "Cura personalis" and other Jesuit tenets appear to be the guiding principles as the universities make their decisions for the fall.