To Hell with High Heels! A Healthy Foot is a Happy Foot
Are Ladies at FCLC Willing to Risk Medical Problems to Wear Their Favorite Five-Inch Heels?
Published: May 5, 2010
It's Friday night and groups of girls are walking out of McMahon Hall in heels better suited for the runway than for Ninth Avenue. From stilettos and pumps to wedges and platforms, they sport a variety of high heels for a night out on the town. Fast-forward a few hours and these same groups of girls hobble in, their feet pained and blistered, all in the name of fashion and femininity!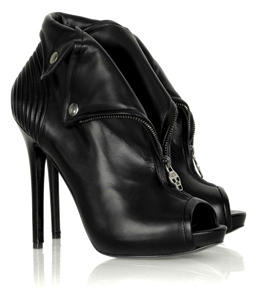 While the economy is in a recession, high heels are in an expansion. The heels are getting higher and higher at dangerous rates, towering over six inches tall.
High heels, over the generations, have become a fundamental component of a woman's wardrobe. What started off as a fashion trend has erupted into an international phenomenon, shaping our culture and redefining the public's perception of a woman's aesthetic. Most women would be hard-pressed to say that heels feel great, but an unspoken understanding has developed that this is a bearable and essential torture.
A recent article by CNN revealed constant heel-wearing could cause many medical problems: broken bones, snapped ligaments, knee problems, and lower back pain. So why endure this horrible pain?
Girls at Fordham College at Lincoln Center (FCLC) gave us the
4-1-1 on high heels and why they are in no rush to trade in their stilettos for a pair of flats.
Maia Dunlap, FCLC '13, excitedly described her favorite heel, a sleek black boot with a zipper in the back. "I definitely feel as soon as you put on a pair of heels your whole outfit changes; it just gets better. Plus it makes your legs look better," she said. "Whether paired with a pair of jeans or a little black dress, heels change the look of an outfit and give women the feeling of "going out."
Like Dunlap, many women, wear high heels for their incredible effects on the legs. They lengthen the leg line, enhance muscle definition, and increase the attractiveness of a woman's silhouette. Heels also act as an instant confidence booster, making a woman feel sexy, self-assured and feminine.
"Ideally, I look for heels that are comfortable, but instead I end up buying ones that are chic and highlight my personal style," said Mindy Lai, FCLC '12.
When presented with the serious medical risks discussed in the article, Dunlap laughed it off, saying, "I know heels are bad for you, but I don't think I wear them enough for it to be a problem."
Many women share the mentality that beauty is worth the pain, but some are saying goodbye to the pain.
"I don't need to wear heels. They give me pain right below my knee and my feet feel messed up afterwards," said Adrienne Cousineau, FCLC '10.  But living in a world where designers such as Alexander McQueen are constantly stretching the limits of acceptable heel height. Is there a point when enough is enough?
"I rarely wear heels and when I do, it's because the dress I am wearing requires a heel. Otherwise, I am 5'8'' so I try to avoid them," Cousineau said.
"Those 12-inch heels are a little too dramatic for me. I don't even think I can take a step in those and not fall," Lai said.
"I am not allowed to wear heels over three inches," Lai adds with a laugh quoting her mother. "I guess it makes sense because when they are around that height you are still capable of walking, dancing and doing everything you need to do."
Even though putting on a pair of heels might seem like a nightmare for some, heels are here to stay. So ladies just remember to be smart: wear heels only two to three times a week, break them in before your night out, and bring a change of shoes if you have a lot of walking! So for whoever said beauty is pain, there is no need to follow in their footsteps!