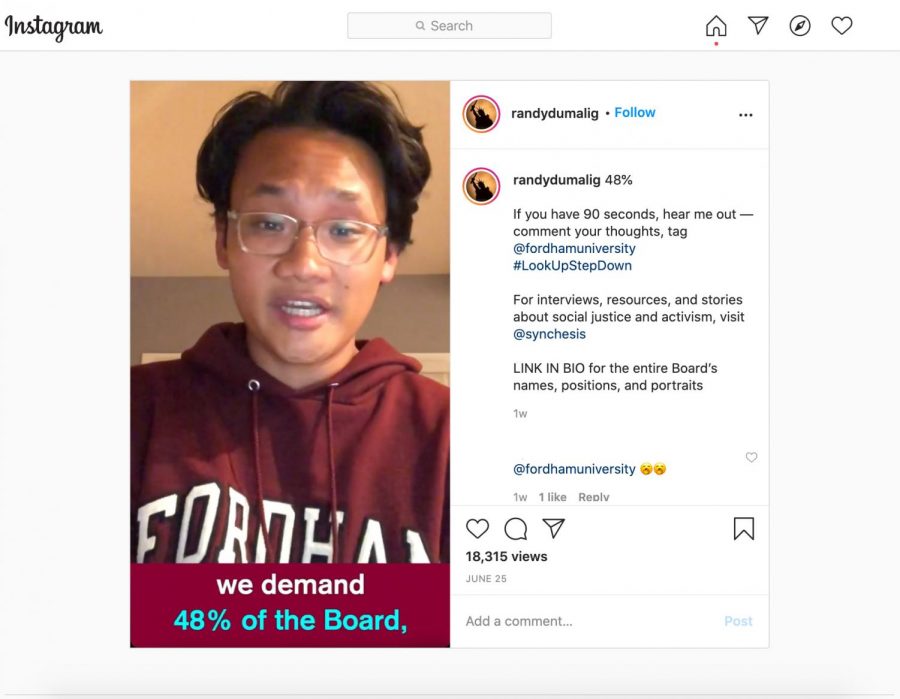 COURTESY OF RANDY DUMALIG VIA INSTAGRAM
When Randy Dumalig, Fordham College at Rose Hill (FCRH) '22, noticed the lack of diversity on Fordham University's Board of Trustees, he created an Instagram video that he called #LookUpStepDown. Since the video was first uploaded on June 25, it has amassed over 18,000 views and numerous comments from students in support.
Dumalig's 90-second video explained administration representation in contrast to the student body that they represent.
"People of color make up 68% of the City's population, 90% of the Bronx, and 48% of your tuition-paying student body," he said. 
According to Dumalig's research, he claims that out of the 92 people chosen to oversee the institution on the Board of Trustees, trustees emeriti and trustees fellows only six are people of color, one of which is the only woman of color. 
The current Board of Trustees is made up of 40 individuals. The remaining 50 are trustees emeriti and trustees fellows, "but they don't technically get a vote," Dumalig said. "That said, they are invited to the meetings, they are invited to events, their voices are heard." Currently, the six people of color included in Dumalig's research are sitting on the Board of Trustees. 
The Board of Trustees, as noted on Fordham's website, helps manage all university business and affairs and is the "final authority over all other matters involving the University." 
Dumalig became inspired to create his video after viewing other social media accounts, such as @blackatfordham, which are using their platform to spread information and awareness about student experiences, and learning how impactful social media is to continue these discussions. 
With the help of some of his friends, Dumalig founded the account @synchesis on Instagram, which is a community organization that brings race, justice and identity into the conversation and interacts with multiple Fordham student organizations.
Following Dumalig's #LookUpStepDown video, the FCRH Dean's Council Instagram page, a subsection of the United Student Government, posted statements from anonymous students directed toward deans at Fordham with the hashtag #LookUpStepDown. Among them, many students point to a lack of representation among the administration for people of color.
"If you're asking yourself why the students of color are so dissatisfied, we want you to look inward and upward to those overseeing the university — what do you notice?" one student wrote.
Dumalig admitted that he did not expect the amount of attention or support that the video received from both students and alumni. He acknowledged that he's not the most well-informed involving campus issues, but he believes that someone needed to start the conversation. He hopes that other students will continue to be critical of the university: "imagine what you and your friends can do in a week," he said.
Dumalig hopes that this starts a larger conversation about who represents the student body, as well as how the Fordham community can expect wealthy donors to accurately understand the experience of low- to middle-class Fordham students and then make decisions on behalf of those students. 
One thing he doesn't want people to see this as is advocating for a single identifier. "We don't live single-issue lives," Dumalig stated. Intersectionality is another large factor in determining how the board can reflect the student body. 
The #LookUpStepDown social media hashtag is just the latest of a string of online efforts to make Fordham University a more inclusive and respectful community for its students of color. Following the rise of accounts like @blackatfordham and @letstalkaboutitfordham, students and faculty alike have been anonymously voicing their concerns about racism at the university. 
The Observer reached out to the university for comment on Dumalig's video but did not receive a response at the time of publication.