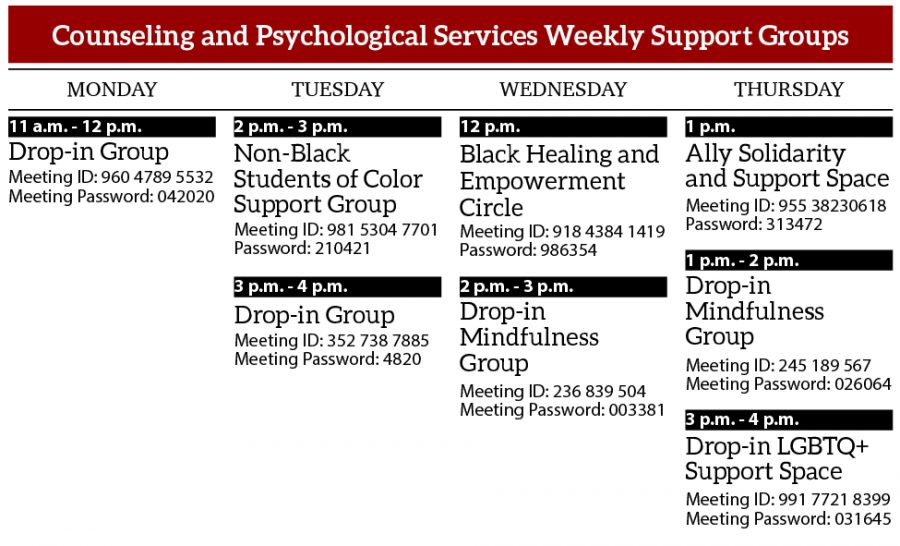 COURTESY OF FORDHAM COUNSELING AND PSYCHOLOGICAL SERVICES
As racial tensions rise as the United States reckons with the killings of George Floyd, Breonna Taylor, Ahmaud Arbery and countless other innocent Black lives at the hands of police and civilians, Counseling and Psychological Services (CPS) have launched several new support groups and workshops for students.
CPS will offer a combination of weekly support groups and stand-alone workshops online via Zoom. Weekly groups are held on a drop-in basis and include a Black Healing and Empowerment Circle, a Non-Black Students of Color (NB-SOC) Support Group, and an Ally Solidarity and Support Group. A Navigating Police Brutality and Racial Trauma Workshop was scheduled for Monday, June 15, and was co-sponsored by the Offices for Multicultural Affairs, the Chief Diversity Officer and the Center for Community Engagement.
In a June 8 email to several Fordham University student leaders and publications, CPS staff noted that these events have been developed in collaboration with campus colleagues and student leaders.
CPS director Dr. Jeffrey Ng stated that CPS offered similar groups prior to recent racial unrest in slightly different iterations. "For the past few years, we've offered various support groups for different racial and ethnic minorities," he explained, referencing a support group for Black women and a more general one for students of color. These new services are directly in response to current events and were in early developmental stages a few days after Floyd's death on May 25.
Ng described the drop-in sessions as a space to validate, affirm and process students' experiences surrounding recent events, but also mentioned that the groups could be adapted to fit the needs of attendees. He stated that CPS will be offering these weekly services as long as demand is present.
Holding sessions online presents a unique challenge. Ng noted that some aspects of interpersonal communication and group cohesiveness may be lost in a virtual format and that many potential and current attendees would likely prefer to meet in person. Despite these difficulties, however, he said that students have been appreciative and understanding, and he expressed a desire to continue providing these programs in person once it is safe to do so with regard to the COVID-19 pandemic.
The attendance of the events has been mixed, according to Ng. The recurring Black Healing and Empowerment Circle, in particular, has been less-attended than expected by CPS staff, and they are currently reflecting on potential reasons behind this. Ng stated that CPS will continue to provide it in the hopes of increased attendance and interest later on, and he mentioned that potential attendees could currently be dealing with numerous acute stressors related to racial injustice and unrest. 
Despite this, Ng said that general response to all new programming, including this one, has been overarchingly positive. He hopes to improve marketing and take more student feedback into consideration down the line.
Ng does not want these sessions to be purely reactive, but also aims for them to "contribute to creating and sustaining meaningful change in the systems and structures around us that perpetuate the various injustices that students might be struggling with." Outside of CPS's programming, he advises students to practice self-compassion, especially in light of the fact that, for students who have committed themselves to activism and fighting systemic injustice, "this is a marathon, not a sprint."
Find an overview of all CPS services here, and sign up for workshops and recurring programs here.