Published: December 10, 2010
Aristotle Papanikolaou and George Demacopoulos, associate professors of theology and founding co-directors of Fordham's Orthodox Christian studies program, were honored in an Oct. 31 ceremony held at the Archdiocesan Cathedral of the Holy Trinity in Manhattan by His All Holiness Bartholomew, Archbishop of Constantinople, New Rome and Ecumenical Patriarch.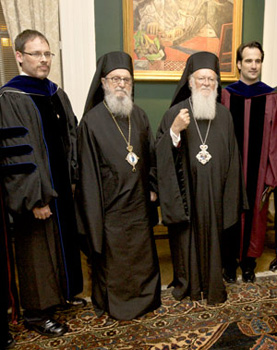 The two Fordham faculty members were installed as Archons of the Ecumenical Patriarchate by an Exarch of His All Holiness, according to a press release on the Fordham website.
"His All Holiness Bartholomew could not have chosen better in elevating Dr. Demacopoulos and Dr. Papanikolaou as Archons," said Rev. Joseph M. McShane, S.J., president of Fordham, in a press release.
An Archon is an honoree distinguished by his leadership in the Orthodox Christian community and his outstanding service to the Christian Church. The title indicates membership in the Order of Saint Andrew the Apostle, an organization of Christian laymen founded in 1966 on behalf of the memory of His All Holiness Patriarch Athenagoras.
The title of Archon dates back to ancient Greece, though it was later appropriated and transformed by the Christians of the Eastern Roman Empire, making it the oldest lay honor in all of Christianity. Upon conferral of the title, an honoree swears an oath to defend and promote the Orthodox faith and tradition, as well as to concern himself with the inalienable rights of the human race, according to the Order's website.
According to Papanikolaou, the Order works with national governments and international organizations for the protection of religious freedoms.  It has paid special attention to religious minorities in Turkey, focusing on the country's long-persecuted Greek Orthodox community as well as the embattled Ecumenical Patriarchate.
The position of Archon is accompanied by a title specific to each recipient. Papanikolaou's title, in translation, is "Defender of Letters," while Demacopoulos' is "Teacher of the Nations."
"By honoring George [Demacopoulos] and Telly [Papanikolaou], it's our way of also honoring Fordham University in its leadership role of recognizing the Ecumenical Patriarchate and honoring Father McShane as he deserves outstanding credit," said Anthony Limberakis, the national commander of the Archons.
"In their ecumenism, scholarship and devotion to the Ecumenical Patriarch, they represent what is best at Fordham," McShane added. "We celebrate their installation not merely for Telly and George's sake, but because it represents yet another tie between Fordham and our Orthodox brethren."
"Our being elected into the Order of St. Andrew is an honor for the entire University because, ultimately, it is Fordham's Orthodox Christian Studies Program that is being recognized by the Ecumenical Patriarchate," Demacopoulos said.
Papanikolaou and Demacopoulos are founding co-directors of Fordham's Orthodox Christian studies program, the first of its kind in the United States.
"There is no other program like this in any other college or university in the country," Papanikolaou said in an interview.  "We were able to develop this program only because of the Fordham community."
The program includes an interdisciplinary minor in Orthodox Christian studies, the annual Orthodoxy in America lecture, and a triennial conference dedicated to a historical and theological analysis of the Orthodox-Catholic rift.
Last October, Fordham conferred an honorary doctorate upon His All Holiness Bartholomew, in an historic visit to the university. It signified Fordham's growing stature in Orthodox-Catholic relations.
"Without Fordham's unwavering support and embrace of our initiatives in Orthodox studies, this wouldn't be happening," Papanikolaou said. "I am very grateful to my Fordham colleagues and friends."