One Million Dollar Partnership Inspires Sustainable Business
By JOE KOTTKE, Assistant News Editor
January 28, 2020
Phillips-Van Heusen Corporation, or "PVH Corp" for short, announced a partnership on Jan. 2 with the Gabelli School of Business. PVH, the parent company of brands such as Tommy Hilfiger and Calvin Klein, will contribute $1 million to the study of Corporate Responsibility (CR) and Sustainability. The goal, according to Gabelli School of Business dean Donna Rapaccioli, is to transform Gabelli into the "leading hub for the study of CR and sustainability."
The contribution will also sponsor a prize for the Ground Floor— a course that all incoming Gabelli students must take. The prize will be awarded to the team whose business plan best addresses one of the 17 United Nations (UN) Sustainable Development Goals.The partnership will establish events such as yearly conferences and quarterly lectures focused on CR and sustainability-related topics.
According to Rapaccioli, the first of these conferences is titled "The Work 2040: Future of Work in a Sustainable World Conference." It will take place at McNally Amphitheatre on March 5. 
Rapaccioli said the agreement with PVH Corp allows the expansion of CR and sustainability curriculum across all programs and enhances research. Funding will be provided to a faculty fellowship program, a visiting scholars program and a new global grant program with the goal of transforming Gabelli into the "leading hub for the study of CR and sustainability."
"A partnership like this shows that PVH is committed to inspiring long-term, widespread social good by helping to shape the decision-making skills of our graduates, no matter what field they will enter," said Rapaccioli.
"Manny and I realized that both of our institutions are addressing some of the same questions about our future," Rapaccioli continued, referring to PVH Corp chairman and CEO Manny Chirico. Chirico is an alumni of Fordham, graduating from Gabelli in 1979. "'When people look back on this time in history — with so much at stake, and so many long-term decisions that need to be made in the next decade — what will we be able to say we did as responsible leaders?'"
PVH Corp is based in New York City. Chirico recently became a board member of the U.N. Global Compact, which Rapaccioli said "cements his commitment to helping others drive sustainability in the private sector."
The Gabelli School has been a UN signatory school since 2009 and connects with the organization to enhance its responsible business curriculum.
Rapaccioli hoped that PVH Corp's contributions will allow students to do good, hoping that the message of "business with purpose" will resonate with students  when they leave school and have to make crucial, quick decisions as business leaders.
"People are more aware than ever that business has a tremendous potential to address social and environmental needs," Rapaccioli said. "I hope that this partnership inspires others. Businesses need to be taking a holistic approach to what they are doing."
About the Writer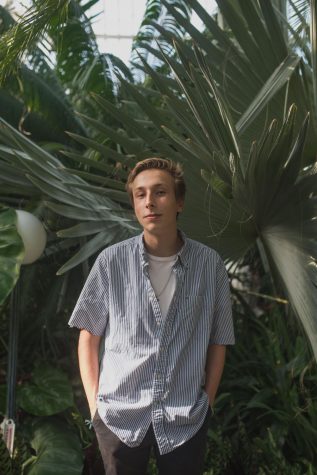 JOE KOTTKE, News Editor
Joe Kottke, Fordham College at Lincoln Center '23, is a news editor at The Observer and is majoring in journalism and Spanish. When he is not writing, Joe can be found taking photographs, rereading Harry Potter or smothering food in hot sauce.