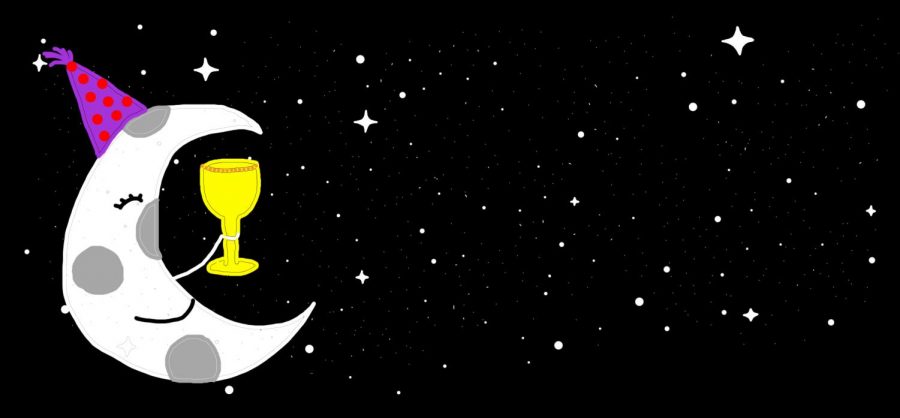 GRAPHIC ILLUSTRATION BY ESMÉ BLEECKER-ADAMS/THE OBSERVER
Capricorn (Dec. 22 — Jan. 19)
The arrival of Jupiter in your chart this month is a long-term guest you will be keeping for at least a year, Capricorn. Jupiter's arrival will provide optimism and welcomeness in your life. However, this will become apparent gradually as you are still struggling with unfinished business and unwelcomeness from last month's drama. 
Aquarius (Jan. 20 — Feb. 18)
You, the people around you or your career? Aquarius, you will finally have to do something you've ignored for months. As nightmarish as it sounds to you, you'll have to realign the structure of your priorities. This will be a major shift, as you haven't allowed yourself to make the changes you've thought about recently. 
Pisces (Feb. 19 — March 20)
Jupiter, the planet of abundance and blessings, moves into your friendship and family sector; this will pave the way for rekindling wounded relationships with those who deserve to stay in your life as a positive influence. Pisces, this is the month to give yourself a fresh new start when it comes to expressing gratitude and putting effort into the relationships that matter most to you.    
Aries (March 21 — April 19)
Aries, this month is all about setting your milestones professionally and personally. With these milestones, you step into an authoritative role as the tenth house rules in leadership for you. January brings transformation and tenaciousness for the hardworking and ambitious Aries.
Taurus (April 20 — May 20) 
Taurus, the ninth house will start off your year with authenticity and honesty. If there is anything to discuss, now is your time since your new start begins with confrontation. The decade's first lunar eclipse brings you new beginnings and change in regards to your social groups or your goals. 
Gemini (May 21 — June 20)
Gemini, this month is all about learning and emphasizing the importance of intangibles in your life. Although you are often focused on more materialistic aspects of your life, this new year starts off with an intense focus on where you are heading in life, both emotionally and professionally. 
Cancer (June 21 — July 22)
Cancer, a new moon solar eclipse from the last week of December is still following through with good luck and thrill throughout January. Although things may be somewhat unplanned or unexpected, you will work your way through each obstacle you face in the coming weeks. 
Leo (July 23 — Aug. 22)
Leo, your new experiences and environments may be clashing with your usual talkative nature, since you haven't been as social as usual. However, you will soon be entering a more comfortable environment around the second week of this month. Although your calendar might look a little bit busy this month, you still maintain your enthusiasm and hope for a prosperous year. 
Virgo (Aug. 23 — Sept. 22)
Virgo, this month is surprisingly one full of romance. You are usually detail-oriented and attentive to making plans from early on. However, this month you will experiment by being flexible with your schedule from time to time. Tone down the overthinking and let January be your much-needed break from work.
Libra (Sept. 23 — Oct. 22)
Libra, your social interactions and consistency towards your relationships with others makes January eventful and memorable for you. Although conflicts arise around the second week of January, you will find a balance between differing opinions to allow this month to be a positive fresh start for the new decade that awaits.
Scorpio (Oct. 23 — Nov. 21)
Scorpio, this month is full of professional development and opportunities to strengthen your passions. You will focus on your art and make a tough decision as you approach deadlines and competition. Stay in control of your emotions as you make several vital decisions this month for your future. 
Sagittarius (Nov. 22 — Dec. 21) 
Sagittarius, you will finally chase after the goals you've left unfinished for months or even years with courage and determination. This month, you shift your focus to what makes you happy or what possibly can make your life smoother. Engage in your hobbies once in a while to lift your spirits as you head back to work after this holiday season.