Women's Basketball Loses Valiantly in Front of Sellout Crowd
Last Tuesday, Fordham women's basketball played their home opener against Notre Dame, last year's NCAA Tournament runner-up. In front of a sellout crowd, the Rams fought to the very end but fell short in a 60-55 loss.

Going into their contest against Notre Dame, the Rams were already aware of the quality of their opponent. Fordham's stellar 2018-19 season culminated in a trip to the NCAA Tournament. However, their performance was dwarfed by the run of the Notre Dame Fighting Irish. Following a 35-4 regular season and first place finish in the Atlantic Coast Conference (ACC), they entered the NCAA Tournament as a 1-seed. They made it to the championship game, where they lost to Baylor, 82-81.

To start the 2019-20 season, these two former NCAA Tournament contenders faced off. Notre Dame entered the game as a heavy favorite, but the first quarter did not favor the experts' predictions. Through 10 minutes of play, the Fightin' Irish led the Rams by only two points, 16-14.

After a competitive first quarter, star guard Bryson Cavanaugh, Fordham College at Rose Hill (FCRH) '21, encouraged some of her younger teammates. "I remember looking at the two freshmen and saying, 'Listen, we got this, first quarter's done with, we need to continue to push.' They agreed and responded well to that," Cavanaugh said after the game.

Despite a strong start, Fordham's offense stalled in the second quarter. The Rams were held scoreless for the first six and a half minutes as Notre Dame went on a 13-0 run. An offensive spurt as the half ended did little to erase what would eventually become a 36-24 deficit.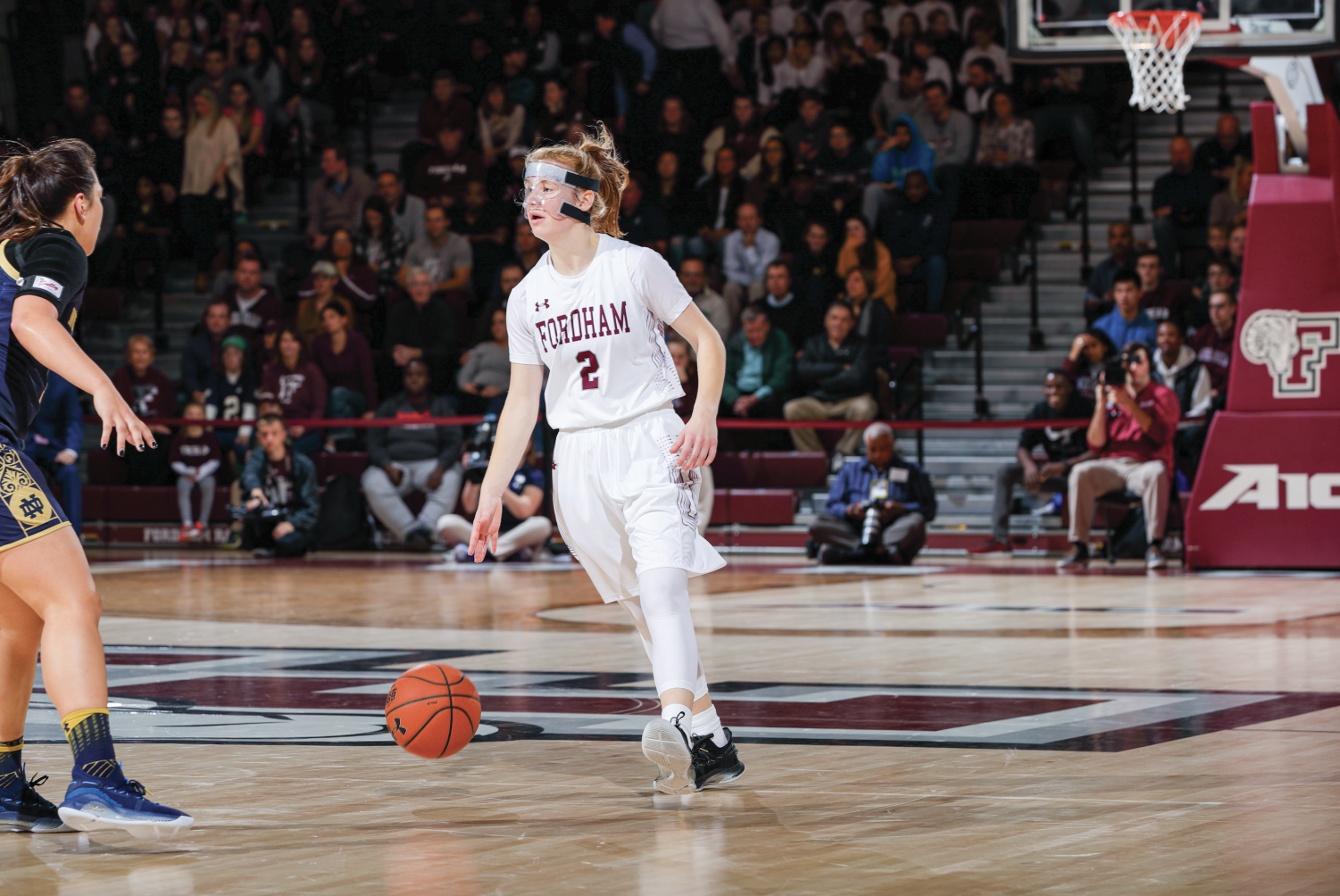 In one half, the Rams took 34 shots from the field and made only 10. 
Their strong first quarter was followed by an offensive disaster in the second. However, Cavanaugh said, "It didn't change the team's mindset. We went into half time still hungry. They made their run, it was only an amount of time until we made our run to come back."

Halfway through the third quarter, Kaitlyn Downey, Gabelli School of Business at Rose Hill (GSBRH) '22, recovered an offensive rebound. She then scored on a jumper to cut Notre Dame's lead to six points, 39-33. However, the Rams could not get any closer and lost ground. A third quarter buzzer beater put them down 12 points again going into the fourth, 47-35.

With 10 minutes left to make up a 12 point deficit, Fordham made a valiant last stand. They scored eight points in the first two minutes to cut Notre Dame's lead to four points. Caught completely off-guard, the Fightin' Irish eventually recovered, going on an offensive run of their own to extend their lead to 10, 53-43.
With five minutes to go and their rally extinguished, Fordham's fate seemed sealed. A three-pointer by Kendell Heremaia, FCRH '21, kept the Rams alive. Over the next two minutes, they made three separate defensive stands and regained possession. The sellout crowd exploded as Heremaia made another three-pointer to close the gap even farther, 53-49.

With only two minutes remaining, Fordham was forced to foul their opponent and the game came down to free throws. With 11 seconds remaining, Fordham trailed by only three points, 58-55. A Notre Dame player missed their second free throw and it appeared that Fordham had regained possession and the chance to tie the game. However, in the fight for the ball, a referee saw through the huddle of players in front of him and called a foul on Downey, bringing Notre Dame back to the foul line. These last few free throws were enough to put the game out of Fordham's reach in what would eventually end as a 60-55 loss.

Above all else, this game spoke to Fordham's talent and steadfast resilience. At three different points in the game, they trailed by double digits and fought their way back into the game. They only made 23 of their 72 shots, but their defense held at every key moment. In Cavanaugh's words, "The game showed that we can really compete at the highest level. We didn't shoot great, and we turned the ball over, but our defense and intensity kept us in the game."

Cavanaugh never left the floor, playing all 40 minutes and scoring 14 points to go along with 8 rebounds. In addition, freshman point guard Anna DeWolfe, FCRH '23, made a stunning first impression, recording 10 points, 9 rebounds and 9 assists. She ran the Fordham offense against one of the best teams in the country and thrived in the role.
This Fordham team played an elite college basketball team and competed with them to the very end. Even more importantly, a sellout crowd erupted for each of their three comebacks and gave their team a standing ovation following their tough defeat. As the competition gets easier and players round into form, fans who choose to attend later in the season can look forward to watching one of the most competitive sports teams Fordham has to offer. When asked about the turnout, Cavanaugh excitedly said, "It was absolutely amazing and one of the best atmospheres and energy to play around. I hope we can fill The Hill for the rest of the home games, because this team deserves it that much!"