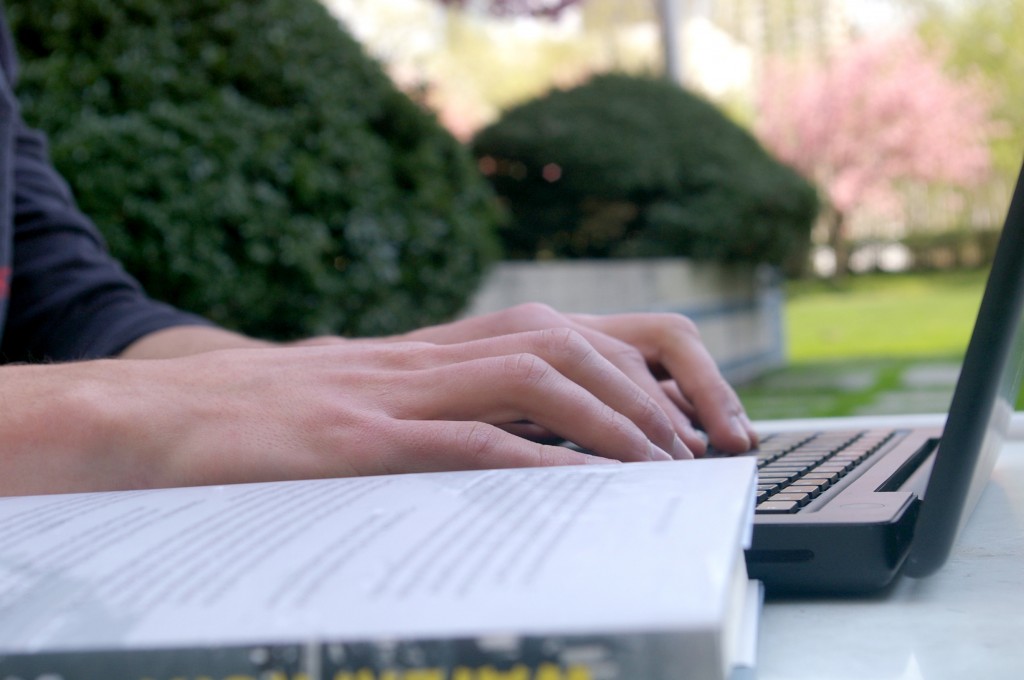 Published: April 22, 2010
Finals are right around the corner, and while some of us are sitting pretty with a semester's worth of notes to study from, others of us are frantically looking up outlines online of every book we were supposed to read and planning day trips to the library while pumping caffeine into our veins. It has to be done, but it's not always easy—especially when you're sitting at your desk day after day, staring at the same poster. So here are some study spots to mix things up a little bit.
Riverside Park: This is a great spot for those who want to soak up the sun and study at the same time. Riverside Park stretches from 72nd Street to 158th Street along the Hudson River and is comprised of a multitude of areas, featuring statues, gardens, playgrounds and even a skate park. My personal favorite sitting spot is the Soldiers and Sailors Monument. On a sunny day this concrete monument offers a public space to study without confining you to a single bench or the grass, and since there is no flow of traffic around the statue, it's generally quiet. Behind the statue there's a hill leading down to the water with a playground below, and trees throughout the park provide perfect shade for studying on the grass. The numerous alcoves that I encountered were also devoid of people and seemed to be great studying spaces as well.
The Pier: Just a few blocks away, the pier is beautiful in a somewhat industrial way. The breeze coming off the Hudson will ward off any heat wave, and it's usually easy enough to find an unpopulated area for serious studying. You are also less likely to encounter the number of Fordham students that you would at, say, The Flame, the Plaza or the Starbucks next door, and, therefore, there may be less distraction. If you study until dusk, then you can also stay for the view across the Hudson. Pier 1 cafe at W. 70th Street and the Hudson River offers coffee, pastries and regular restaurant food such as burgers. The pier is the perfect place to feel the breeze, drink a milkshake and leave the concrete jungle behind with a few textbooks.
The Riverside Library: For those who are more traditional and enjoy the studious atmosphere of libraries, this library, at 127 Amsterdam Avenue (at 65th) will provide a haven away from the soundless cave that is Quinn. This is a large library, and aside from the Library for the Performing Arts, it is also the closest. The light in this space is great, especially on a sunny day, as two walls are almost entirely windows. The lighting is also much softer than that of Quinn Library, giving it a less "dungeonesque" feel.  The two floors of this library provide plenty of study space, and when I went on a Saturday, I had my pick of chairs, although there may be the prospect of sitting across from someone because the tables are communal. The comfy chairs that line the rows of books are great for a relaxing reading session, although it may be hard to snag one of these. There are also plenty of computers for public use.
Bowery Poetry Club & Café: For those who like art with their books, this place is perfect. It offers free Wi-Fi, one-dollar coffees with refills, bar food, poetry and music. Although it's a bit of a hike (it's located at 308 Bowery between Bleeker and Houston), a dramatic change of scenery may be just what the brain needs. This café has something new every day from jazz and hip-hop to folk theater and improv. This place is small on the outside but packed with creativity on the inside.
The at65 café at Alice Tully Hall: For those who want a café and an outdoor study spot, the At65 Café is a perfect choice. It's located a hop, skip and a jump away at 70 Lincoln Center Plaza, and its beautiful glass wall lets in lots of light and is great for people-watching. If you don't feel like sitting inside, the stairs right outside await you. They're facing away from the traffic, which greatly decreases the noise, and their triangular configuration gives a more enclosed feel. Although this café offers the usual coffee and sweets, it also has full-fledged meals such as chicken pot pie and macaroni and cheese for when the study munchies hit.