Bringing Basketball Back Home to Nigeria
Fordham Alumna Monolaji Akiode's Plan to Help Young Girls in Her Native Country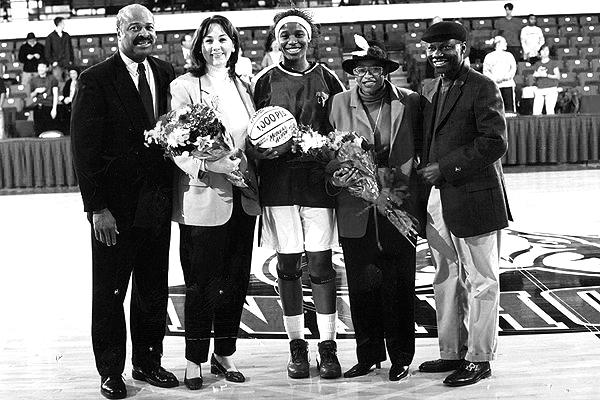 Published: April 22, 2010
To commemorate Women's History Month, ESPN premiered the documentary "Her Story: Ten Times Over" on April 4. The half-hour special focused on former Fordham University women's basketball player Mobolaji Akiode, College of Business Administration (CBA) '03, and her work in her native country of Nigeria. A member of the 2004 Nigerian Olympic women's basketball team, she founded the non-profit organization "Hope 4 Girls Africa" in the fall of 2009. Akiode hopes that with this organization she can help empower young African women ages 12-19 through basketball and education.
Akiode starred on the Fordham women's basketball team from 1999-2003, and became the eighth player in school history to record 1,000 points and 500 rebounds in her career. After Fordham, Akiode played for the Nigerian National Team from 2004-07, a stretch that included a trip to the 2004 Olympics in Athens and the 2006 Commonwealth Games in Melbourne, Australia.
Former Rams women's basketball head coach Kevin Morris first met Akiode at a high school recruiting event and saw Akiode as a player determined to make an impression. "She certainly wasn't a bad basketball player but she wasn't one of the top 15 or 20 players at the shootout," Morris said. "Where she went from there to what she has become is just a testament to the determination and hard work I saw in her."
Coaching Akiode in her freshmen year here at Fordham Morris saw Akiode become an excellent player. "She was just what I expected her to be. She was a team player and had great work ethic," Morris said.
Once her playing days were done she started work as a junior accountant at ESPN headquarters in Bristol, Conn. Despite being secure with a job in the midst of a recession and aspiring to return to school for her master's, Akiode suddenly decided to focus her efforts on the problems facing young women in Africa, specifically in her native Nigeria. "Hope 4 Girls Africa" was born.
The ESPN documentary focuses on Akiode's efforts to set up a basketball camp in Lagos, Nigeria. The most populous country in Africa, Nigeria suffers from poverty and corruption, but in spite of these challenges facing her country, Akiode is confident that by using sports she can lift young women out of poverty.
Akiode believes these girls have a lot to gain by participating in sports. In the documentary Akiode talks about the benefits for young girls participating in her camp.
"They get to build confidence and friendships. Those are the things that help you develop as a young woman," Akiode said. To help coach the camp Akiode invited retired WNBA star Yolanda Griffith to Nigeria. Akiode hopes that Griffith, who played in the WNBA for 10 years, can attract more people to the program. "As a young lady who is trying to show leadership to these young ladies she is remarkable because she didn't have to do it," Griffith said of Akiode in the documentary.
As well as Griffith, Akiode also invited Coach Morris to help out with the camp. "[Akiode] called me up last May and asked if I was interested and I said I was and that was it. I went over last July. I was great experience," Morris said.
With constant ethic fighting between Christians and Muslims occurring in the city of Jos just north of Lagos, many girls left death and destruction behind to attend "Hope 4 Girls Africa." Samira, one of the girls attending the camp, explains the violence back home in the documentary. "It was terrible," she said. "I've seen someone burnt. They just came and put petrol on the person and then, match, then that was all."
"Ever since I heard about the Jos riots my heart reached up because I know there are young girls there who are trying to be something special in life," Akiode said.
However, as the documentary shows, getting the camp up and running isn't an easy task. On the first day of camp the buses were late, the basketball courts weren't set up and the lights in the gym weren't turned on because of a dispute over the generator. Yet in the face of these obstacles, the girls were finally able to play basketball. "We need encouragement. We need people like Mobolaji to encourage us, help us to know ourselves, our worth and what we can do, in the game of basketball and life in general" Samira says in the documentary.