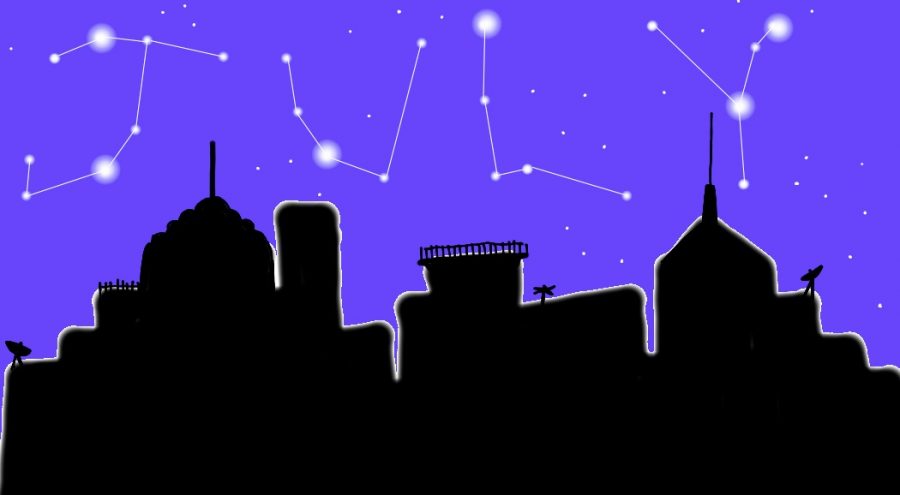 GRAPHIC ILLUSTRATION BY ESME BLEECKER-ADAMS
Cancer (June 21 — July 22)
Cancers will be making major life decisions that will allow them to start over. Your New Year's resolutions will finally begin to be fulfilled, as they will start taking risks they were hesitant about before. An identity shift is a key goal for the Cancer in your life. This period will teach them more about letting go, experimenting and finding themselves.
Leo (July 23 — Aug. 22)
Leos, do not jump to any conclusions without clearing up the air and communicating clearly with the people about whom you are unsure. This period is all about understanding what exactly is blocking you from being yourself and how you can change that. In terms of energy, this is your time to shine! This July, you will be shifting your focus to your main goal in life.
Virgo (Aug. 23 — Sept. 22)
Decisions, decisions, decisions. Fellow Virgos, you will be confronted with countless options, but you'll have to let go of your hesitancy and finally make decisions that will benefit you the most. If it means letting go of the things you have been unnecessarily hoarding for some years, it's time to do so. Do what you do best: stay alert, as this period will bring an end to karmic love, unhappy relationships or poor self-care. 
Libra (Sept. 23 — Oct. 22)
Libras, it's time to face reality. Stop hiding behind your expectations and face the truth about your feelings and situations. What do you actually want from life? Start paying more attention to your hidden interests and ultimate life goal. What do you want to get out of your career and relationships? This period will be a wave of knowledge and self-improvement for the seemingly "settled" Libra.
Scorpio (Oct. 23 — Nov. 21)
Scorpios, your mantra this July is: read between the lines. On the ladder of success and achievements, make sure you take a look back at the few steps you've missed. Better yet, allow yourself to trip if you don't notice steps right away. 
Sagittarius (Nov. 22 — Dec. 21) 
A financial benefit is on its way to you! Empty the pennies out of your wallet and make way for a life-changing deal or opportunity. An emergency might lead you to overspend; however, you will quickly settle that debt. Still, work on saving up and making sure such an instance doesn't occur again anytime soon. 
Capricorn (Dec. 22 — Jan. 19)
Although this month may lead to the closing of a door that was half-open for a while, a person will be supporting you through these unknown emotions. When one door closes, another one opens. Cautious Capricorns, allow yourselves to heal and shift your focus to the people and things that are still significant in your life. Something that is at the core of your identity may end this month, but you are not defined by a single thing, experience or person. You are an amalgam of people, experiences and emotions. 
Aquarius (Jan. 20 — Feb. 18)
Major changes in your health and daily routine will pave a more stable path for you this month, Aquariuses. From July 16 onwards, you will possibly be entering the process of self-improvement and renewal. Avoid miscommunication as you prepare for health and lifestyle changes so that the people you care about are aware of your tight schedule.
Pisces (Feb. 19 — March 20)
Love is the most accurate word to describe the average Pisces' July this year. Pisces, prepare to meet new people and make a major decision. Communicate the little things that bother you because chances are, your partner is oblivious to those matters. Surprisingly, your heart will be in a dilemma again after July 19. Take some time off to solve the matters of your heart. Meanwhile, you will be speedily completing work and making July a productive month.
Aries (March 21 — April 19)
Aries, you're all about changing up your life this July. From healing your broken heart to accepting a great opportunity career-wise, this month is full of pleasant surprises. Dramatic page turns in your life will convince you to gain closure on and acceptance of pain and sorrow. You cannot beat around the bush anymore with your emotions and situations. This is the month you'll be facing reality and taking care of matters you pushed aside.
Taurus (April 20 — May 20) 
July is all about unfamiliarity for the curious Taurus. No matter how odd a situation or how unfamiliar an environment, you will find your way around by communicating with new people and building a home wherever you go. You are all about adapting to situations and making the best out of them this month. Around July 16, you will face a long-term conflict that will finally end well for you. Trust your instincts and yourself, Tauruses!
Gemini (May 21 — June 20)
Cancer season is all about the money for the average Gemini this year. Geminis, you will find yourself focused on your wealth, income and money management. You don't want to waste a single minute on something that isn't positively influencing you. After all, time is money. Communication-wise, you'll find yourself in situations of misunderstandings and mistakes, but this won't stop you from moving forward and staying focused on your goals.