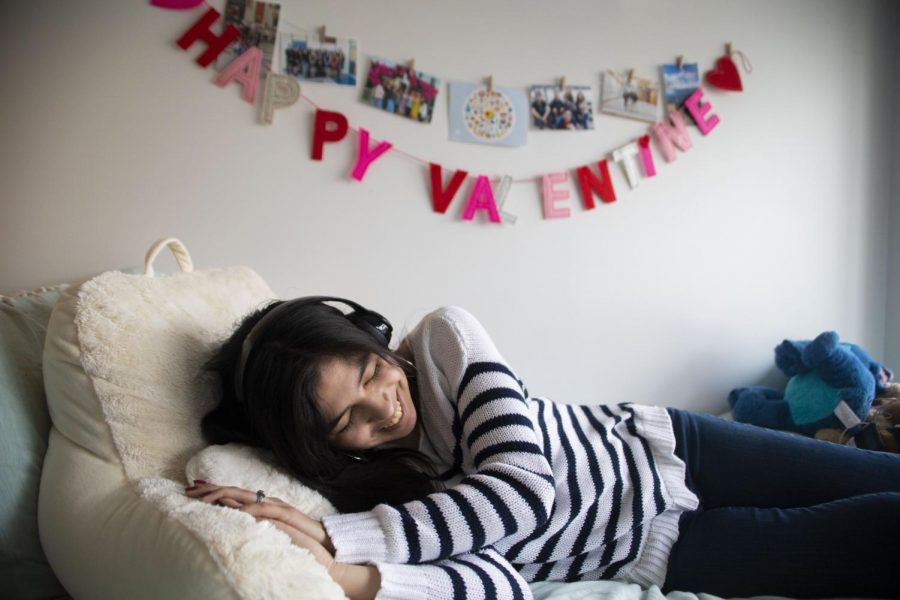 ZOEY LIU/THE OBSERVER
This is not your mother's "just talk to them." Having a crush is magical and terrible all at once. Some people face them head-on and get their feelings out immediately; I for one would rather walk in the snow naked before I tell someone I like them.
Some people read vicariously; others write out their fantasies. Some suggestively subtweet; others passive-aggressively retweet. I, however, find crushes to be precious things to be nurtured and dealt with individually. Every crush is different.
To indulge myself in emotion without interacting with my crush, I make playlists. With 99 (and counting) compilations on my Spotify account, how could I not have curated playlists for every crush and boyfriend I've ever had?1 At this point, I'd consider myself an expert in the craft.
Think of a playlist as an ice cream sundae. Music is the ice cream; the other aspects, the toppings. Songs make up 100 percent of a playlist but only 90 percent of its impact. The other 10 percent is your title, your cover picture, your caption and you. These let you take ownership of your collection of songs, and in turn, your crush.
Titles are every listener's first taste of the playlist. Some playlists are meant to be shared with the world; this one is just for you. The best titles are suggestive but vague. Take one of mine, "the boy in the bronx." There are many boys in the Bronx, but this playlist is dedicated to one.2 This playlist is just another compilation of love songs to the wandering listener, but only I know it's much more.
Cover pictures follow the same guideline. Don't upload your crush's Facebook profile picture. Instead, use a picture that suggests the kind of relationship you want to have with them. I draw from my favorite romantic comedies; for "the boy in the bronx," I used a still of Audrey Hepburn and Humphrey Bogart in "Sabrina." If you have trouble finding photos, peruse Tumblr or Pinterest.3
Your caption should add detail to your title without giving too much away. Feel free to write a one-line love letter here, but if you're bold enough to have a blunt caption, you're bold enough to talk to your crush. Subtlety is the name of the game.
This is not a careless collection of cliché love songs. Crushes are nuanced; music is, too. However you feel about a person, there is at least one song for it, in any genre, in any stage of crushing. To get you started, here are some4 of my favorites:5
GENERIC LOVE SONGS6
ADMIRING FROM AFAR
MENAGE À TROIS7
LET'S GET SPICY
SADBOI HOURS
COUNTRY/FOLK8
"BUTTERFLIES"
Kasey Musgraves"I WALK THE LINE"
Johnny Cash"LATE TO THE PARTY"
Kasey Musgraves"DEDICATED TO THE ONE I LOVE"
The Mamas & the Papas
"I JUST WANT TO DANCE WITH YOU"
George Strait"CHECK YES OR NO"
George Strait
"FOOLIN' 'ROUND"
Patsy Cline"YOU LOOK SO GOOD IN LOVE"
George Strait"BLUE AIN'T YOUR COLOR"
Keith Urban"NOBODY"
Sylvia
"YOU AIN'T WOMAN ENOUGH"
Loretta Lynn
"GIRL CRUSH"
Little Big Town
"DEVIL WOMAN"
Marty Robbins
"SLOW HAND"
Conway Twitty"YOUR MAN"
Josh Turner"I WANNA MAKE YOU CLOSE YOUR EYES"
Dierks Bentley
"IF I WAS A FOOL"
The Other Favorites"ROOM FULL OF ROSES"
Mickey Gilley"NEON MOON"
Brooks & Dunn"I FALL TO PIECES"
Patsy Cline
"WASTED DAYS AND WASTED NIGHTS"
Freddie Fender
INDIE POP/ROCK
"KATIE QUEEN OF TENNESSEE"
The Apache Relay"BABY I'M YOURS"
Arctic Monkeys"ILYSB – STRIPPED"
LANY"LOVE"
Lana Del Rey
"I LOVE HOW YOU LOVE ME"
Jeff Mangum
"JFK"
Lana Del Rey
"INTERTWINED"
dodie
"LET'S FALL IN LOVE FOR THE NIGHT"
FINNEAS"SEA OF LOVE"
Cat Power"ABSOLUTELY SMITTEN"
dodie"SUNFLOWER – SYNTH REPRISE"
Allie X
"LOOKALIKE"
Conan Gray"BIZARRE LOVE TRIANGLE"
Frente!"SOMEBODY ELSE"
The 1975
"SWEET"
Cigarettes After Sex"NO. 1 PARTY ANTHEM"
Arctic Monkeys"VIDEO GAMES"
Lana Del Rey"FALLINGFORYOU"
The 1975
"SEX"
The 1975
"ALL SHOOK UP"
Avila
"SHIVER"
Lucy Rose"GENTLEMAN"
Isobel Anderson"CHERRY"
Lana Del Rey"INTO YOU"
Ingrid Michaelson
"ILLUSION"
Gaby Moreno
"YOU"
dodie
VINTAGE JAZZ/POP
"WITCHCRAFT"
Frank Sinatra"IT'S MAGIC"
Dinah Washington"MORE"
Bobby Darin"MY FUNNY VALENTINE"
Frank Sinatra
"I'M IN THE MOOD FOR LOVE"
Julie London
"I WANNA BE LOVED"
The Andrews Sisters"WISHIN' AND HOPIN'"
Dusty Springfield"I'LL BE SEEING YOU"
Billie Holiday"ONLY YOU (AND YOU ALONE)"
The Platters
"CHANCES ARE"
Johnny Mathis
"THIS MAGIC MOMENT"
The Drifters
"EARTH ANGEL"
The Penguins
"WHAT A DIFF'RENCE A DAY MADE"
Dinah Washington
"I'VE GOT A CRUSH ON YOU"
Ella Fitzgerald
"OH! LOOK AT ME NOW"
Frank Sinatra
"I ONLY HAVE EYES FOR YOU"
The Flamingos"THE OTHER WOMAN"
Nina Simone
"THE FIRST TIME I EVER SAW YOUR FACE"
Roberta Flack"MOONLIGHT SERENADE"
Glenn Miller
"YOU WON'T BE SATISFIED (UNTIL YOU BREAK MY HEART)"
Ella Fitzgerald & Louis Armstrong"I'M GONNA SIT RIGHT DOWN AND WRITE MYSELF A LETTER"
Madeleine Peyroux"BABY LOVE"
The Supremes
POP
"OH LOVE"
Ane Brun"VELVET ELVIS"
Kasey Musgraves"FANTASY"
Mariah Carey"THE POWER OF LOVE"
Céline Dion
"MAKE ME FEEL"
Janelle Monáe
"CRAZY FOR YOU"
Adele
"I COULD FALL IN LOVE"
Selena"CRUSH"
Tessa Violet"BAD IDEAS"
Tessa Violet"LUCKY STRIKE"
Troye Sivan
"KISS"
Prince
"FALL FOR YOU"
Leela James
"READY FOR LOVE"
India.Arie
"VALENTINE'S DAY"
LANY"INSTEAD"
Ryan Amador
"HE'S A DREAM"
Shandi"HUNGRY EYES"
Eric Carmen"VERSACE ON THE FLOOR"
Bruno Mars"HEAVEN"
Julia Michaels
"WE DON'T HAVE TO TAKE OUR CLOTHES OFF"
Ella Eyre
"WHAT TURNS YOU ON"
Katie Thompson
"HAPPY & SAD"
Kasey Musgraves"IT DOESN'T HURT"
Katie Thompson"SPACE COWBOY"
Kasey Musgraves
CONTEMPORARY R&B
"LOVE ON THE BRAIN"
Rihanna"HONEY"
Kehlani"1+1"
Beyoncé
"WE BELONG TOGETHER"
Mariah Carey"LET ME LOVE YOU"
Mario"IF I AIN'T GOT YOU"
Alicia Keys"MISS INDEPENDENT"
Ne-Yo
"THE WEEKEND"
SZA"HOLD UP"
Beyoncé"DON'T"
Bryson Tiller"THE BOY IS MINE"
Brandy and Monica
"OVERLOAD"
John Legend"I WANNA SEX YOU UP"
Color Me Badd"UNTITLED (HOW DOES IT FEEL)"
D'Angelo"TOUCH MY BODY"
Mariah Carey
"NO ANGEL"
Beyoncé
"I'M GOIN' DOWN"
Mary J. Blige"CRY ME A RIVER"
Justin Timberlake"SO SICK"
Ne-Yo"IRREPLACEABLE"
Beyoncé
SOUL/BLUES
"WHEN A MAN LOVES A WOMAN"
Percy Sledge"A SUNDAY KIND OF LOVE"
Etta James
"TO LOVE SOMEBODY"
Janis Joplin"TRY A LITTLE TENDERNESS"
Otis Redding
"I'D RATHER GO BLIND"
Etta James"FALLING IN LOVE"
Sam Cooke"ALL I COULD DO WAS CRY"
Etta James"CRY BABY"
Janis Joplin
"THAT'S IT, I QUIT, I'M MOVIN' ON"
Sam Cooke
"LOVE ATTACK"
James Carr"I JUST WANT TO MAKE LOVE TO YOU"
Etta James"GIMME ALL YOUR LOVE"
Alabama Shakes
"PIECE OF MY HEART"
Janis Joplin"STORMY
WEATHER"
Etta James"AIN'T NO SUNSHINE"
Eva Cassidy"HOW CAN YOU MEND A BROKEN HEART"
Al Green
"BRING IT ON HOME"
Sam Cooke
"BLUE VELVET"
Bobby Vinton
ROCK
"ALL MY LOVING"
The Beatles"OH, PRETTY WOMAN"
Roy Orbison"WONDERFUL TONIGHT"
Eric Clapton"SOMETHING"
The Beatles
"SOMEBODY TO LOVE"
Queen"BEAST OF BURDEN"
Rolling Stones"I WANT TO BREAK FREE"
Queen"CRIMSON AND CLOVER"
Joan Jett & The Blackhearts
"RECKLESS SERENADE"
Arctic Monkeys
"NEED YOUR LOVING TONIGHT"
Queen
"LOVE HER MADLY"
The Doors"LAST NIGHT I DREAMT THAT SOMEBODY LOVED ME"
The Smiths
"WHOLE LOTTA LOVE"
Led Zepplin"DO YOU WANNA TOUCH"
Joan Jett & The Blackhearts
"LOVE OF MY LIFE"
Queen"IF YOU CAN'T GIVE ME LOVE"
Suzi Quatro"I HATE MYSELF FOR LOVING YOU"
Joan Jett & The Blackhearts"I'M NOT IN LOVE
CRYING"
Roy Orbison
FOREIGN
"AL-DI-LA"
Jerry Vale"LA VIE EN ROSE"
Édith Piaf"DARTE UN BESO"
Prince Royce
"LA VALSE DE L'AMOUR"
Édiath Piaf
"O' SOLE MIO"
Il Volo
"DOS GARDENIAS"
Buena Vista Social Club"ODIO"
Romeo Santos ft. Drake"ERES MÍA"
Romeo Santos
"PROPUESTA INCEDENTE"
Romeo Santos
"NE ME QUITTE PAS"
Nina Simone"IL MONDO"
Jimmy Fontana"CANCIONCITAS DE AMOR"
Romeo Santos
"SI UNA VEZ"
Selena
"LOCO"
Enrique Iglesias ft. Romeo Santos
"NO ME QUEDA MAS"
Selena
"PALOMA NEGRA"
Chavela Vargas
So, go ahead. Try it. You're safe; no one's looking. Take a few minutes to make a playlist or two. Or three. Or 14.9 There's no harm in doing it; it's a guiltless indulgence and a cathartic release. Happy Valentine's Day, kids.
1 "Ever had" since creating my Spotify account in 2014. My apologies to Ethan, Henry, Nick P., Nick S. and Aidan for their lack of playlists.
2 To the boy in the Bronx: For your sake, I hope I'm worth the concession.
3 I could probably write an entire article defending Pinterest, but just trust me. It's great.
4 When I say some, I mean some.
5Please don't get mad at me if I mis-categorize songs, or totally leave out genres. My apologies to disco and musical theatre and rap fans, but we'd be here all day if I included those.
6 I know I said this wasn't full of cliché love songs, and it's not full of them. Who can resist a good love song?
7 This category is not about threesomes.
8 Yes, country. I suppose I'm slightly biased since I grew up listening to country, but it actually slaps when it's done right! As with Pinterest, there's something for everybody.
9As of right now, I have 14 playlists dedicated to my crushes. However, this does not mean that I have had 14 serious crushes since 2014. Some of my playlists have multiple versions. This is because I find playlists that are comprised of music from one genre are more cohesive than those that are a salad of genres. And, as I have proven, there's enough music out there to make multiple substantial compilations. "the boy in the bronx," for example, has four versions: indie pop, pop, vintage jazz, and country. Similarly, you could create different versions based on the mood you're trying to create. Does this person make you happy and sad at the same time? Why have one playlist when you can have two? Ultimately, the playlists you make are up to you, but if you'd like my humble opinion, this method gives you both quantity and quality.