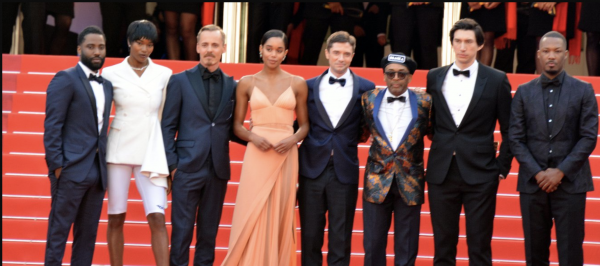 By RIYA RAJIV
Contributing Writer
Filmmakers and actors woke up this year feeling ambitious and ready to churn out some of the most revolutionary, award-worthy movies viewers have  seen in a while. 2018 has been a year when representation and diversity on film won big on a global level. From an all-black cast in "Black Panther," to an all East-Asian cast in "Crazy Rich Asians," the manner in which compelling stories are being told faces a dramatic shift.
"A Star is Born," – Bradley Cooper, dir.
"A Star is Born" is one of the most anticipated movies this fall. A remake of the 1937 film of the same name, it stars Lady Gaga and Bradley Cooper, who are making their debuts as a film actor and a director, respectively. The romantic musical drama follows the life of an amateur singer (Lady Gaga) whose career is launched by an established country musician (Cooper), wherein the two inevitably fall in love with each other. Cliche aside, this storyline has been a hit with audiences many times before, which is why it doesn't come as a surprise that the movie premiered to rave reviews at the 2018 Venice Film Festival. While Lady Gaga's majestic performance was applauded, Cooper earned unanimous praise for his directorial skills. Powerful music, passionate love and impeccable storytelling makes this film a sure candidate for multiple wins during award season.
Release date: Oct. 5, 2018
"First Man," – Damien Chazelle, dir.
Damien Chazelle is the youngest person in history to win an Academy Award for his directing in "La La Land" in 2016; this alone makes one want to see what stories this new director has in store for us in the future. Ryan Gosling, who worked with Chazelle in "La La Land," plays the titular 'first man' on the moon, Neil Armstrong, while "The Crown" alumna Claire Foy plays his first wife, Janet Shearon. Albeit a step down from portraying Queen Elizabeth II, Foy's character is just as strong, playing the part as elegantly as she does the reigning royal. The film details the years leading up to the groundbreaking Apollo 11 mission. Judging by Gosling's constant brooding and subtle brilliance in the trailer, the Oscar nomination almost seems to cast itself. It had an extremely successful festival run and, if Chazelle is lucky, this time it'll be his movie that wins Best Picture.
Release date: Oct. 12, 2018
"On The Basis of Sex," – Mimi Leder, dir.
Felicity Jones of "The Theory of Everything" fame takes on the task of filling some big shoes in the upcoming movie based on Ginsburg's life. Her on-screen presence as the associate justice is authoritative yet composed. The film not only touches on her public life, but also her private one. Ginsburg and her supportive husband Martin (Armie Hammer) live their lives largely as equals while co-parenting their children. This gives director Mimi Leder the opportunity to explore what a relationship looks like when toxic masculinity isn't a dominant factor, while still being rooted in reality rather than fiction. To have a woman's story told by another woman gives a powerful authenticity to this film. This is a film to watch not just for its message, but also for Jones's outstanding acting.
Release date: Dec. 25, 2018
"Roma," – Alfonso Cuarón, dir.
A beautiful drama helmed almost entirely by "Gravity" director Alfonso Cuarón, "Roma" tells the story of a middle class family and their live-in housekeeper Cleo in Mexico City in the early 1970s. The film is said to be semi-autobiographical, with Cuarón basing much of it on his own upbringing.  There is a sense of warmth when watching the trailer; it is simple yet elegant, which is why it exudes a sort of calming profundity about familial relationships, community and life. In the history of the Academy Awards, a foreign language film has only been nominated for Best Picture ten times and has never won. "Roma," by all estimates, is a strong contender for being the 11th nominee. Even if it doesn't win Best Picture at the Oscars, there are myriad other ceremonies where you can bet that it'll take all the awards home.
Release date: Dec. 14, 2018
"BlacKkKlansman," – Spike Lee, dir.
Although not an upcoming film, this is a movie with one of the most unique storylines of the year. The comedy-drama based on a true story, from director Spike Lee, follows the journey of the first African American detective in the Colorado Springs Police Department, in the 1970s, as he sets out to join the local Ku Klux Klan chapter. Elements of satire and black comedy are peppered throughout the film. John David Washington proves that he's not just Denzel Washington's son, but that he can hold his own quite well in a production of this size. Paired with actors like Adam Driver, Laura Harrier and Topher Grace and produced by the brilliant Jordan Peele, the film ensures that viewers will have one hell of a time watching and hoping that it wins every award possible.
Release date: Aug. 10, 2018
Honorable Mentions
"The Old Man & The Gun." – David Lowery, dir.
"Green Book," – Peter Farrelly, dir.
"Boy Erased," – Joel Edgerton, dir.
"The Hate U Give," – George Tillman Jr., dir.
"Beautiful Boy," – Felix Van Groeningen, dir.