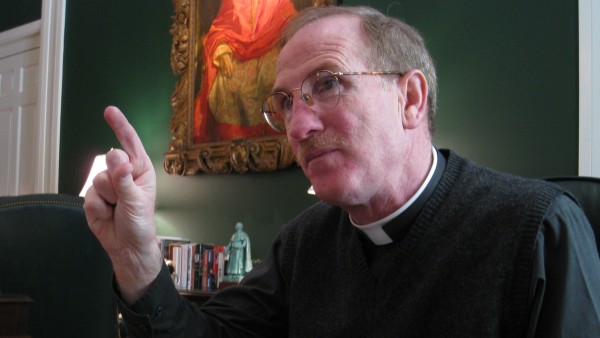 On Wednesday, June 20, University President Rev. Joseph M. McShane, S.J. released a statement concerning President Trump's border policy of family separation, condemning the practice as a "violation of the most basic understanding of human dignity and rights."
Since Trump installed a "zero-tolerance" policy regarding border crossing in April, immigrant detainment at the border has led to the separation of over 2,300 children from their parents, Homeland Security reported. While parents undergo proceedings at detention facilities, children are kept in Customs and Border Protection facilities, child immigrant shelters or tent camps, with the ultimate goal of returning them to their parents.
Media outlets report that parents often did not know where their children went, and journalists who entered the shelters exited with reports of chain-link fences, large foil sheets intended to be used as blankets and inhumane treatment from guards. On Wednesday, Trump replaced the family separation policy with one of family detention; however, the "zero-tolerance" policy remains in place. Officials from Homeland Security say 500 children have been reunited with families since the policy's repeal, but many remain stranded in government facilities across the country.
The practice of separation, acknowledged as a border immigration deterrent by Attorney General Jeff Sessions and White House Chief of Staff John Kelly, was denounced by McShane as a "crime against the human family."
"To traumatize children and their families for attempting to enter the United States is not merely the amoral application of national policy," McShane wrote, "but an unambiguously evil act which must be understood for what it is, and vigorously opposed by people of good will."
McShane also stated that the policy was counter to the university's Catholic tradition, as the institution's "collective conscience calls upon us to do whatever we can to bring to an end the miseries inflicted upon vulnerable, desperate children and their families through these despicable actions."
In his email, McShane called the Fordham community to react to the situation, reminding readers that a "lack of action" is detrimental to the cause. He asked faculty, staff, and students to contact their representatives with complaints concerning the "heartless and despicable practice" and to lend their voice to causes committed to ending it.