Five Female Filmmakers to Follow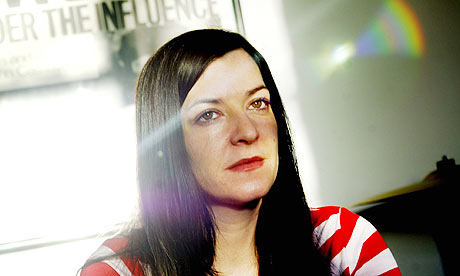 Do you really know any female directors? Sure, you've heard of Greta Gerwig (thanks to a successful Oscar press campaign), and you might have some vague memories of a woman winning Best Director at the Oscars a few years ago (you'll Google who she is and pretend you knew all along). Oh, and Ava Duvernay—she directed that one documentary about prison inequality someone recommended to you a year ago, that you've had in your Netflix queue ever since (you're just waiting for the "right time").
Let's be honest: most female directors do not have the following they deserve. This year alone, Steven Spielberg received a nomination for Best Picture just by reputation and Martin Scorsese scored a deal to make the highest-budgeted film ever produced by Netflix. Chances are you can name five male directors off the top of your head and their movies you've watched and enjoyed—so why can't you do the same with female directors? In an effort to help level the playing field, I'm here to recommend five female directors to you—female directors you will be proud to support not just for the cause, but because of the great movies they have made.
If you haven't already, go research that female best director winner. Her name is Kathryn Bigelow and she's a pretty big deal. Bigelow has been mixing visceral violence with political commentary since her late '70s Columbia thesis film "The Set-Up" (1978) and beat out her ex-husband James Cameron (the presupposed winner for his film "Avatar") to become the first and only woman to win Best Director in 2010 for "The Hurt Locker," a film that also won Best Picture. So how is she doing now? Her 2017 film "Detroit"—a visceral look at race relations during the Detroit riots of 1967—was a total flop, despite being one of the most powerful films of the past year.
Sofia Coppola is the arguably more-talented daughter of movie legend Francis Ford Coppola, who is known for films like "The Godfather" (1972) and "Apocalypse Now" (1979). Coppola has continued to bring to life her dreamy vision of young, wealthy women since her acclaimed 1999 debut film "The Virgin Suicides." Her 2017 release, "The Beguiled," is a Civil War-based period piece that explores the complicated female dynamics and sexual tension that arise in an all-girls boarding school when an injured soldier finds himself at their door. It's an intriguing film that is equally intense and ridiculous—too bad "The Emoji Movie" (2017) made eight times more at the box office.
Want a female director that's less mainstream? Try Ana Lily Amirpour, the Iranian-American director of the black and white, hijab-wearing vampire western "A Girl Walks Home Alone at Night" (2014). Amirpour subverts genre clichés with her vividly off-beat worldbuilding and isn't afraid to write female protagonists that are both flawed and relatable. Her second film, "The Bad Batch," (2017) is simultaneously about a cannibal wasteland and the current state of youth spirituality. Despite its star power of Jim Carrey and Keanu Reeves, the film flopped hard at the box office and was slammed by critics. "The Bad Batch" might not be for everyone, but if you have a free night, give it a chance: it's got an incredibly fresh vision and powerful message. Plus, it's on Netflix, so you've got no reason not to.
If you want a director who's not American, check out Lynne Ramsay. The Scottish director's films can be described as nothing less than visual poetry; she has garnered critical acclaim internationally since she first started making short films in the late '90s. Ramsay is best known in the states for her psychological drama "We Need to Talk About Kevin" (2011) and her new film "You Were Never Really Here" (2018), starring Joaquin Phoenix, comes out in April. It tells the story of an ex-marine who tries to save a kidnapped teen from prostitution. Check it out in theaters to support a great female auteur and see an amazing movie!
If you are more of a TV person, check out Jane Campion. A New Zealand filmmaker, Campion is the only woman to have won the prestigious Palme d'Or at Cannes Film Festival for her film "The Piano" (1993). Campion has recently moved from the big screen to the small screen with her female-centric crime drama series "Top of the Lake." The show focuses on masculinity and femininity, blurring moral lines and limits. The whole series, all two seasons, are available on Hulu and worth a watch.
Want more female filmmakers in Hollywood? Start by supporting the women who have already made it. Moviemaking is a business—stand in solidarity all you want, but buying a ticket with your hard-earned cash is the only way you can truly show you want to see more female visions put on screen.
Beyond helping those who've made it, help support those who are just starting out! "Feminist Film Night" hosted by the Filmmaking Club and "The Vagina Monologues" are happening this spring on campus and are great opportunities to support the amazing female filmmakers we have right here at Fordham.