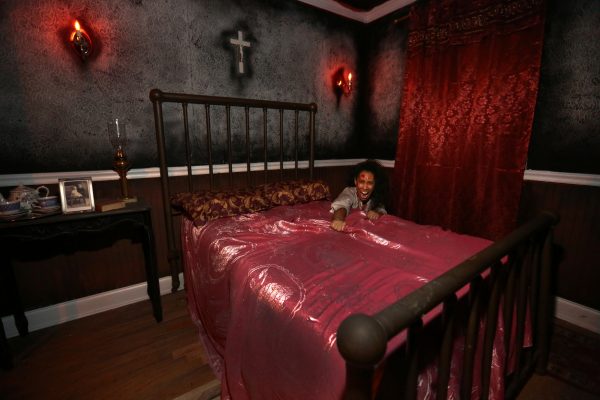 Little compares to the thrill of staring down a killer clown or cannibal.  That being said, the Fordham community is in for a Halloween treat.  Whether you crave a casually creepy stroll or a rush of adrenaline, you need not stray far.  'Tis the season of spook, and from Westchester to New Jersey, there is no scarcity of scare.
Blood Manor
Blood Manor, one of New York's most popular haunted attractions, is just a stone's throw from Fordham Lincoln Center (FLC) down on Varick Street in Lower Manhattan.  This house of horrors provides everything one could want from Halloween entertainment.  The building consists of several rooms with themes varying from demented hospitals to torture chambers, connected by an entanglement of narrow hallways and passages.  There will be surprises around every corner; as many frightening figures as possible will be incorporated into your visit, making a trip to the manor a chaotic encounter.  There is no shortage of blood-thirsty killers, and this year, Blood Manor is tapping into the recently rekindled fear of clowns by inviting a horde of them to their residence.
If these terrors are not enough for you, on November 3rd and 4th, Blood Manor is treating their guests to "Lights Out Nights."  On these days, you and a group of your friends will be given the opportunity to navigate the haunted halls of Blood Manor with nothing more than the guiding light of a single glow stick.  General admission tickets to Blood Manor is $40 at the door or $35 plus a $3.50 handling fee when purchasing tickets online. With the help of New York's premier scaring team, each and every guest is sure to have their fair share of screams at this abominable abode.
This Is Real
If you are someone who is not particularly moved by the performances of run-of-the-mill haunted attractions, This Is Real may be a thrill for you to consider.  But beware, This Is Real has earned a reputation as one of the most frightening Halloween experiences in New York.  To start, due to adult themes and graphic visuals, no one under the age of 18 will be admitted.  All guests will be separated into groups of eight and be provided with up to 70 minutes to escape the room they have been locked in.  Visitors will not be lonely in their chambers.  The most terrifying residents of the city will be present and prepared to scare as they attempt to prevent their guests from escaping.  The stakes will be high as those who were trapped before were not so lucky.
The creative minds behind This Is Real target the most intense adrenaline junkies with their one-of-a-kind theatrical encounter.  If you wish to take part in the heart-stopping experience, This Is Real can be found on 153 Coffey Street in Brooklyn with ticket prices ranging from $95 to $110.  With your purchase, you are sure to be treated to a unique experience far and away from a haunted house in the traditional sense.
The Haunt at Rocky Ledge
The Haunt at Rocky Ledge is a 20-25 minute walk-through attraction filled with gore and scares that are sure to leave you screaming.  This unique experience combines the indoors with the terrors of the woods and is filled with everything from torturous doctors to children of the corn.  First, visitors will be guided through narrow halls crawling with killers.  If they are fortunate enough to escape with their lives, guests will find themselves outside where they will be vulnerable to the vast unknown of the surrounding darkness.  The only exit is through the terrifying trails of the only haunted cornfield in Westchester.  In order to ensure a horrifying visit, groups will be limited to a maximum of six.  There is no age restriction, but all patrons should be warned that upon entering they will be scared — there is no "SAFE" word.
The Haunt at Rocky Ledge is open all weekend nights in October and admission is $25.  Tickets must be purchased on location as they will not be sold online.  The Rocky Ledge experience is a haunt any scare-enthusiast will love.  Be sure to visit this classic Halloween attraction in North White Plains, New York, but prepare to be scared.
Bane
Bane is infamously known as the most frightening haunted house in New Jersey.  This terrifying attraction is the only haunted house in the state that does not use animatronics.  Instead, Bane employs over 100 actors who will not hesitate to tap into their guests' primal fears.  From claustrophobia to separation anxiety, Bane toys with the minds of all who dare to enter.  This experience is more psychological than most haunted houses.  For example, at one point, everyone is required to separate from their group.  In 2016, this lonely portion of the journey caused more than 2000 people to quit before reaching the end.  Although, what sets Bane apart from other haunted houses is that it is interactive.  Guests will not just be walking like in a traditional haunted attraction.  They will be forced to crawl and jump past frightening obstructions to their paths, so come prepared.  If you refuse to follow the rules of the house, you will be asked to leave.  
On Sundays, from 3 to 5 p.m. in the afternoon, there is the family-oriented Happily Haunted experience.  This attraction is for those who do not enjoy being scared but still would like to visit Bane.  During Happily Haunted there are no actors roaming the haunted halls and each group is given a flashlight-guided tour of the premises.  Happily Haunted is $8 per person.  Bane is located in Livingston, New Jersey, and general admission is $28.  Given the range of possible experiences, each guest will undoubtedly enjoy their visit to the scare-capital of New Jersey.
For a student at FLC, there is no excuse for having a dull Halloween.  Some of the most sinister holiday attractions in the state can be found no further than a train ride away.  Even on a college budget, everyone in Midtown has access to a spine-tingling time, so be sure to check out these spectacular and spooky experiences before it is too late.