An Ambitious Summer With Stove's Cabin Crew
Hang on for a minute...we're trying to find some more stories you might like.
When Chandler Dean, Fordham College at Lincoln Center (FCLC) '18, was in elementary school, he fell in love with "The Simpsons."
"When I was done watching the episodes, then I would watch them with commentary and hear the writers of that show talk about the process that went into it," said Dean. "Often, I was much more fascinated and entertained by the commentaries. I became really interested and obsessed with the process of it all."
Thus began a lifelong infatuation with the creation of comedy, compounded in his teen years by airings of "The Daily Show" and "The Colbert Report," and what eventually led to his becoming the President of Stove's Cabin Crew, the resident comedy club at Fordham Lincoln Center. Dean envisions a bright future for the club, which took great strides under his leadership in recent months.
"This was the first summer where there was really a sizeable number of members that were still in the city during the summer," explained Dean. "We took that opportunity to work on a bunch of projects." Notably, Stove's participated in the Del Close Marathon (DCM), the largest improv festival in the world.
Founded by the Upright Citizens Brigade (UCB), DCM consists of 56 straight hours of sketch comedy played over 10 stages and 700 shows in and around Midtown Manhattan. In order to enter DCM, Stove's first had to prove its worth by sending a taped sketch and pitching a bit show, described by Dean as "a deliberately stupid idea that is put up in one of the waning hours of the day." The said bit show involved a sketch with a ghost summoned by improv artists using a Ouija board, which took place at 5 a.m. at UCB East. Despite the early call time, Stove's sketch group reportedly had a good reception and were pleased with the results of their performance. Dean mentioned that he's already gearing up for participating in DCM again next year, hopeful for an even better showing.
Though happy with their success at DCM, it wasn't their only event during the summer. Stove's was involved in a great number of festivals, improv shows and open-mic nights, including sets at the People's Improv Theatre and Shop Studios. They even managed to shoot three video sketches. Video sketches are something very new to Stove's, a relatively young club itself, only coming into existence in 2013, a year before Dean's Freshman year.
Stove's Video Liaison Andy Vega, FCLC '20, noted, "In previous years, there wasn't as much video content."
Dean, however, was raised on a diet of televised stand-up comedy. Considering his internships at "Full Frontal with Samantha Bee" last year and "Late Night with Seth Meyers" this fall, it's no surprise that Dean has been looking to expand the scope of their video production. He believes that video content is the primary way that anyone these days can get involved with professional comedy, so it was very important that they dive into this medium. Since Dean wants Stove's to be a place where aspiring comedians can find their footing, producing videos is key to its continued success.
After he was elected to leadership, he and his fellow executive board members created the Video Liaison position, so that there would always be someone thinking of videos they could make. Vega fills this role with enthusiasm. "We're trying to make [videos] not just for shows," he explained, "but to have content constantly coming out." Indeed, this is reflected in Vega's mantra, "Content is king"—a phrase which Dean said "motivates him day after day."
Dean has high hopes for Stove's future. "I'd like it to be an incentive for people to come to Fordham," he said. "I'd like people who are interested in pursuing comedy to look around at the colleges that they can go to and see that Fordham has a really excellent comedy club that has had people go on to accomplish great things in the industry. And I'd like for someone to decide, 'You know what? I got into this set of colleges. I can't decide which one I want to go to. I'm gonna go here because I want to join that comedy club and I want to be great.'"
For Stove's Cabin Crew, success isn't just about making people laugh or smile, it's about providing a place where comedians can learn and grow. With everything they've accomplished thus far, it's clear that they're on the path to greatness.
About the Writer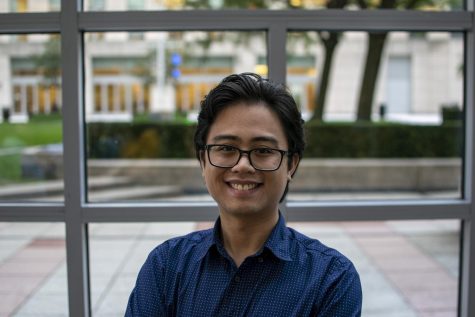 KEVIN CHRISTOPHER ROBLES, Retrospect Host
Kevin Christopher Robles, Fordham College at Lincoln Center '20, is the Retrospect Host for The Observer. Though his main role is hosting Retrospect, the official podcast of The Observer, he has in the past been an Asst. Arts & Culture Editor. He has also written for Opinions, Features and News - though still always searching for that Sports & Health to write article so that he can claim he's written for every section. Kevin's other interests include theology, film-making and spending too much time writing his staff profile.